Owning cookware with removable handles not only makes cooking easier, it also makes clean-up and storage a breeze. That's why more and more devoted cooks are turning to these versatile collections of pots and pans.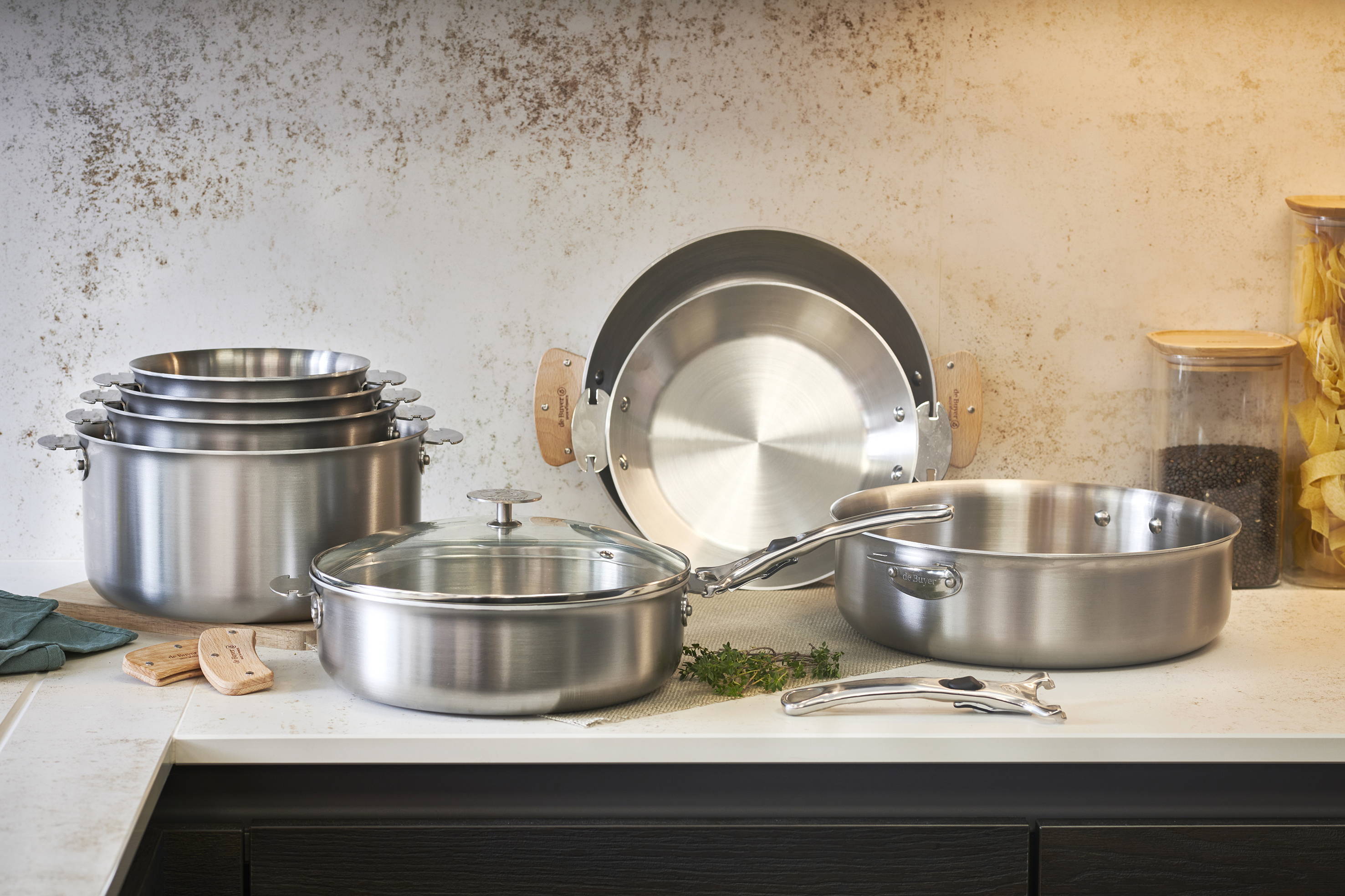 Why Choose Removable Handle Cookware
The ability to remove and swap out the handles of your pots and pans according to your needs gives you the ultimate flexibility. A single pan can start on the stovetop, be placed in the oven, and become a serving dish - simply by removing and replacing the handle(s)! It's easy to see how this ends up saving time and reducing cleanup.
The economy of space is important to consider in any kitchen. If you don't have a lot of storage space or if you just appreciate a high level of organization, then you'll love the benefits of removable handle cookware. Just choose your material and stack your set neatly according to size. When awkward handles aren't taking up valuable real estate in your kitchen, storing and finding what you need is easier than ever.
Looking for a pan that can do it all? When you don't have to worry about whether or not handles are oven-safe, your pans suddenly become a lot more adaptable to whatever your recipes call for. Whether your dish is destined for the oven, the stove, the serving table, or all of the above, removable handles securely snap on or off depending on how and when you need them.
Whether you prefer an elegant French-style handle or rustic wooden handles, these accessories aren't generally safe for every style of cooking. With removable handles, simply snap them off when your pan is ready to move from the stove to the oven, or even the grill using our Mineral B series. They click securely back on whenever you need to rotate, remove, or transfer the pan.
Not all pots and pans are dishwasher safe, and even in cases where they are, many have handles that aren't. The ability to remove the handles at the click of a button means dishwasher-safe pans, like our Alchimy range, no longer need to be excluded from the wash cycle due to handle material restrictions.


de Buyer's New LOQY Range
Our new LOQY range was designed with convenience and versatility in mind. With our range of carbon steel and multi-ply stainless steel collections, you'll find exactly the pan you need and the freedom to use it however you choose.
The single-sided French-style handle is elegant and ergonomic. Constructed of cast stainless steel, it offers practical comfort that clicks on securely when you need it and detaches easily when you don't. The double-sided handles are made of beechwood and protective silicone, transforming your pan into a beautiful serving dish for family-style meals.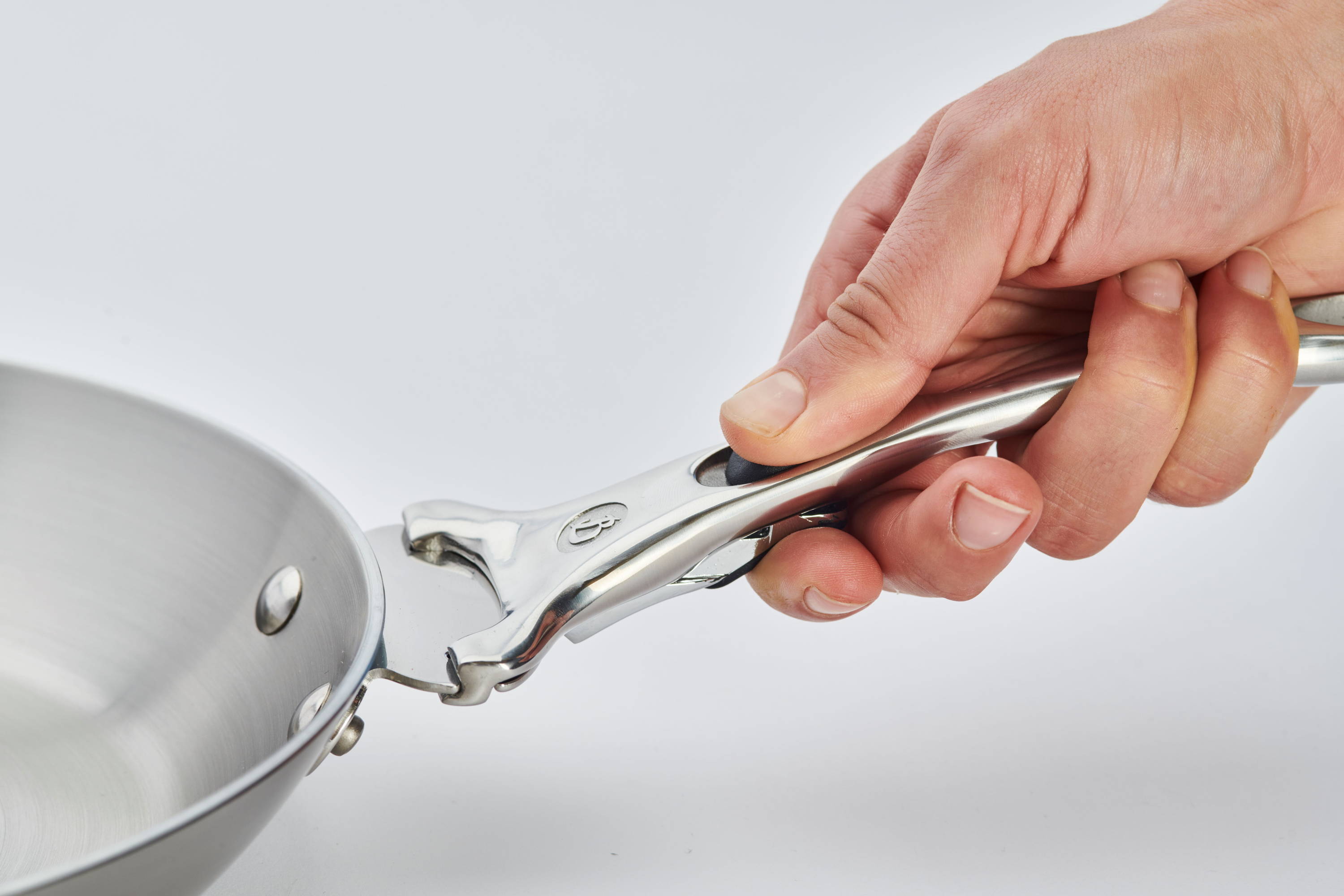 Our new LOQY range was designed with convenience and versatility in mind. With our range of carbon steel, multi-ply stainless steel, and cast aluminum nonstick collections, you'll find exactly the pan you need and the freedom to use it however you choose.
Our Mineral B collection is constructed using durable carbon steel. This material offers excellent heat conductivity, perfect for delicate recipes and those that call for high heat. Perhaps the most coveted feature of carbon steel is its ability to become naturally non-stick over time. The more you use it, the better it gets. This collection is safe to use on the grill and should be washed by hand to preserve the non-stick feature.
Multi-Ply Stainless Steel - Alchimy
The Alchimy series features 3 material layers for ultimate performance and flexibility. The interior layer of stainless steel is wrapped with a central layer of aluminum and finished with induction stainless steel on the exterior. Bringing together the eco-friendliness of stainless cookware and the quick responsiveness of aluminum, you get the best of both worlds. These pans are also induction-ready and dishwasher-safe.
Cast Aluminum- Choc Extrême
If you're looking for easy clean-up in the kitchen, it doesn't get easier than our CHOC Extrême line. These heavy-duty pans are constructed using die-cast aluminum and then coated with a high-performance nonstick black matte coating. The heavy, magnetic base offers stability on any cooking surface, including induction.


The Top 5 Removable Handle Cookware
The flexibility and convenience of removable handle cookware simply must be experienced to be appreciated. The ability to use 2 sets of handles with 14 different pieces of cookware offers convenience and simple clean-up without compromising on quality. If you're looking for a place to start, here are our top 5 recommendations for removable handle cookware.
With the Alchimy saucepan, you can choose from a wide range of sizes from 1.3-4 liters. These easily stackable saucepans can move conveniently and effortlessly from the stovetop to the oven, using the French-style stainless handle. They can even be used as serving dishes by simply swapping out the handles. They're the perfect choice for a hearty pot of soup served family-style at the table using the stylish beechwood handles.
The Mineral B Frying Pan comes in a 24-inch size and a 28-inch size. The thick carbon steel ensures long-term durability, even with high-temperature cooking. It's also induction-ready and grill-safe, so you can use it in multiple ways. Over time, this trusted pan becomes naturally non-stick, eliminating the need for cooking oil for lighter dishes.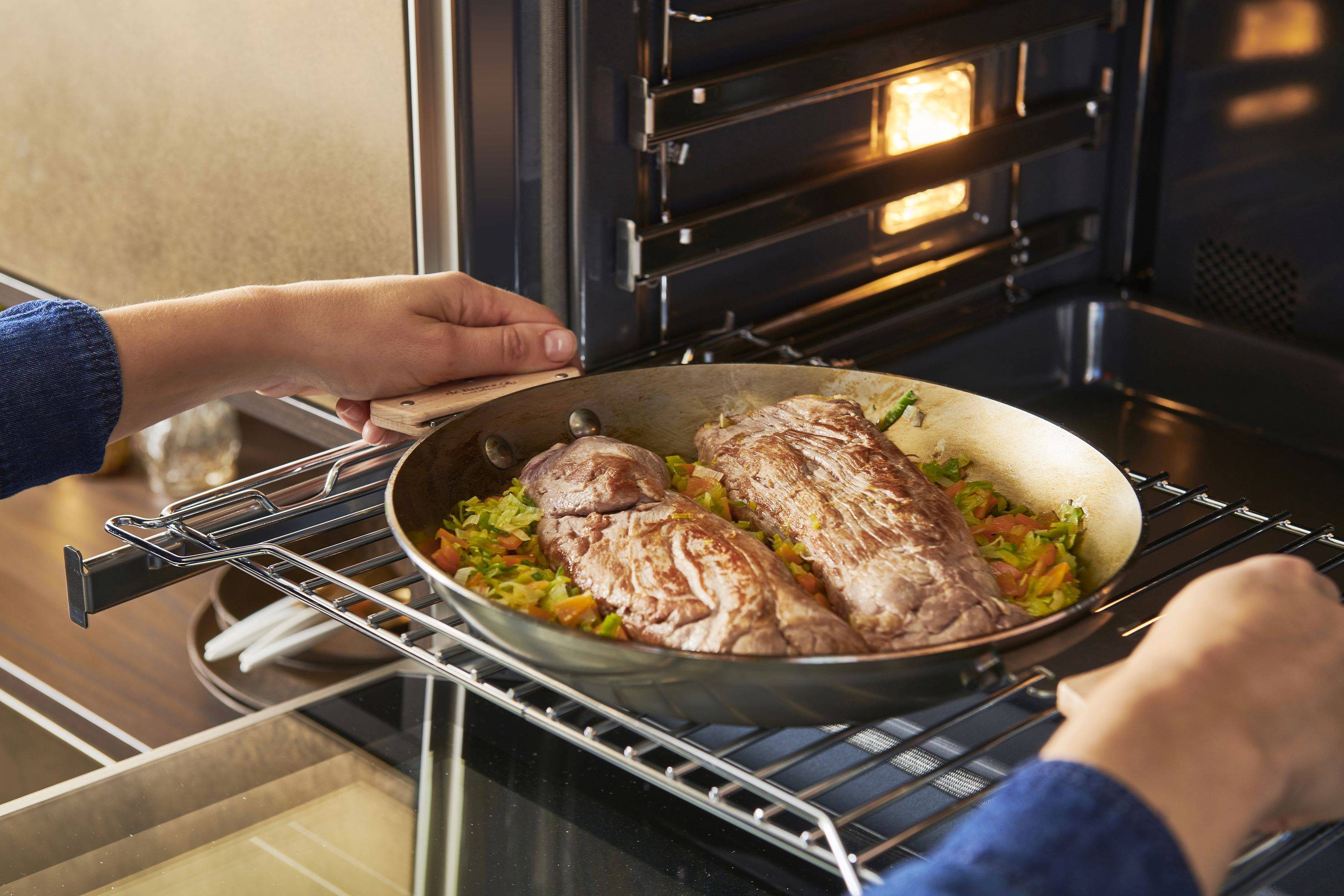 The Alchimy Straight Saute-pan
The high sides of the Alchimy Straight Saute pan make this a true workhorse. It can go anywhere and transform itself with the snap of a button. For example, you can start your onions and garlic off on the stove to achieve a deep caramelization. Then, saute a few veggies before adding fish or chicken. Use the French handle to transfer it to the oven, then reattach it to transfer again when the internal temperature is just right. Switch out the French handles for the beechwood handles to serve.
If you love the Mineral B Frying Pan but you're looking for a dishwasher-safe option, then the Alchimy Frying Pan will meet all of your needs. Available in 24-inch and 28-inch sizes, this multi-ply material combination saves you cooking time while the removable handles ensure that this pan can adapt to any way you want to use it.
There are two handles to accompany our LOQY line. The first is an ergonomic French-style handle made of stainless steel for ultimate comfort. The second is a pair of beechwood handles with silicone to prevent heat transfer. These have simple and secure click-on mechanisms so you can easily swap out the handles. There's also a glass lid to accompany the sauce and saute pans, as well as a stainless steel lid for frying pans. A stainless steel steam cooker is also available that's designed for 24-inch saucepans.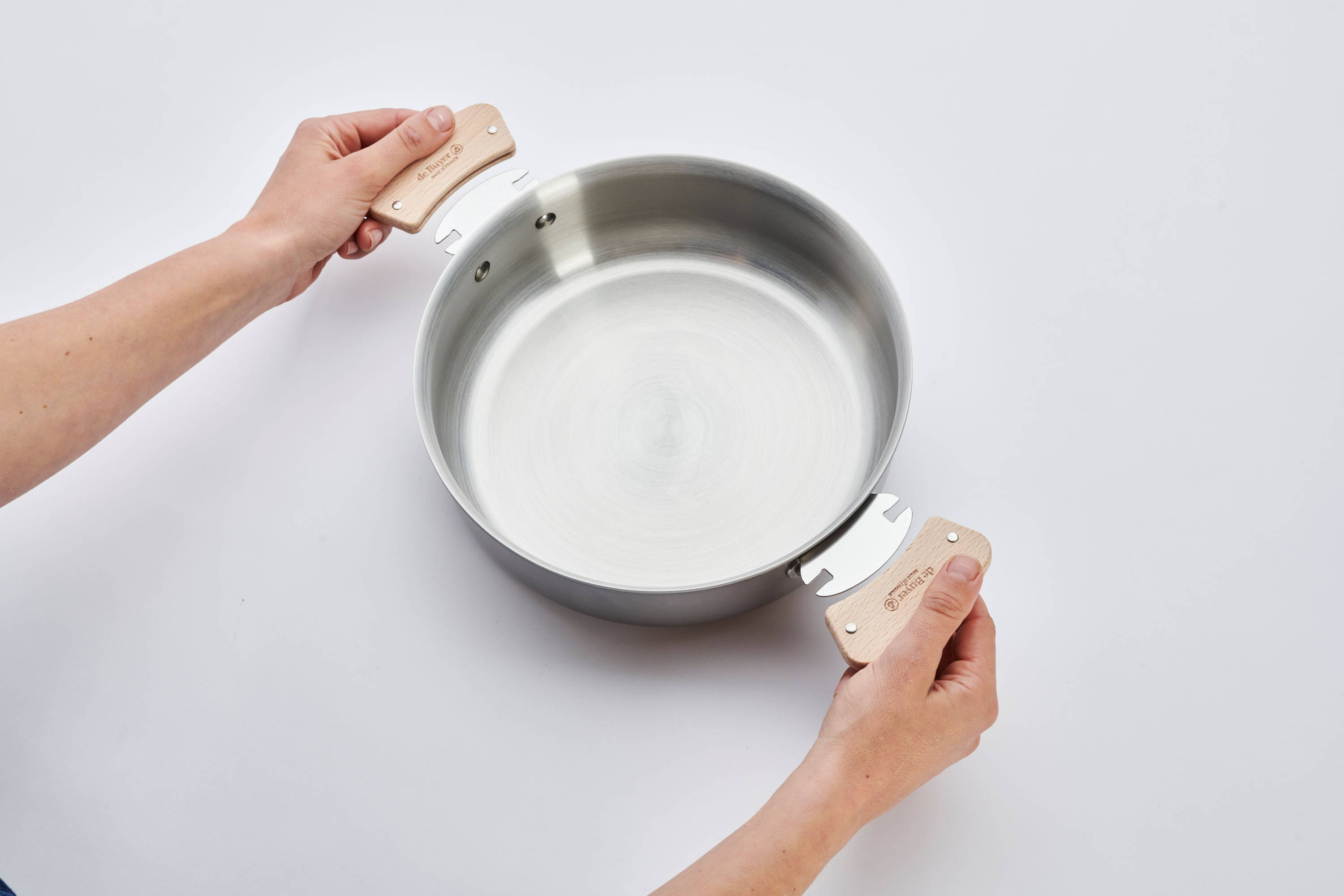 The Convenience of Removable Handle Cookware
Imagine the simplicity of using a single pan from the stovetop to the oven and straight to the table. Not only does removable handle cookware help you get the most out of a single pan, but it also offers a safer way to cook. By eliminating the need for transferring hot food into serving dishes and reducing the possibility of burning your hand on a hot handle, it's a wise investment. Removable handles give you the flexibility of all-in-one cooking with tidy storage built-in. Give these pans and try and we're certain you'll love them as much as we do!