What dish do you think about when the nights get cooler and the leaves start to change colors? A piping hot bowl of chili, the fragrant scent of curry hanging in the air, the rich texture of bolognese with fresh tagliatelle and a not-so-modest heap of freshly grated Parmegiano-Reggiano...we say bring it on!
The fall and winter months are especially good times for crafting hearty, one-pot meals that'll warm bones and fill bellies. These dishes call for kitchen tools that can handle big jobs. And, if you don't have the right tools, the change of seasons is a great excuse for upgrading those pots and pans that just aren't cutting it anymore.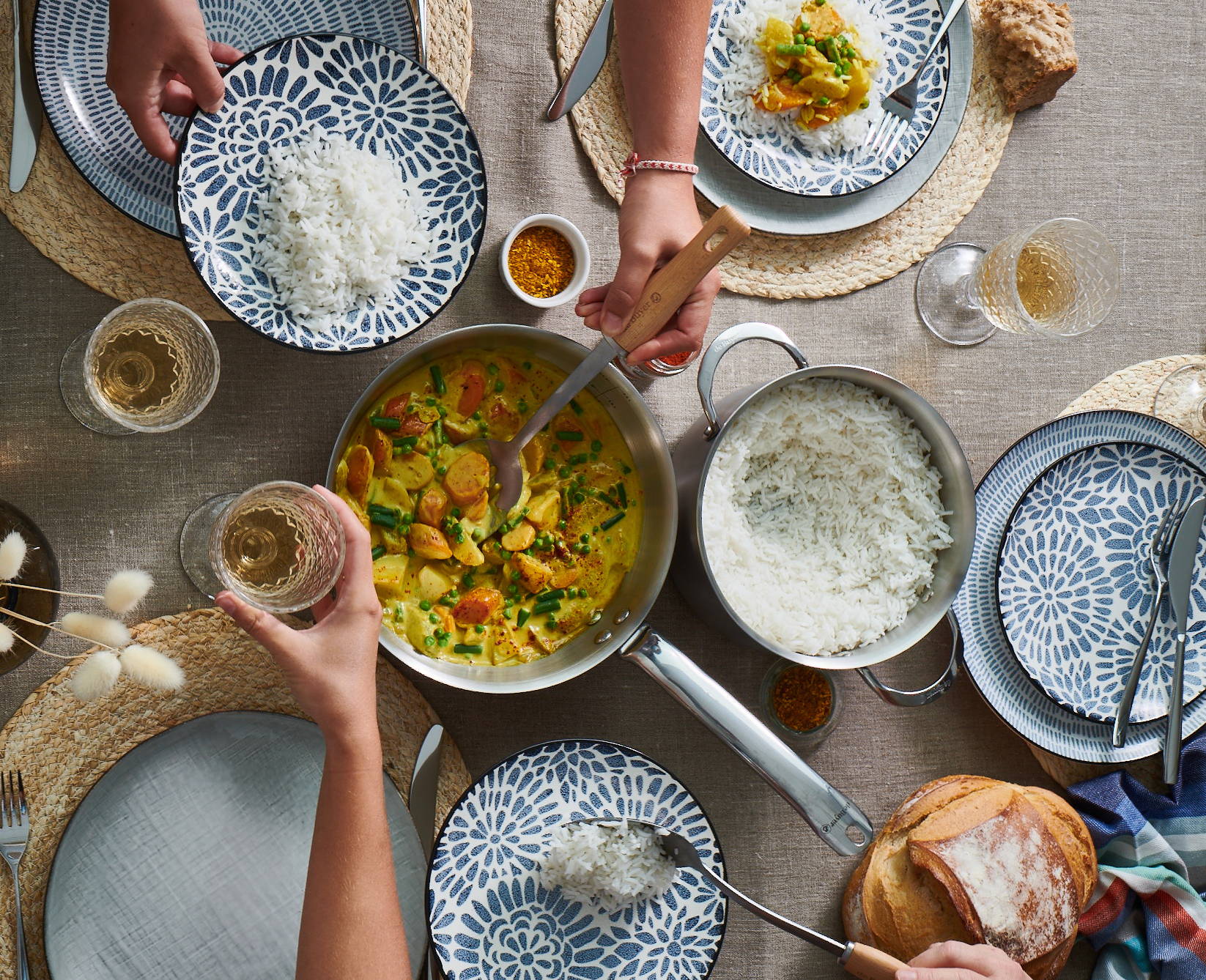 What are the best sauté pans for cooking big meals?
When it comes to cooking for your family or entertaining a large group, you should consider two things:
Economy of space- When you cook for a group, a larger sauté pan allows you to keep things simple. Rather than juggling multiple pans and pairing them with their correct respective burners, you only have to deal with one pan and one burner. That means you can relax a little and focus on other things...like that glass of wine you've been neglecting over there.
Versatility- A great sauté pan should be versatile. You want to invest in the kind of pan you'll use again and again. If you love a big, brothy French Onion Soup, and you're also known for your crispy, delicately deep-fried wontons, you'll want to find a deep enough sauteé pan that can accomplish both. This is especially important when it comes to flipping foods and keeping your workspace clean. A deep sauté pan of a good size is ideal for keeping everything contained, leaving you with less mess afterward.
Family Meal Ideas for Fall
If the mention of a famously French soup earlier got you excited, then we have a real treat for you. This recipe for French Onion Soup with Roasted Poblanos from Food & Wine Magazine is perfect for fall. It swaps the wintery-richness of beef for the lighter flavors of chicken, allowing the fresh, late-season herbs and alliums to come through brighter. This one-pot wonder highlights the versatility of our AFFINITY Rounded Sauté-pan. Our unique 5-ply carbon-steel performs beautifully in the oven and on the stovetop. The 5-ply multilayer technology offers precise temperature control and uniform heat distribution, perfect for caramelizing the onions for your soup. You'll love it for the energy efficient reduction capabilities, making cooking even quicker for family meals in a busy household. The rounded shape enables greater evaporation than the average sauté pan, helping to cut your cooking time in half. You'll get the perfect caramelization on your onions with easier clean-up than a Dutch oven.
Kids are known to be a little finicky about eating their vegetables, so anything that can achieve that is a win in our book. That's why we love this veggie-packed Winter Squash and Kale Pasta from Bon Appétit, courtesy of The Lantern Inn in New York. Since we're entering squash season and we're in the best part of kale season, it's the perfect time of year to add this into your weekly repertoire. Our CHOC Intense Deep Fry Pan is perfect for pasta-tossing, allowing each bite to get fully (and neatly) immersed in this fabulously nutty pecan and panko crumble. You can even pop this pan in the oven to get a crunchy, parmesan top layer and serve it family-style. If a sauté pan with one handle isn't for you, you can try the Mineral B Country Fry pan with 2 handles for more ease and comfort when transferring dishes from stove to oven.
Family meals and dinner parties often go hand in hand. When you find yourself cooking for a group, you can kill two birds with one stone by using your cookware as serveware! The PRIMA MATERA Braiser pan or the INOCUIVRE Sauté Pan seamlessly go from stove, to oven, to dining table to serve up your main course. Your guests will be in awe of its beauty and elegance. Bonus: you'll have less dishes to do afterward! The ALCHIMY Rounded Sauté-pan also looks beautiful on the dining table, and it's the perfect tool to impress your friends with our Vegetable Curry to Share recipe.
Cooking big meals can be daunting, but with the right equipment, the experience is transformed into something altogether enjoyable. A good sauté pan quickly becomes your "right-hand" in the kitchen. Their versatility alone makes this kitchen staple well worth the investment. This winter, level up with what's sure to be your most trusted kitchen tool. Treating yourself has never felt so justified!
★SHOW US HOW IT TURNED OUT★
Did you try any of these ideas? Post a photo of the meal you made on Facebook or Instagram with the hashtag #DBrecipe
And don't forget to tag us! @debuyerusa