France, with its rich culinary history, has a tantalizing array of cookie recipes that embody the essence of fall.
From the nutty warmth of hazelnuts to the sweet allure of apples and caramel, these treats are more than just desserts — they're an invitation to embrace the cozy comforts of the season.
We've been on the hunt for the best recipes we could find, and now we bring them to you!
Whether you're sipping on a warm cup of café au lait or enjoying a quiet evening by the fireplace, this recipe roundup of our top 3
French
cookies won't disappoint.
Bon appétit!
This treat combines the delicate almond meringue cookie with the warming embrace of cinnamon. Perfect for autumn gatherings or any time you crave a hint of spice, each bite transports you to a world of comforting sweetness. Serve alongside a hot beverage for the ultimate cozy experience.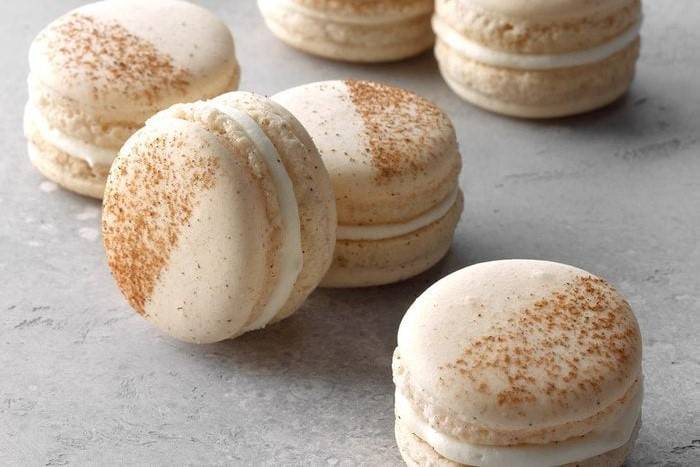 Cinnamon Roll Macarons Recipe photo by Taste of Home
For the Shells:
4 large egg whites
1-1/2 cups almond flour
1-1/4 cups confectioners' sugar
1/2 teaspoon ground cinnamon
3/4 cup sugar
Filling:
4 ounces cream cheese, softened
3 tablespoons butter, softened
1 teaspoon vanilla extract
1-1/2 cups confectioners' sugar
Additional ground cinnamon
1. Place egg whites in a small bowl; let stand at room temperature for 30 minutes. Sift almond flour, 1-1/4 cups confectioners' sugar and cinnamon together twice.
2. Preheat oven to 325°. Beat egg whites on medium speed until soft peaks form. Gradually add sugar, 1 tablespoon at a time, beating on high until stiff peaks form. Fold in almond flour mixture.
3. With a pastry bag, pipe 1-in.-diameter cookies 2 in. apart onto parchment-lined baking sheets. Bake until lightly browned and firm to the touch, 9-12 minutes. Keeping cookies on the parchment, transfer to wire racks; cool completely.
4. For filling, in a small bowl, beat cream cheese and butter until creamy. Beat in vanilla. Gradually beat in confectioners' sugar until fluffy. Refrigerate until mixture firms to a spreading consistency, about 10 minutes.
5. Spread about 1/4 teaspoon filling onto the bottom of each of half of the cookies; top with remaining cookies. Sprinkle with additional cinnamon. Store in airtight containers in the refrigerator.
Cookware used in this recipe
Hazelnut Madeleine Cookies
Hazelnut Madeleine Cookies are a delightful twist on the classic French madeleine. These cookies offer a perfect harmony of textures, with a soft, cake-like interior and a crisp, golden-brown exterior, making them a charming choice for tea time or a sweet afternoon treat that's sure to satisfy your cravings for a nutty delight.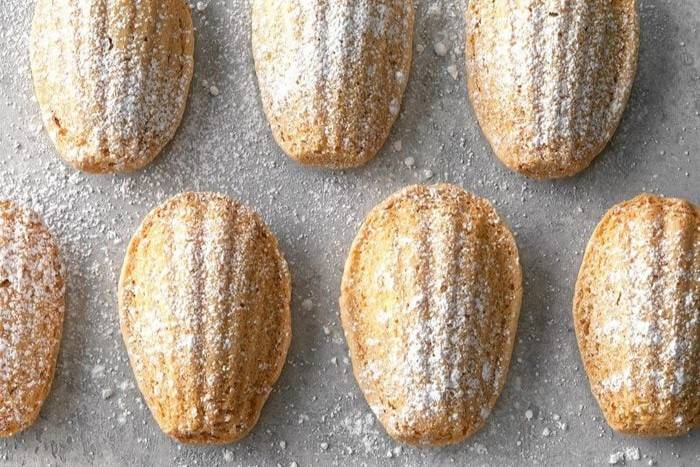 Hazelnut Madeleine Cookies Recipe photo by Taste of Home
1/2 cup whole hazelnuts, toasted
1 tablespoon confectioners' sugar
1 tablespoon plus 1/2 cup butter, divided
2 tablespoons plus 1 cup all-purpose flour, divided
2 large eggs, separated, room temperature
2/3 cup sugar
1/4 teaspoon vanilla extract
1 teaspoon baking powder
1/8 teaspoon salt
Additional confectioners' sugar, optional
1. In a food processor, combine the hazelnuts and confectioners' sugar; cover and process until nuts are finely chopped. Set aside. Melt 1 tablespoon butter; brush two 12-shell madeleine pans with butter. Dust with 2 tablespoons flour; tap pans to remove excess flour and set aside. Place remaining 1/2 cup butter in a saucepan; melt over low heat until it turns a light amber color, 4-5 minutes. Set aside to cool.
2. In a large bowl, beat egg yolks and sugar until thick and a pale lemon color. Stir in melted butter and vanilla. Combine the baking powder, salt and remaining flour; stir into butter mixture just until combined. In a small bowl, beat egg whites on high speed until stiff peaks form; fold into batter. Gently fold in reserved nut mixture.
3. With a tablespoon, fill prepared pans two-thirds full. Bake at 325° until golden brown, 18-20 minutes. Cool for 2 minutes before inverting pans onto wire racks to remove cookies. Cool completely. Lightly dust with additional confectioners' sugar if desired.
Cookware used in this recipe
Pistachio Palmiers are exquisite French pastries characterized by their delicate, flaky layers of buttery puff pastry, generously filled with a sweet pistachio paste. These delectable treats offer a perfect balance of crispy texture and nutty, slightly sweet flavor, making them a delightful choice for both casual snacking and elegant dessert indulgence.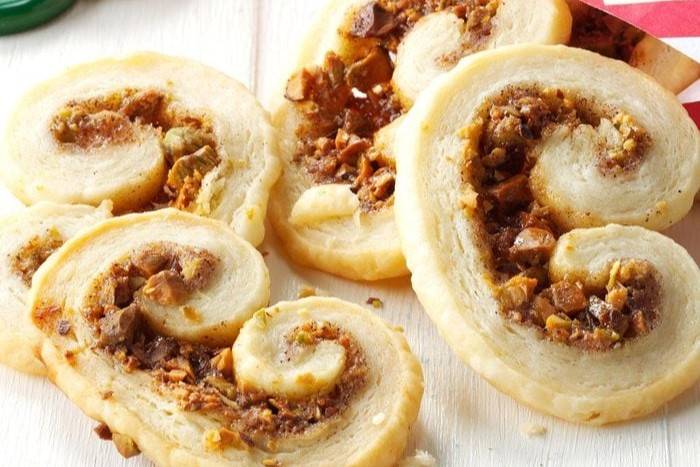 Pistachio Palmiers Recipe photo by Taste of Home
Dough:
1-1/2 cups all-purpose flour
3/4 cup cake flour
3/4 teaspoon salt
1-1/4 cups cold butter, cubed
1/3 cup ice water
1 tablespoon lemon juice
Filling:
1/3 cup sugar
1 teaspoon ground cinnamon
1/4 teaspoon ground cardamom
1/4 cup butter, melted
2 tablespoons honey
1 tablespoon rosewater or water
1 cup chopped pistachios
1. Place flour and salt in a food processor; pulse until blended. Add butter; pulse until butter is the size of peas. While pulsing, add ice water and lemon juice to form crumbs. Turn onto a floured surface; knead gently 8-10 times.
2. Roll dough into a 12x8-in. rectangle. Starting with a shorter side, fold dough in half. Repeat rolling and folding. Place folded dough in an airtight container and freeze 20 minutes.
3. Roll dough into a 12x8-in. rectangle. Starting with a shorter side, fold dough into thirds, forming a 4x8-in. rectangle. Place folded dough with longer side facing you; repeat rolling and folding twice, always ending with a 4x8-in. rectangle (If at any point the butter softens, chill after folding). Cover folded dough and refrigerate overnight.
4. Preheat oven to 400°. In a small bowl, mix sugar, cinnamon and cardamom. In another bowl, mix butter, honey and rosewater. Turn dough onto a lightly floured surface; cut in half. Roll 1 half dough into a 12x10-in. rectangle. Brush with half the butter mixture; sprinkle with half each of the following: sugar mixture and pistachios.
5. Starting with a long side, roll up the left and right sides toward the center, jelly-roll style, until rolls meet in the middle. Repeat with remaining dough, butter mixture, sugar mixture and pistachios. Refrigerate rolls 20 minutes or until firm enough to slice.
6. Cut rolls crosswise into 1/4-in. slices. Place 2 in. apart on parchment-lined baking sheets. Bake 8-10 minutes or until golden brown. Cool on pans 2 minutes. Remove to wire racks to cool.
Cookware used in this recipe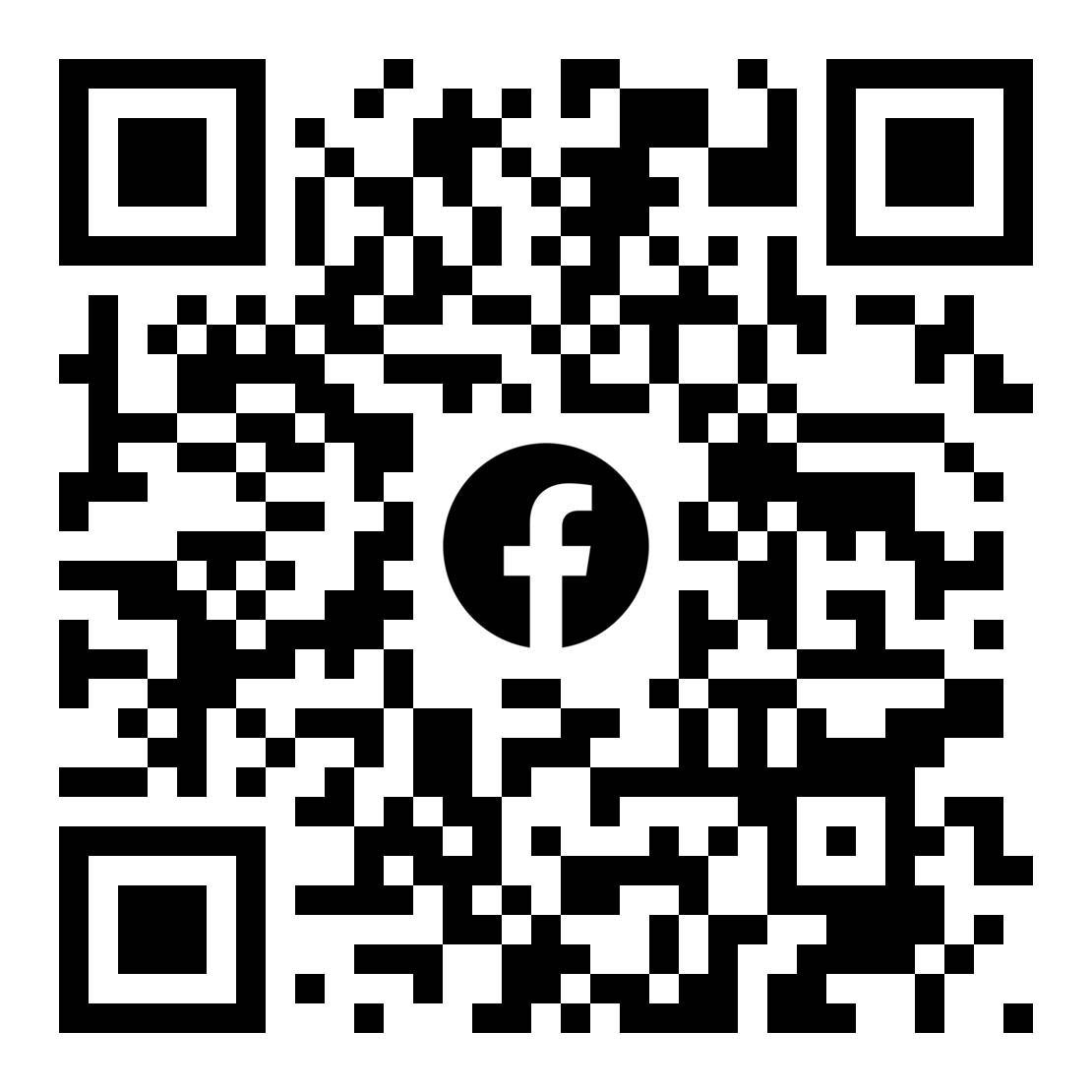 Did you try this recipe? Show it off!
Join the de Buyer Enthusiasts group on Facebook. If you tried this recipe and loved it, show off your results with our community in the Facebook Group!
Do you want to purchase exceptional bakeware, cookware, or utensils for your kitchen?
We have been manufacturing quality items in France at de Buyer since 1830.
Choose the next great item for your kitchen!