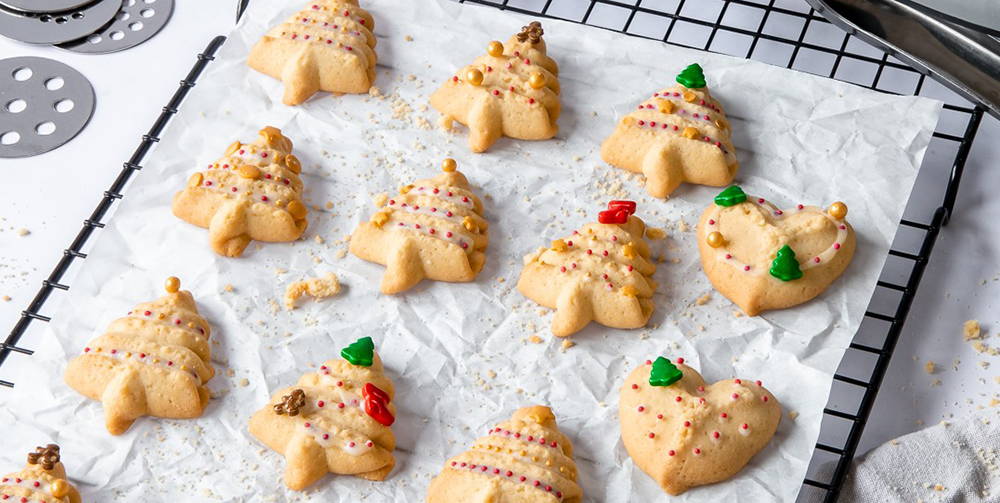 Christmas Shortbread Cookies Recipe
Serves 1 (Santa)
It's Christmas Eve and Santa is coming to town!
Be sure to leave some delicious, fresh Christmas cookies out tonight…we have a recipe that he will love!
Just be sure not to forget the ice-cold milk! ⁠🥛
Cookie Dough
1 ¼ cups flour
Pinch of baking powder
½ cup softened butter
¼ cup powdered sugar
1 Tbsp vanilla sugar (can be substituted by combining 1T regular sugar and ¼ tsp vanilla extract)
Pinch of salt
½ tsp vanilla extract
1 egg
Icing
1 ¾ cup powdered sugar
1 egg white
Food coloring (if desired)
Step 1. Preheat oven to 300F
Step 2. In a mixing bowl, combine flour with baking powder
Step 3. In a medium bowl (or the bowl of your stand mixer) add softened butter, powdered sugar, vanilla sugar, pinch of salt, and vanilla extract and use a mixer on low-medium speed to combine until the texture is smooth
Step 4. In a small bowl, beat the egg and add it to the butter mixture and mix until combined
Step 5. Scoop the flour mixture into the butter mixture and combine just until the dough starts to form
Step 6. Transfer the dough into your LE TUBE container, place the desired disc into the biscuit lid (curved side towards the inside of the tube), and set the dial to position 2 – press the handle a few times pack the dough in and eliminate air bubble
Step 7. Portion out the cookies on a silicon mat on a perforated baking sheet (press and release the handle then lift with a sharp movement)
Step 8. Place in the oven and bake for 17 minutes or until golden-brown
Step 9. Let the cookies cool for a few minutes before transferring them to a cooking rack – they will harden as they cool
Step 10. Prepare the icing: combine all ingredients in a bowl and mix
Step 11. Decorate the shortbread cookies as desired. Enjoy!
★SHOW US HOW IT TURNED OUT★
Did you enjoy making this recipe? Post a photo of your dish on Facebook or Instagram with the hashtag #DBrecipe and don't forget to tag us @debuyerusa!
Not on socials? No problem. Send us your photo by email to dbinsider@debuyer.com
Need the right tools for your cookie? Don't worry, we've got you covered!
Find the perfect tools for your kitchen: