FRIED OR SCRAMBLED EGGS, OMELETTES...
When using a fry pan, eggs can be made many ways: fried - sunny side up, over easy or over medium, scrambled, or in an omelette. They're all yummy!
de Buyer fry pans, whether carbon steel, blue steel or non-stick, use the perfect materials to make eggs, any style. They are naturally non stick and allow for the perfect temperature.
Our pans do not require anything fatty like oil or butter: they are naturally non-stick (make sure you know how to season your carbon steel), allowing for healthy cooking!
OUR

SELECTION OF FRY PANS
ACCESSORIES YOU WILL LOVE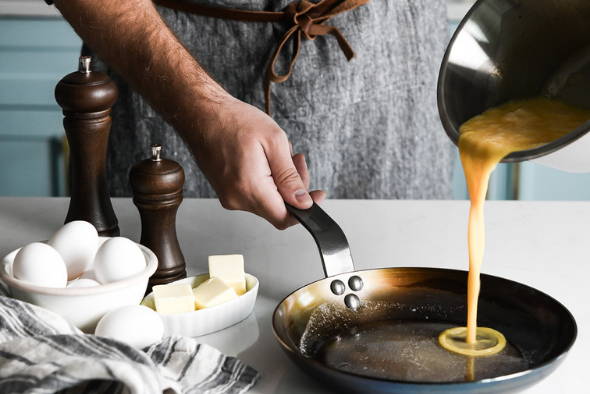 Since 1830, every de Buyer utensil is conceived, engineered, and manufactured in our factory in France, following the most stringent quality requirements. Our carbon steel and copper lines have a lifetime warrantee.

From the Chefs we partner with to the individuals working at all levels of our company, everyone involved in making a de Buyer product is inhabited by the same passion: allowing home chefs like you to thrive in the kitchen.

The "Corporate Social Responsibility" (CSR) commitment label that we received in 2018 is the recognition of our efforts in fields like environmental protection and workplace safety and inclusivity, whether internally or among our partners. De Buyer is the first and only French company in the culinary industry to receive this label.