Mineral B Carbon Steel: Authentic Cooking
From a brand you can trust.
For almost 200 years, authenticity, passion and commitment have been the values at the core of de Buyer's business, knowledge and expertise. As the original carbon steel producers, we hold ourselves to a standard unlike anyone else. As our most well known and best selling product, Mineral B Carbon Steel line pans have become staples in professional kitchens around the world. Highly praised by chef's and dedicated home cooks alike, they will tell you it is a must have in your collection-- an irreplaceable pan with irreplaceable benefits.

Made of 99% iron and 1% carbon, our carbon steel pans are as slippery as a brand new nonstick with better sear and no synthetic coating. They come with a beeswax finish to prevent oxidation.

Durable – Carbon steel is extremely strong and shock resistant. Our Mineral B pans come with a lifetime warranty.
Safe – Compared to many other materials, steel is safe to handle and work with in the kitchen every time.
Green – No synthetic coating for completely natural cooking.
Mineral B by de Buyer
The Original Carbon Steel Pan
Made in France
Mineral B is a line of frypans that also includes specialty pans such as an egg pan, a steak pan, a paella pan, a wok, a roasting pan, a griddle and more.



Before your first use you must...
Scrub down pan with hot water and soap, removing all beeswax
Scrub with non abrasive scrub brush to avoid damaging the pan
Place on burner on low to fully dry
Immediately start the seasoning process (follow the instructions below)




Carbon Steel is perfect for....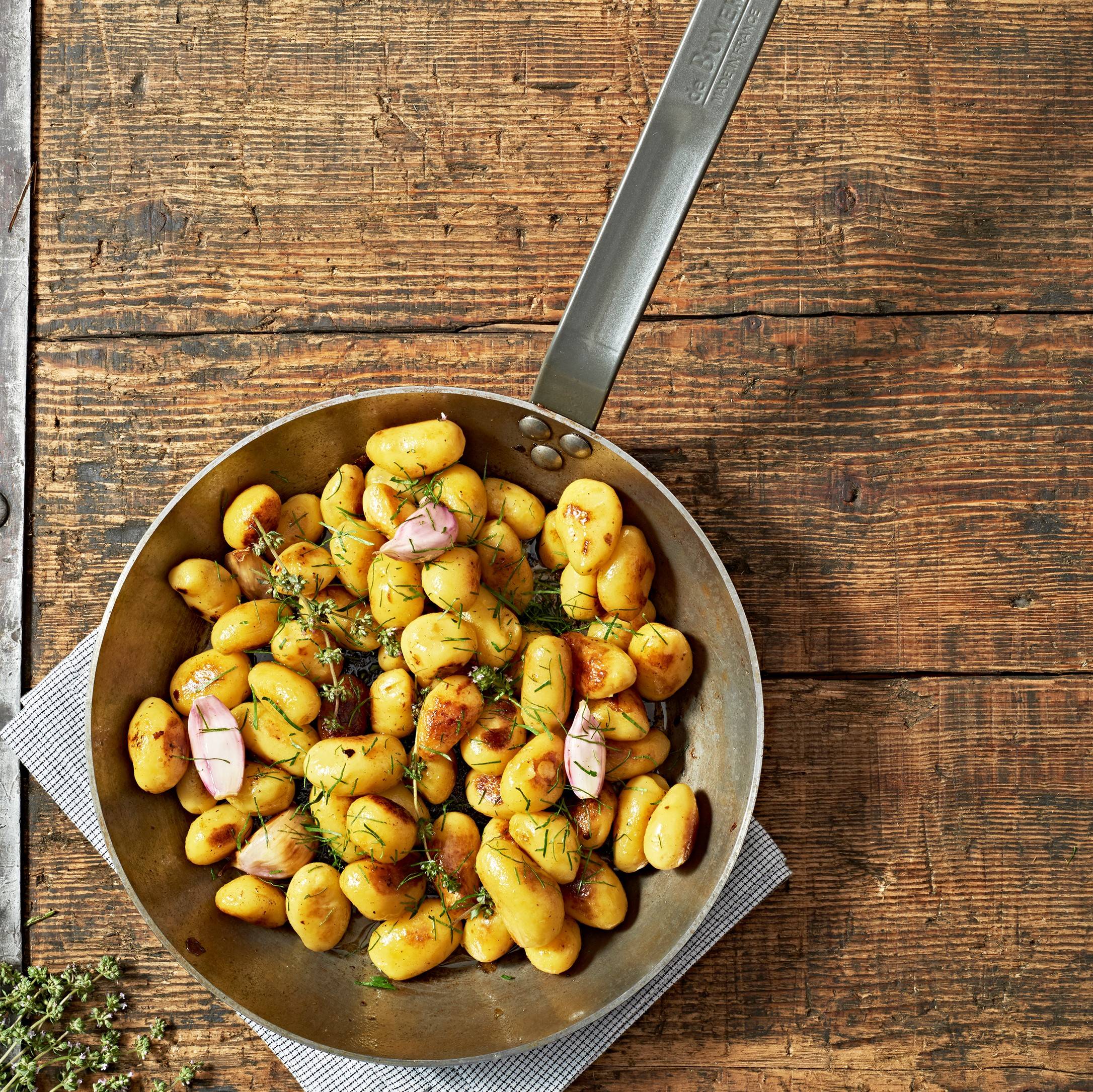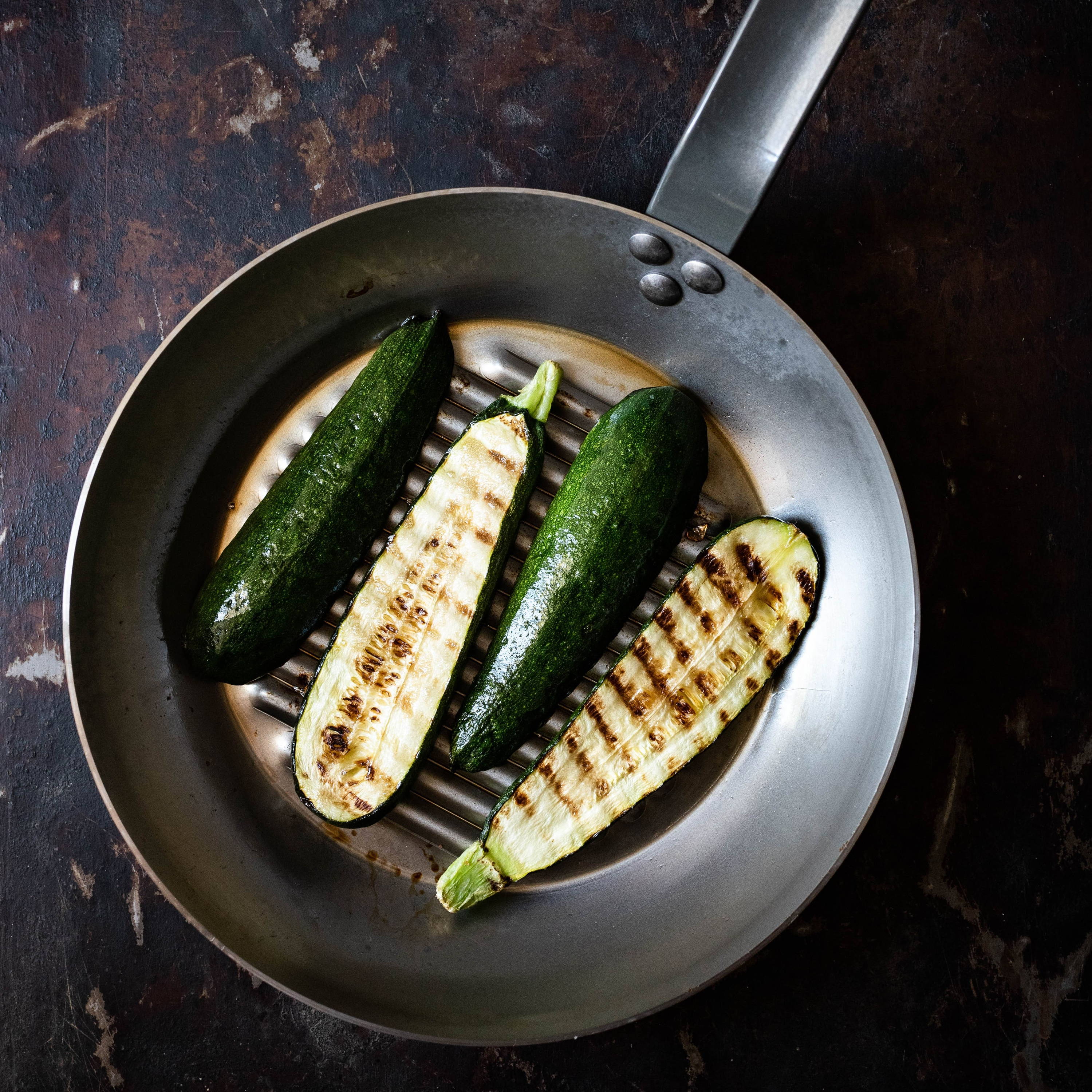 *avoid cooking with acidic foods in carbon steel as it strips the seasoning
*can be used in the oven but only at maximum 400F for 15 min
What's special about Mineral B Carbon Steel?
Natural & long lasting cookware
PTFE Free
PFOA Free
Carbon steel, a mineral material
100% Natural Beeswax finish
Becomes naturally nonstick
Built to last a lifetime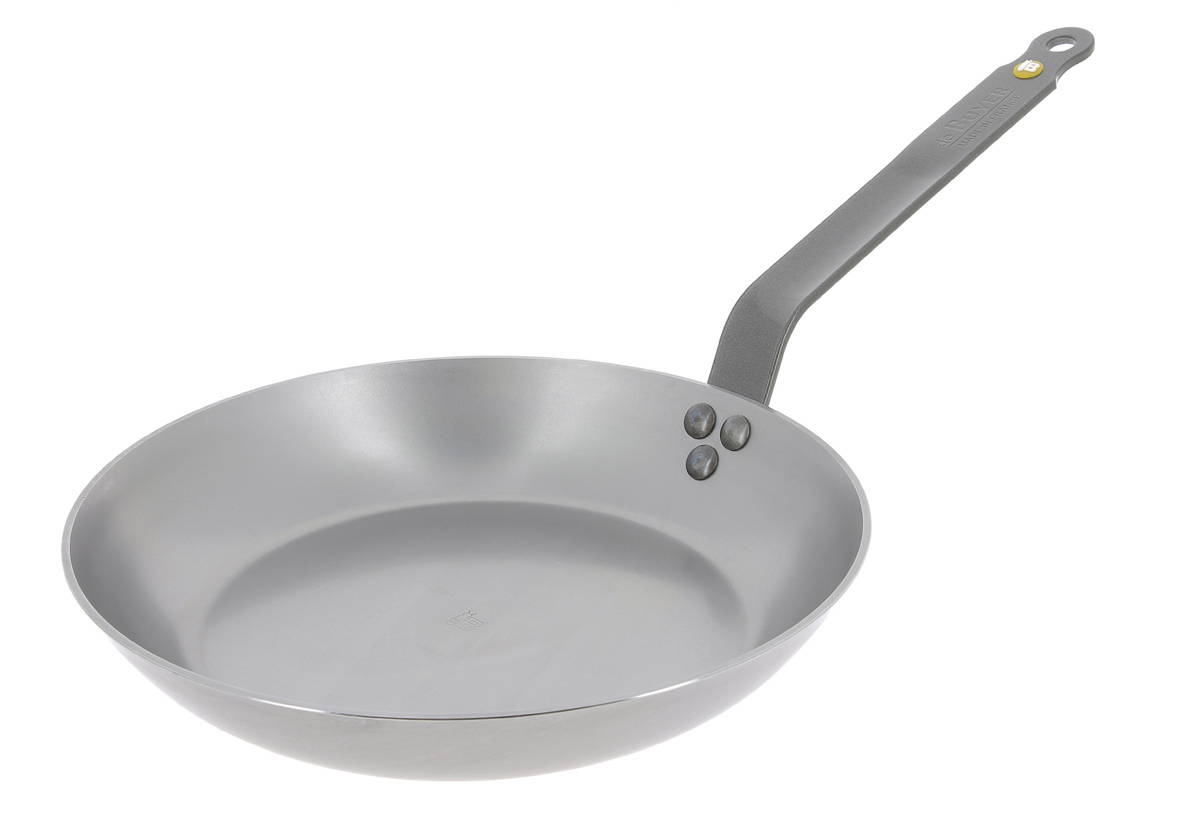 The rivets have been thoughtfully rendered out of the very same quality carbon steel as the pan, they will not loosen over time. The rivets will expand and contract at the same rate as the pan, so that the integrity of your Mineral B product is kept intact.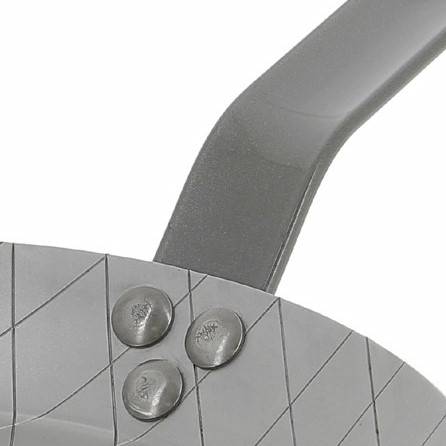 2.5 - 3 mm thick
Induction ready
Warp resistant
Oven safe (up to 20 mins at 400F)
Constant and even heat distribution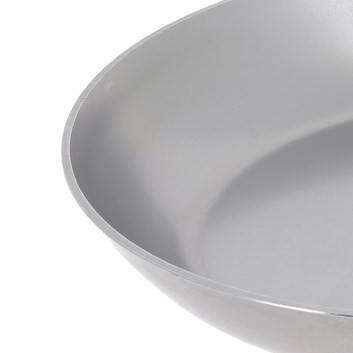 Ergonomic handle for easy grip and balance
French curve ideal for sauteing, stirring, flipping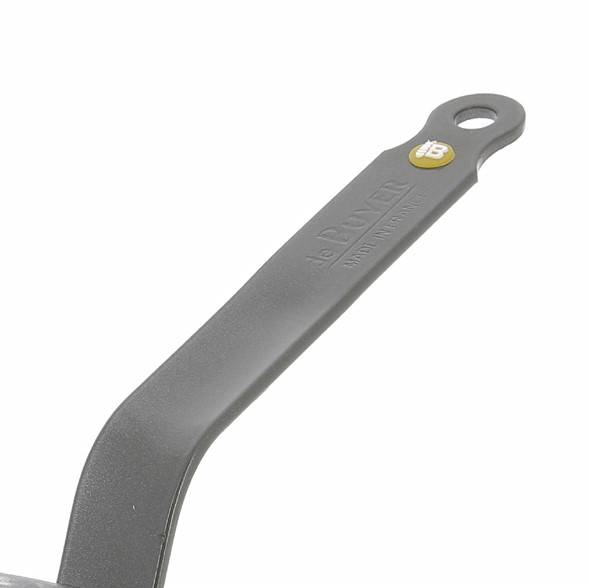 How do I season my Mineral B Carbon Steel pan?
The quick and easy guide to seasoning carbon steel

Your carbon steel pan will come covered in beeswax to protect against oxidation and be a shiny, silver color before use.
Before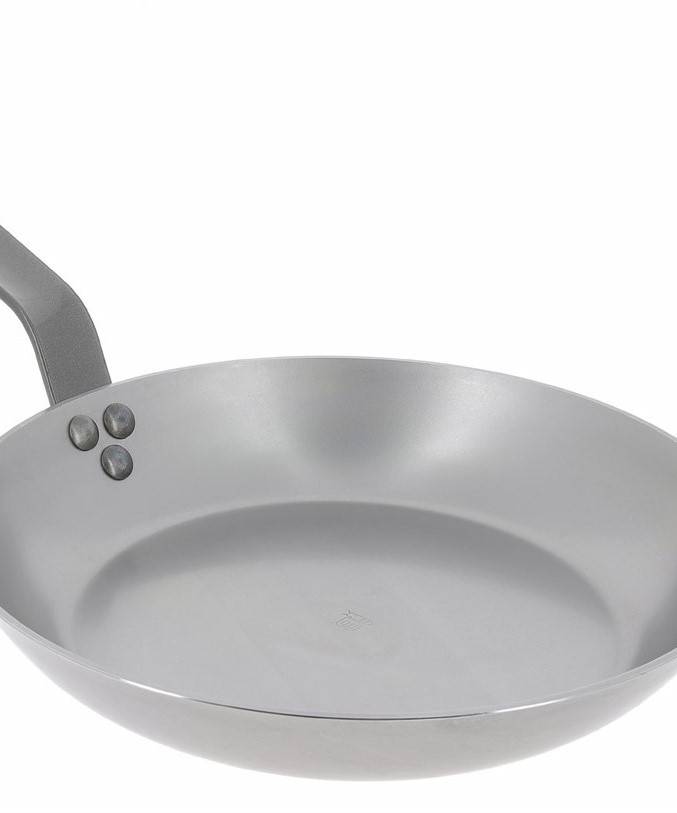 After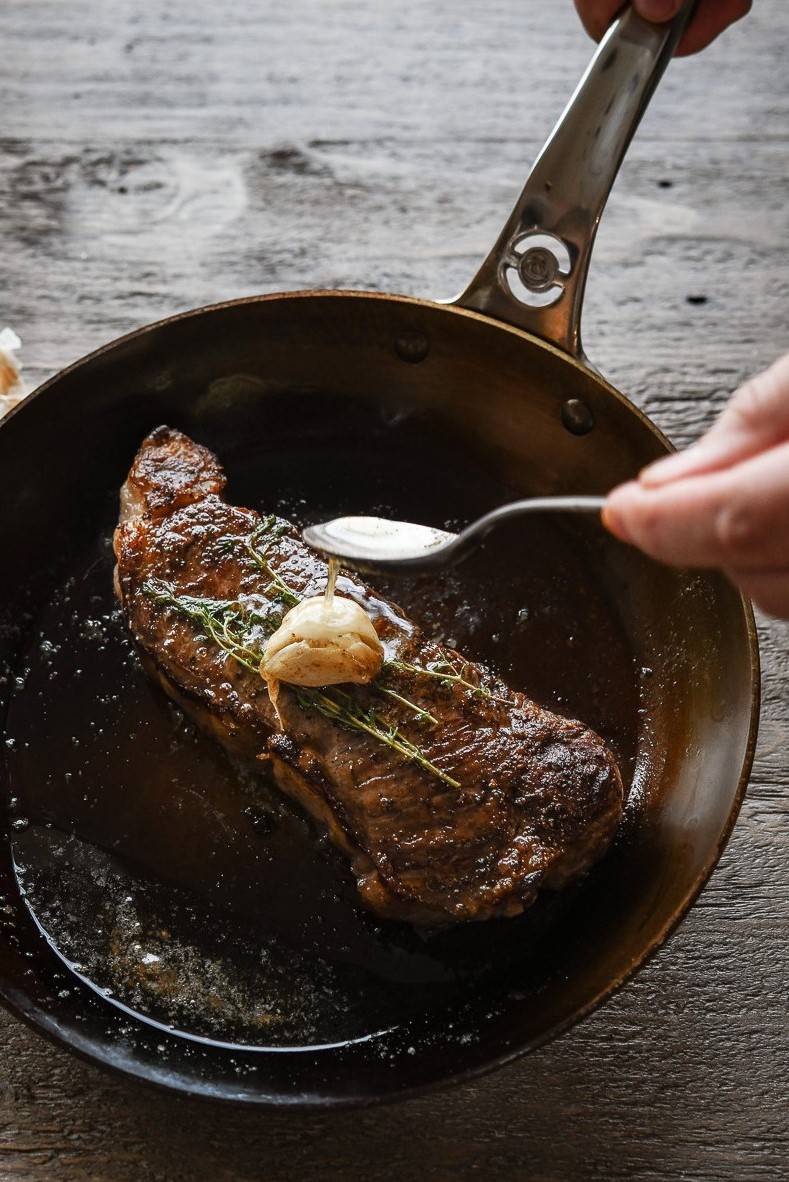 While seasoning, your pan will become darker and start to build a patina or a seasoning layer of oil. This is what keeps it nonstick, and the more it is used the darker it will get and the more nonstick it will become.
What's the best way to clean my carbon steel?
Just like cast iron, using soap on carbon steel can often be a death wish! While a small amount of soap can sometimes be used to get off extra grime, here is the washing and drying method we recommend:
1. Deglaze pan while still hot by adding a small amount of water to pan.
2. Rinse pan in hot water while using a cloth or paper towel to clean.
3. If necessary, scrub with a non-abrasive scrub brush to remove anything that is stuck.
4. Dry pan with paper towel or cloth, and place on stovetop on low for 30 seconds to speed up drying.
5. Add a small drop of oil to the pan and spread it around the top and bottom until there is a protective oil layer to avoid rust.
6. Store in a cool, dry place.

FAQ's About Carbon Steel & Mineral B
Is carbon steel better than cast iron?
Carbon Steel and Cast Iron are very similar but have some key differences, especially their manufacturing process. Carbon steel will be slightly thinner and and therefore lighter and easier to handle than cast-iron pans. Carbon steel pans will also heat up and cool down faster than traditional thick cast-iron pans.
What is the best oil to season a carbon steel pan?
There are many different oils to use and ways to season a pan but we recommend using an oil with a high smoking point. Such as: flaxseed, grape, sunflower, and avocado oils.
Do carbon steel pans rust?
Unfortunately due to the laws of nature, rust can occasionally appear on your carbon steel pans. To prevent rusting, wipe your pan down with a small amount of oil and store in a dry place. Limit acid use and build a strong patina on your pan. If rust does build, we recommend using a rust cleaner and a non-abrasive scrub brush to remove it, and then clean it and rebuild your patina.
Are carbon steel pans good?
Carbon steel pans are the pans that do it all, where frying, grilling, browning and searing is involved. Once well seasoned, our carbon steel pans are as slippery as a brand new nonstick with better sear and without any synthetic coating. Protected with our signature beeswax finish your pan will withstand oxidation during shipment and help with the seasoning process. We may be biased, but they're some of the best pans around.
How long does it take to get a good seasoning on your carbon steel pan?
The process can be different for everyone, but after a few weeks to months you will notice, with continuous use, your pan becoming darker, almost black. Once your pan is blackened and completely nonstick, you have reached the peak of seasoned carbon steel! Until then, just keep using your pan and it will keep getting more and more nonstick.
Are Mineral B Carbon Steel pans made in France?
Yes, all of our Carbon Steel pans are hand crafted at our factory in France.





What our Customers are saying
⭐⭐⭐⭐⭐
"I LOVE this pan. it's bulletproof. was very easy to season and now it's the most versatile pan in my arsenal, use it for almost everything."
-Nicholas L
⭐⭐⭐⭐⭐
"I did some research and bought this pan for my husband for Christmas, as I knew he would never buy something so expensive for himself. I am so glad I did! He raves about his new pan and everything he prepares is in his new pan. High quality is an understatement. This pan is worth every single penny! Clean up is so much easier than our cast iron skillets and no worries of chemicals from Teflon. We will be adding more pans in the future!
-Rebecca E
⭐⭐⭐⭐⭐
It's wonderful. Properly seasoned, which is easy, your meal really does slide off the pan onto your plate. And if you screw it up - like I did by overheating the oil, you can scrub it off and start over. You can't hurt this stuff.
-Gregory S
⭐⭐⭐⭐⭐
Favorite pan I own. Everything cooks evenly, great for searing. My eggs slide around like hockey pucks. The seasoning on the pan just gets better and better.
-John U
Since 1830, every de Buyer utensil is conceived, engineered, and manufactured in our factory in France, following the most stringent quality requirements. Our carbon steel and copper lines have a lifetime warrantee.

From the Chefs we partner with to the individuals working at all levels of our company, everyone involved in making a de Buyer product is inhabited by the same passion: allowing home chefs like you to thrive in the kitchen.

The "Corporate Social Responsibility" (CSR) commitment label that we received in 2018 is the recognition of our efforts in fields like environmental protection and workplace safety and inclusivity, whether internally or among our partners. De Buyer is the first and only French company in the culinary industry to receive this label.
Follow us on social media