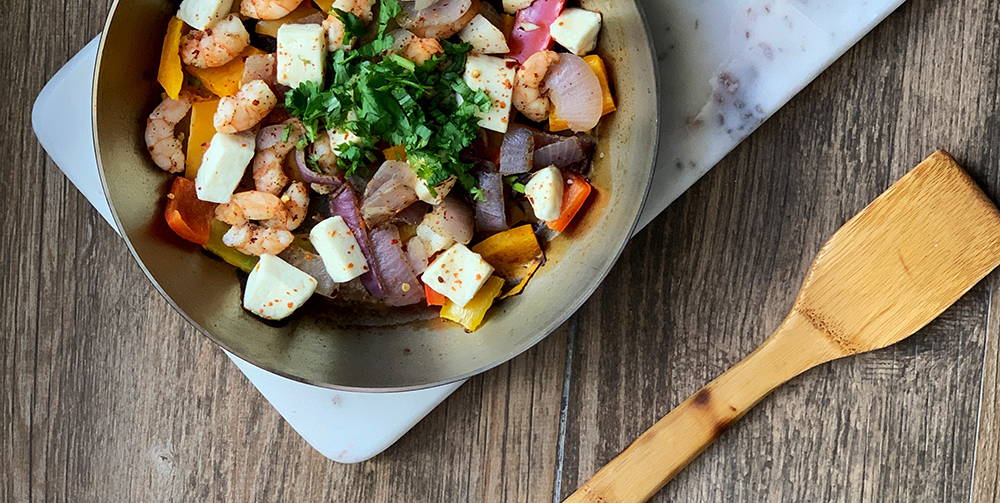 Shrimp Fajita with Queso Panela Recipe
Serves 4
This Shrimp Fajitas recipe inspired by @purely_healthy_living is a deliciously simple and quick meal to make for yourself or for the whole family!
It is jam-packed with veggies and herbs that even the kids will enjoy eating (although, a little cheese never hurts 😉) – perfect after the heavy holiday meals. Make it your own and serve it up with some warm tortillas, rice, or over a bed of romaine lettuce. Bon Appetit!
1 ½ lbs shrimp, peeled and deveined
1 small red onion
1 large bell pepper, thinly sliced (any color, we like green!)
1 package Panela Cheese, cubed
Juice of 1 lime
2 tsp chili powder or smoked paprika
1 tsp cumin
½ tsp of cayenne pepper (add more or less to your preferred level of spiciness)
½ cup fresh cilantro, chopped
2 cloves of garlic, minced
Salt and Pepper to taste
Optional: Fresh avocado slices, tortilla or romaine lettuce
Step 1. Preheat your seasoned carbon steel pan (empty) on low-medium heat
Step 2. In a mixing bowl, add shrimp, lime juice and spices. Mix it all together and set it aside.
Step 3. Add olive oil or fat of choice to your preheated pan, sauté onions and garlic until fragrant then add in the sliced bell pepper, salt, and pepper and sauté for an additional 6 minutes, adding the panela cheese halfway through
Step 4. Transfer bell pepper mixture to a bowl and return the pan to the stove over medium heat, add the shrimp and cook for 2-4 minutes
Step 5. Serve cooked shrimp and fajitas with some warm tortillas, or over a bed of chopped romaine lettuce with fresh avocado and chopped cilantro. Enjoy!
★SHOW US HOW IT TURNED OUT★
Did you enjoy making this recipe? Post a photo of your dish on Facebook or Instagram with the hashtag #DBrecipe and don't forget to tag us @debuyerusa!
Not on socials? No problem. Send us your photo by email to dbinsider@debuyer.com
Need the right tools for your cookie? Don't worry, we've got you covered!
Find the perfect tools for your kitchen: