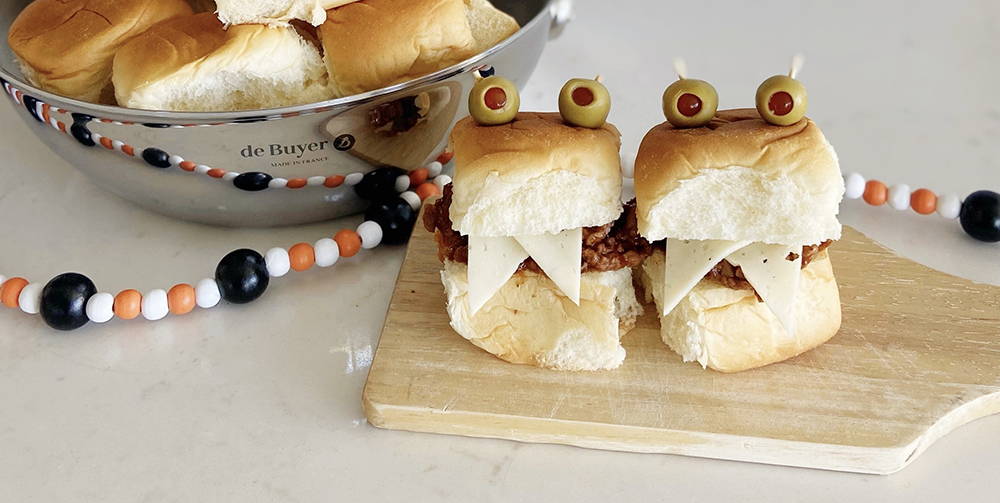 SPOOKY SCARY VAMPWICHES
RECIPE 🧛
Serves 4-5 people
Trick or Treat doesn't always have to be about candy! Whether you are making lunch for your kids, preparing appetizers for your Halloween party, or just making a fun festive snack for yourself – these Spooky Scary Vampwiches are delicious and easy to make with any of our Sauté Pans! We got this recipe from @fargofarmhouse who used our AFFINITY Rounded Sauté Pan to create this tasty Halloween Treat.
1lb ground beef
1 package Hawaiian rolls
1 Can tomato soup
1 Tbsp Brown Sugar
1 Tbsp Mustard
3 Tbsp Ketchup
2 Tsp Chili Powder
Salt and pepper (to taste)
Havarti cheese, sliced (or any white cheese)
Green olives and toothpicks
Step 1. Brown ground beef, adding salt and pepper to taste.
Step 2. Once browned, add tomato soup, brown sugar, mustard, ketchup, and chili powder.
Step 3. Slice rolls in half. Slice cheese into triangles.
Step 4. Assemble by placing meat on bun, top with cheese triangles to form 'fangs.' Skewer olives onto toothpick for vampire's 'eyeballs.' Enjoy!
★SHOW US HOW IT TURNED OUT★
Did you enjoy making this recipe? Post a photo of your dish on Facebook or Instagram with the hashtag #DBrecipe and don't forget to tag us @debuyerusa!
Need the right pan to make your vampwiches? Don't worry we got you covered!
Find the perfect pan for your kitchen: