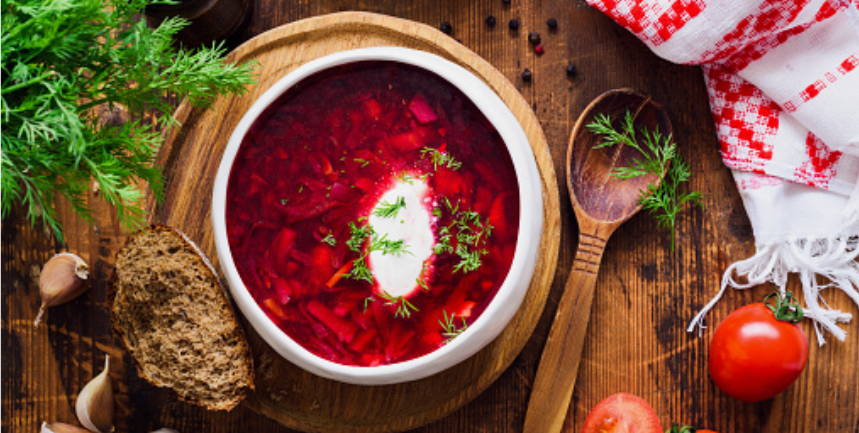 Borscht: Beet Soup Recipe
Serves 6
There's no better way to simplify your weekly cooking routine than with soup! It's healthy, filling, and so easy to make! Borscht is a traditional Russian/Ukrainian dish that mainly consists of beets, cabbage, and tomato, but it is one of those dishes that is made differently in every family.
It's one of those soups that you can really make to your own preferences – add meat, beans, more beets, less cabbage, or anything else your heart desires.
Bon Appetit!
2 cartons of chicken or beef broth
1 medium onion
2 carrots
3 cloves garlic
¼ head of green or red cabbage
1 package of pre-cooked beets
1 large potato
1 can diced tomato
Fresh dill, chopped
Salt and pepper to taste
Step 1.Chop the carrot, onion, and garlic, season with salt and pepper (and any other desired spices) and sauté in a pot or stewpan until the onion and garlic are fragrant.
Step 2. Chop the cabbage and beets and add it to the pot, sauté for 3 minutes or until the cabbage becomes a bit wilted. Cube the potato and add it to the pot.
Step 3. Pour in diced tomato and chicken broth. Add chopped dill, mix everything together and bring it to a boil. Reduce the heat and let the soup simmer for at least 20 minutes.
Step 4. Pour into bowls, garnish with a dollop of sour cream and some more fresh dill and enjoy!
★SHOW US HOW IT TURNED OUT★
Did you enjoy making this recipe? Post a photo of your dish on Facebook or Instagram with the hashtag #DBrecipe and don't forget to tag us @debuyerusa!
Not on socials? No problem. Send us your photo by email to dbinsider@debuyer.com
Need the right tools for your recipe? Don't worry, we've got you covered!
Find the perfect tools for your kitchen: