Carbon Steel - The One Pan You Need
Carbon steel pans are loved by Chefs and home cooks because they are easy to use and perfectly cook food to fit any diet, culture, or cuisine. Our Mineral B line - The Original Carbon Steel Pan – is a #1 best seller with over 15,000 5-star reviews and has been rated "Best Carbon Steel Pan Overall" in the media. You can find de Buyer's carbon steel in professional kitchens all around the world because de Buyer does it best. We have been making these pans for almost 200 years and have perfected the craft to deliver the best quality carbon steel for your kitchen.
Which Carbon Steel is right for you?
Stylish design, part of The Signature Collection

Oven, grill safe

Thick-gauge 2.5-3mm carbon steel



Lighter than cast iron
Fast and even heat conductivity
Stainless steel handle specially designed with heat-stop technology

Induction-ready



Offers a variety of specialty pans and sizes up to 14"
Thick-gauge 2.5-3mm carbon steel
Lighter than cast iron
Fast and even heat conductivity
Long, French-curved handle, oven and grill safe up to 450F (10 mins)
Double stainless steel handles are fully oven and grill safe
Induction-ready
Lightweight and maneuverable
Thinner-gauge carbon steel
"Blued" with heat treatment for rust resistance and durability

Long, French-curved handle, oven and grill safe up to 450F (10 mins)
Voted "Best Overall" By Cnn underscored
de Buyer's Mineral B Carbon Steel was rated "Best Carbon Steel Pan Overall" By CNN Underscored. The 3mm thick metal construction adds to the durability and longevity of these pans and makes them resistant to warping. Many customers call their Mineral B Pans their "kitchen workhorses" because they can be used for almost anything.

No toxic chemicals or coating
Heats up quickly and evenly
Our Carbon Steel Pans are all made in France and come with a Lifetime Warranty!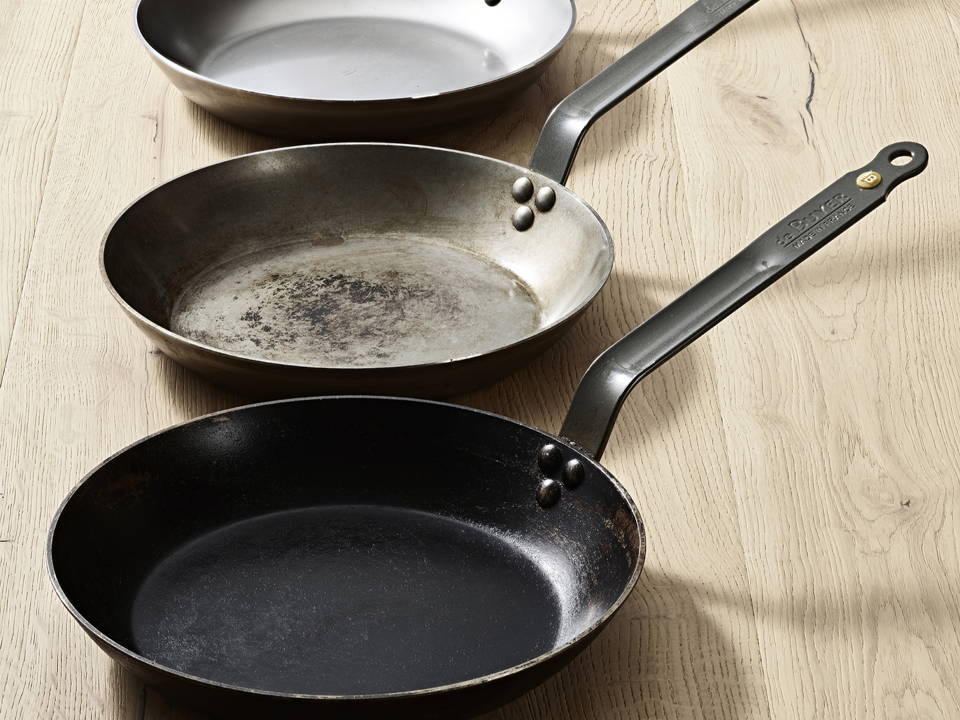 Once you receive your carbon steel pan, the first thing you will want to do is wash and season it. After 2-3 rounds of initial seasoning, you can start cooking with it! Check out our blog for Everything You Need to Know About Seasoning.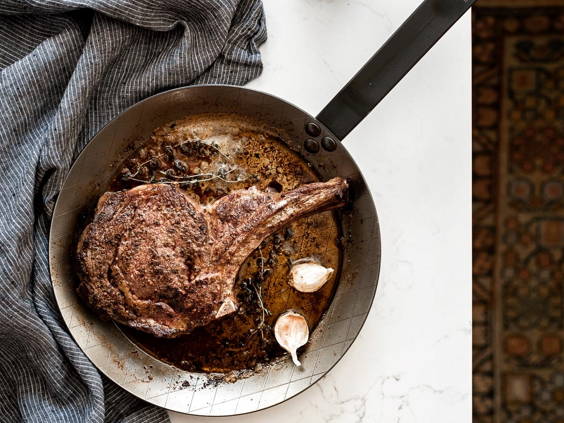 After your new pan has been seasoned, it is time to start cooking with it. The more you use carbon steel, the better it gets. The seasoning will continue to build up and get better as you use it, just try to avoid acidic ingredients!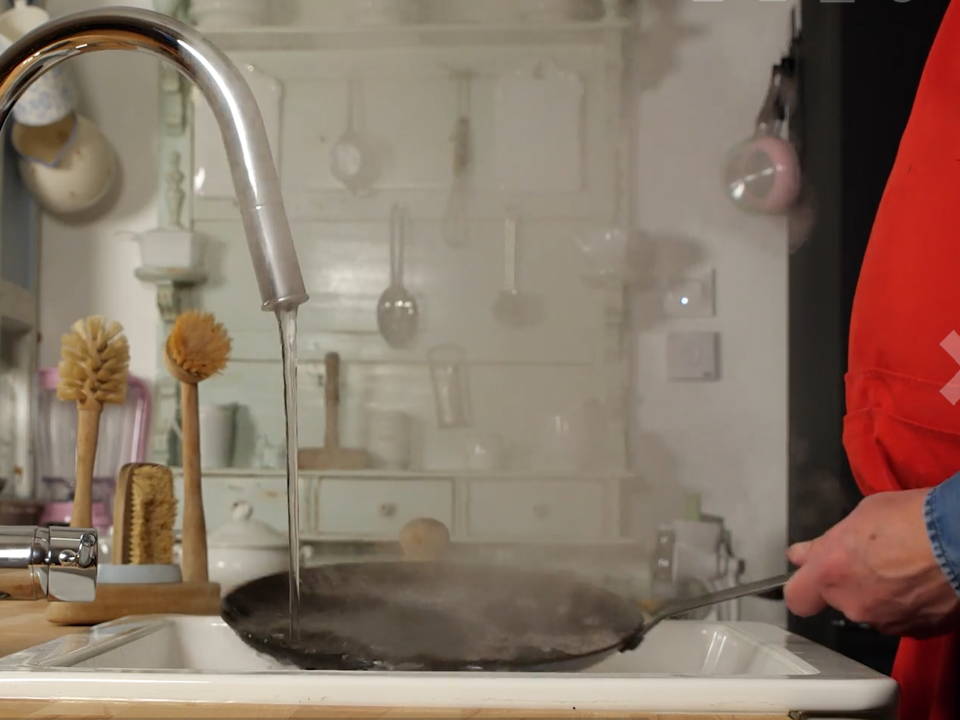 Carbon steel will become a work-horse in the kitchen for you as long as you care for it properly. Hand-washing it, thoroughly drying it out and coating with oil before putting it away are key steps in maintaining your carbon steel.
Carbon Steel vs Cast iron
What are the differences?
There may be room in your kitchen for both cast iron and carbon steel. But if you want a chef-approved, versatile piece of cookware for everyday use, consider carbon steel pans. These pans have all of the best attributes of cast iron and take the cooking experience up a notch.
With de Buyer Carbon Steel...

You can control how your pan is seasoned, and with your oil of choice

You'll have more maneuverability since it is more lightweight than cast iron

Its smooth surface makes for a better nonstick cooking surface

You have better temperature control since it heats and cools quicker than cast iron
Cleaning and maintenance:
Customers are raving about it
Heavy Duty Beauty! This pan seasoned so easily. I love that the non-stick surface is natural and silky smooth. I'm happy, too, that the handles stay relatively cool when cooking on my stovetop. This is now my every day pan. Thank you!

I gave this one to my daughter. Works great, very thick metal, retains heat wonderfully, Inside coating visibly of the greatest quality. I did a lot of sauteeing and cooking in it already. I'm an amateur cook and I also us De Buyer's wonderfull steel pans. I have an induction top and wanted to try their non stick pans also, I don't regret it. You never have too many cooking utensils.
I love these products so much I even bought one for 2 of my family members!

Just got this and already it's a workhorse. Really easy to season — we've only had it two weeks and it's looking quite good — and its relatively small size makes it very easy to handle compared to our 12.5 inch DeBuyer, which my wife especially appreciates. Eggs slide around on the surface! I love that it's totally oven compatible, too

Second pan from this brand and I gotta say I absolutely love them. I plan on getting the last two sizes and hopefully a wok in the future. Highly recommend them. Easy to season and maintain and then they get better faster than cast iron in my opinion.

Love this product. Not heavy like cast iron but still heavy enough that it does not move around on the stove. Seasoning was easy. Food does not stick (with some oil) and its non-stick quality is supposed to improve. I can already see that this will be better than a non-stick after few months of use. Maintenance is a bit more involved than non-stick pans but I don't mind giving a little extra care for this pan that will last a lifetime or even generations. Very happy with this product!!

The BEST frying pan in the world. It's made in France. That says it all right there. It gets better every time I use it. The patina build up is incredible. My French omelettes slide right out of the pan. I would never purchase any other product. De buyer is simply the BEST!!!!
Spent 2 days creating this wonderful Patina on my 11" fry pan using a beeswax formula. After 4 rounds of heating up for 15 mins and completely cooling down, I fried some potato skins with kosher salt and avocado oil.
My first item was a hamburger which tasted unlike any I've ever cooked.
French toast has a true restaurant style flavor using this pan.
What a pleasure this pan is to cook with!
I'm very impressed!!!