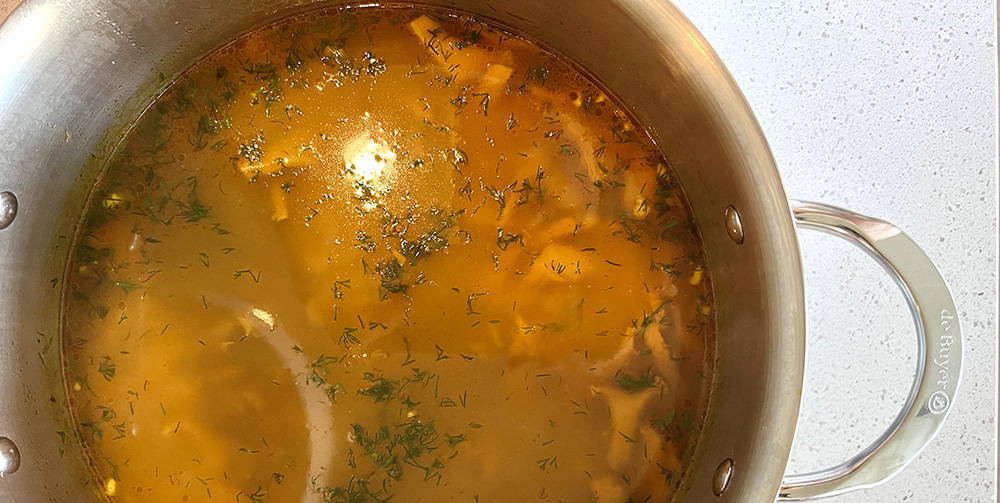 CHANTERELE MUSHROOM SOUP Recipe
Serves 4 people
The beauty of making soup is that you can tweak any recipe to really make it your own.
Whether you like it chunky or more brothy, herby or spicy, vegetarian or with meat – the possibilities are endless!
This recipe for Chanterelle Mushroom Soup is inspired by @vitafamblog.
Try it out and add meat, more herbs, garlic, or anything else your heart (and your mouth) desires!
1 medium onion (chopped)
1 large carrot (shredded)
2 Cups chanterelle mushrooms (sliced)
2 large potatoes (diced)
1 container of chicken broth (32oz or more, for more brothy soup)
2 bay leaves
Salt & Pepper to taste
Dill and sour cream to garnish
Step 1. Add chopped onion, shredded carrot, and sliced chanterelle mushrooms to your stewpan. Sauté until soft and releasing some juices, then bring it to a low boil.
Step 2. Add salt & pepper and mix. Add in bay leaves and diced potatoes, mix.
Step 3. Pour in the chicken broth until the veggies are covered. You can add more for a more brothy soup. Mix to combine all the flavors and bring it to a boil.
Step 4. Reduce heat and bring to a simmer for 20-30 minutes.
Step 5. Transfer to bowls and garnish with a scoop of sour cream and some fresh chopped dill , or fresh herbs of your preference. Serve and enjoy!
★SHOW US HOW IT TURNED OUT★
Did you enjoy making this recipe? Post a photo of your dish on Facebook or Instagram with the hashtag #DBrecipe and don't forget to tag us @debuyerusa!
Not on socials? No problem. Send us your photo by email to dbinsider@debuyer.com
Need the right pot for your soup? Don't worry, we've got you covered!
Find the perfect pot for your kitchen: