Araguani Chocolate Tart
by Nicolas Botomisy
Pastry Chef Nicolas Botomisy, Master es-Chocolate working with Valrhona, shares with us his signature recipe of the Araguani Chocolate Tart, mixing 3 different textures and flavors. A decadent and flavorful dessert for all chocolate aficionados.
butter 240.0 g
fine sea salt 4.0 g
icing sugar 180.0 g
almond flour 60.0 g
whole eggs 100.0 g
all purpose flour 120.0 g
all purpose flour 300.0 g
cocoa powder Valrhona 50.0g
Proceed to a first mixture of soft butter, fine salt, icing sugar, ground almonds, eggs, cocoa powder and 120
g of flour. Do not over beat or whip. As soon as the texture is smooth, incorporate the 300 g of flour briefly
and stop mixing. Set aside in the fridge.
BAKING: Bake at 150/160°C for about 8 minutes.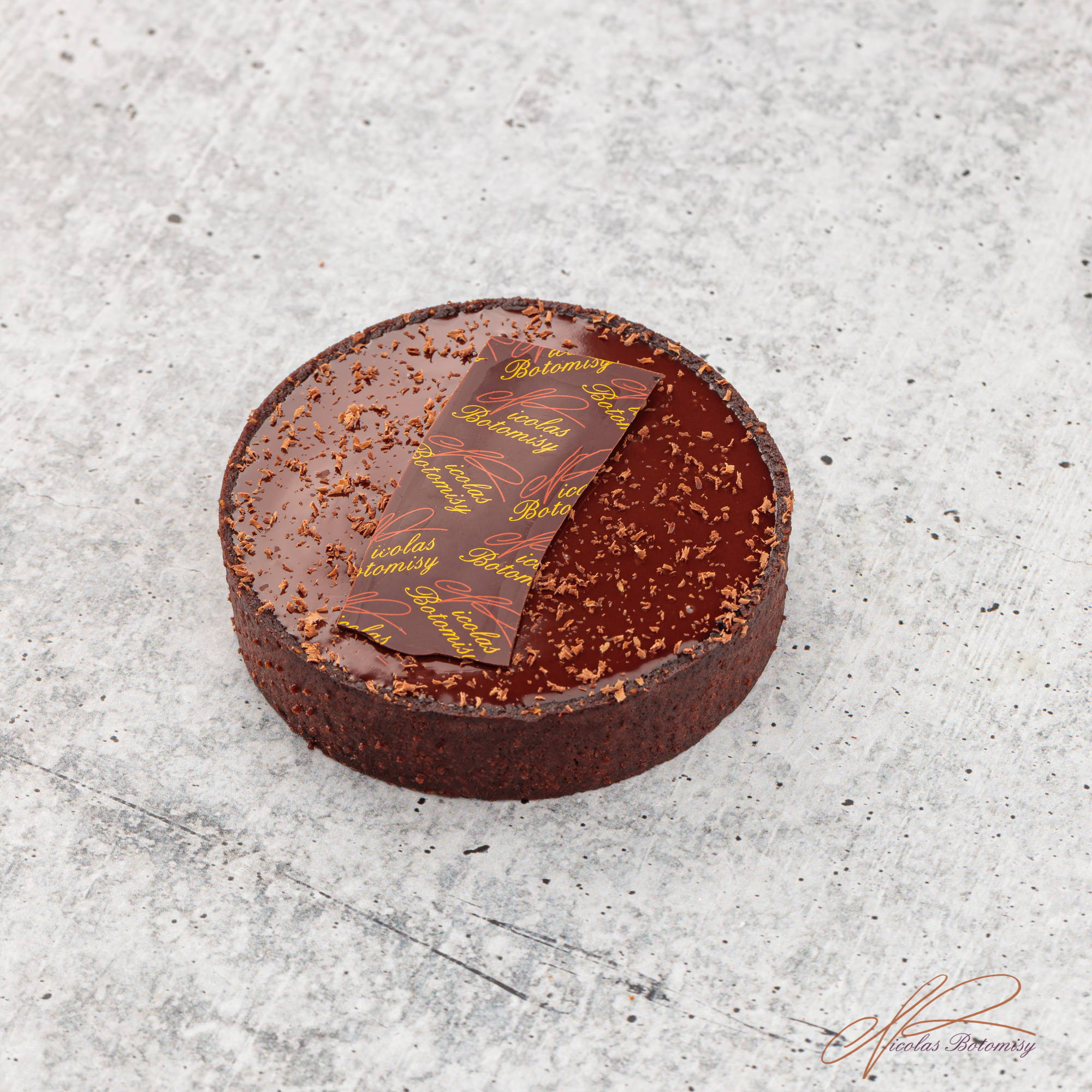 Araguani Chocolate Souffle
egg yolks 18.0 g
whole milk 90.0 g
cornstartch 6.0 g
egg white 60.0 g
granulated sugar 24.0 g
Araguani 72% Valrhona 87.0g
Melt the chocolate. Combine the milk and starch together and bring the lot to the boil. Pour over the melted chocolate and smooth the texture with a whisk. Meanwhile, whip the egg whites with caster sugar to soft peaks. Fold a little bit of meringue in the chocolate mixture followed by the egg yolks. Smooth and finish mixing the remaining egg whites in with a rubber spatula. Pipe the soufflé mixture into buttered and sugared ramekins. Bake at 190°C for about 6 to 7 minutes according to the size. The expected result is to keep the core of the soufflé very supple. Set the soufflés aside in the fridge for few hours before baking or store in the freezer for a few days.
Araguani 72% Varhona 253.0 g
inverted sugar 54.0 g
fresh cream 35% 323.0 g
Bring the cream to the boil together with the inverted sugar. Melt the chocolate above 35ºC. Pour the
almost hot cream little by little over the chocolate, rub vigorously to start an emulsion. Note that at the
beginning the structure is unbound and fat, then, by adding the liquid and rubbing, it will return smooth
and elastic. Like a mayonnaise. Pipe the ganache inside the tart above 35ºC.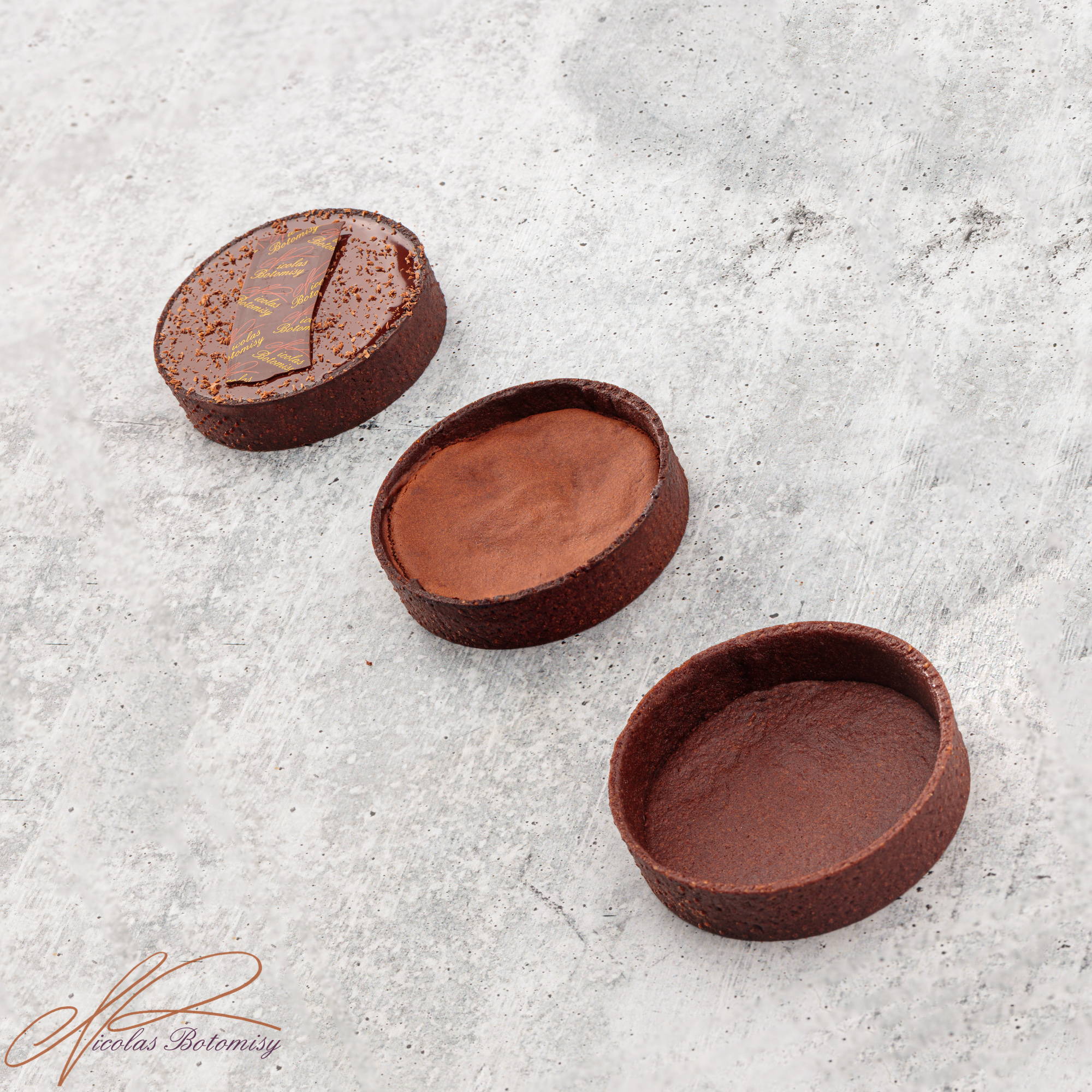 Araguani Chocolate by Valrhona
Made from rare Venezuelan cocoa beans, ARAGUANI 72% by Valrhona can be compared to great wines with high tannins and a long lasting finish on the palate.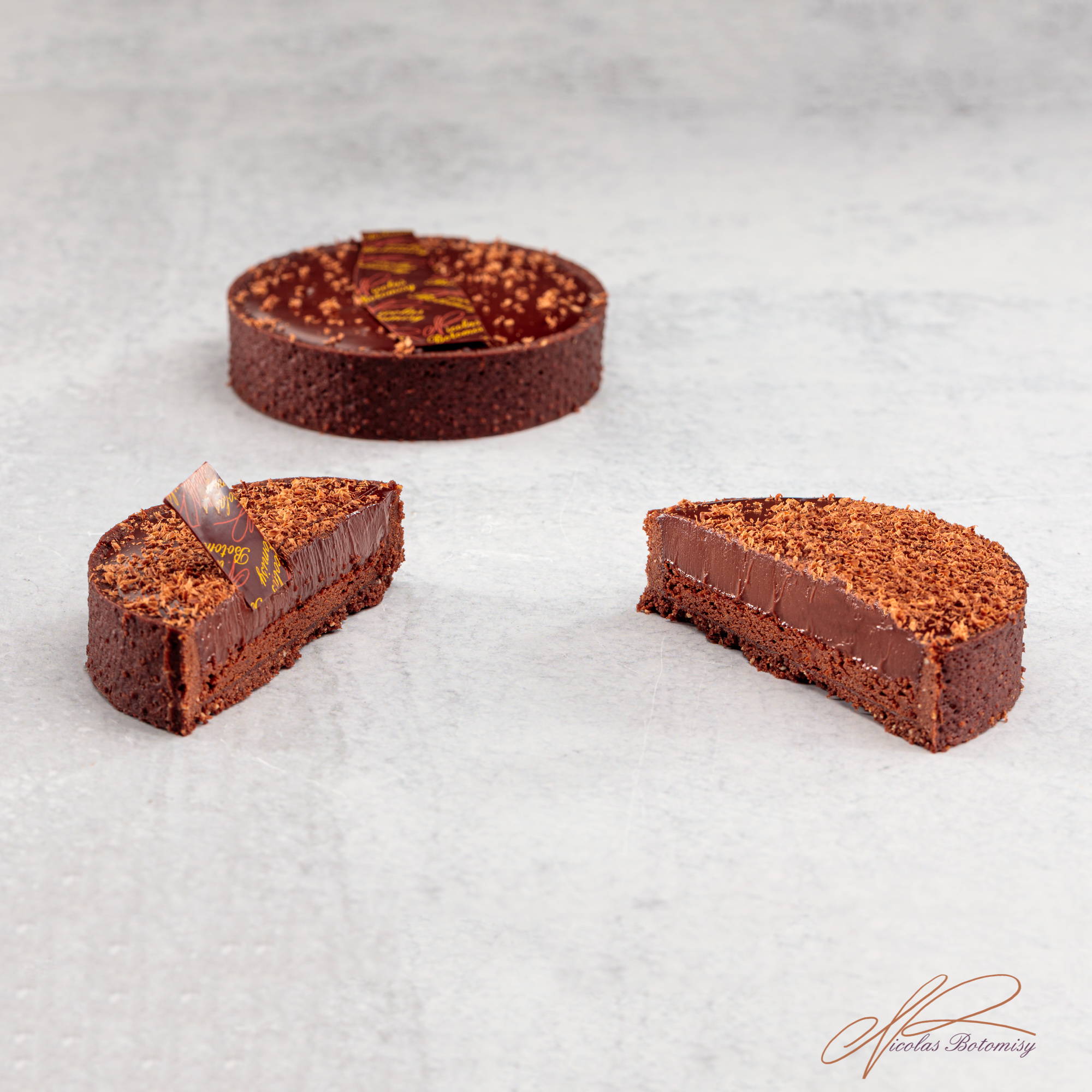 Finishing up your Araguani Chocolate Tart
Almond Cocoa Shortbread 1054.0 g
Araguani Chocolate Soufflé 285.0 g
Araguani Ganache 630.0 g
Araguani 72% Varhona 500.0 g
Bake the tart shell and apply hot cocoa butter to the still hot tarts to protect the dough from the humidity. Garnish with about 7mm of chocolate soufflé and bake for 7 minutes at 170 ° C. Let cool to room temperature, the tarts can be frozen at this time. Once cold, pour the ganache (tempered if you have a magic temper) at 32 ° C and let crystallize ideally at 16 ° C.
Ideally to be enjoyed in the hours that follow.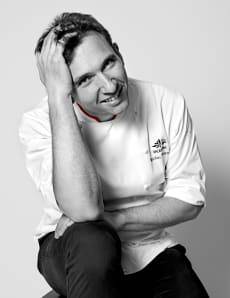 About Chef Nicolas Botomisy
Chef Nicolas Botomisy started his career in the south of France at Relais de la Poste where he developed his attention to detail and knowledge of taste, plate presentation, and texture.
He then moved to the UK and Paris where he worked for 2 and 3 Michelin starred restaurants such as Four Seasons Hotel George V, Carré des feuillants and the Waterside Inn.
It is in 2012 that Chef Botomisy started working for Valrhona as Pastry Chef at L'École Valrhona Tokyo, Japan where he deepened his passion for fine pastries and sense of creativity.
Chef Botomisy started a new chapter in his career in 2016 when he moved to the US to become the l'École Valrhona Pastry Chef, North America. On to a new challenge in 2018, Chef Botomisy is opening a chocolate shop in Tokyo, Japan and consulting around the world.
de Buyer Suggested Selection