COOKWARE: Which material should I choose?
Copper heats evenly and fast, giving it the ability to cook delicate proteins like fish and seafood as well as sauces, caramels, chocolates, as copper loses heat just as fast, reducing the chances the sauce overcooks or breaks from exposure to the retained heat in the metal. It is also excellent for cooking pasta, meat, eggs, rice, etc. and is ideal for even heat distribution.
2 collections : Inocuivre, Prima Matera (induction-ready)
Perfect for expansion and combined cooking, warming up, and preparing delicate dishes without additional oil. Our signature 5-layer PTFE coating is guaranteed to be PFOA free.
3 collections: CHOC, CHOC Induction, CHOC Intense
Perfect for searing, grilling, browning and sauteing. Our carbon steel pans are as slippery as a brand new nonstick, once seasoned, and produce a better sear without any synthetic coating. The original Mineral B line can go in the over for up to 10 min at 400°F to perfectly finish off your dish and the Mineral B Pro line can go in the oven indefinitely because of its cast stainless steel handle. The more you use it, the better it performs and the darker it becomes.
3 collections: Mineral B, Mineral B Bois, Mineral B PRO (oven-safe)
Similar to Mineral B, our Blue Steel pans are thinner carbon steel pans blued with heat treatment to prevent oxidation and assist in seasoning. They are made with lighter iron and with gradual seasoning the pan will have naturally non-stick properties. Ideal for grilling.
2 collections: La Lyonnaise, Force Blue


Which Carbon Steel Pan is best for me?

Carbon Steel is the biggest up and comer in the cookware industry. With excellent heat retention and an almost indestructible material, these pans are products that will last you a lifetime. While not all models are available on our website, it is best to check the chart below when searching for the best carbon steel pan for you.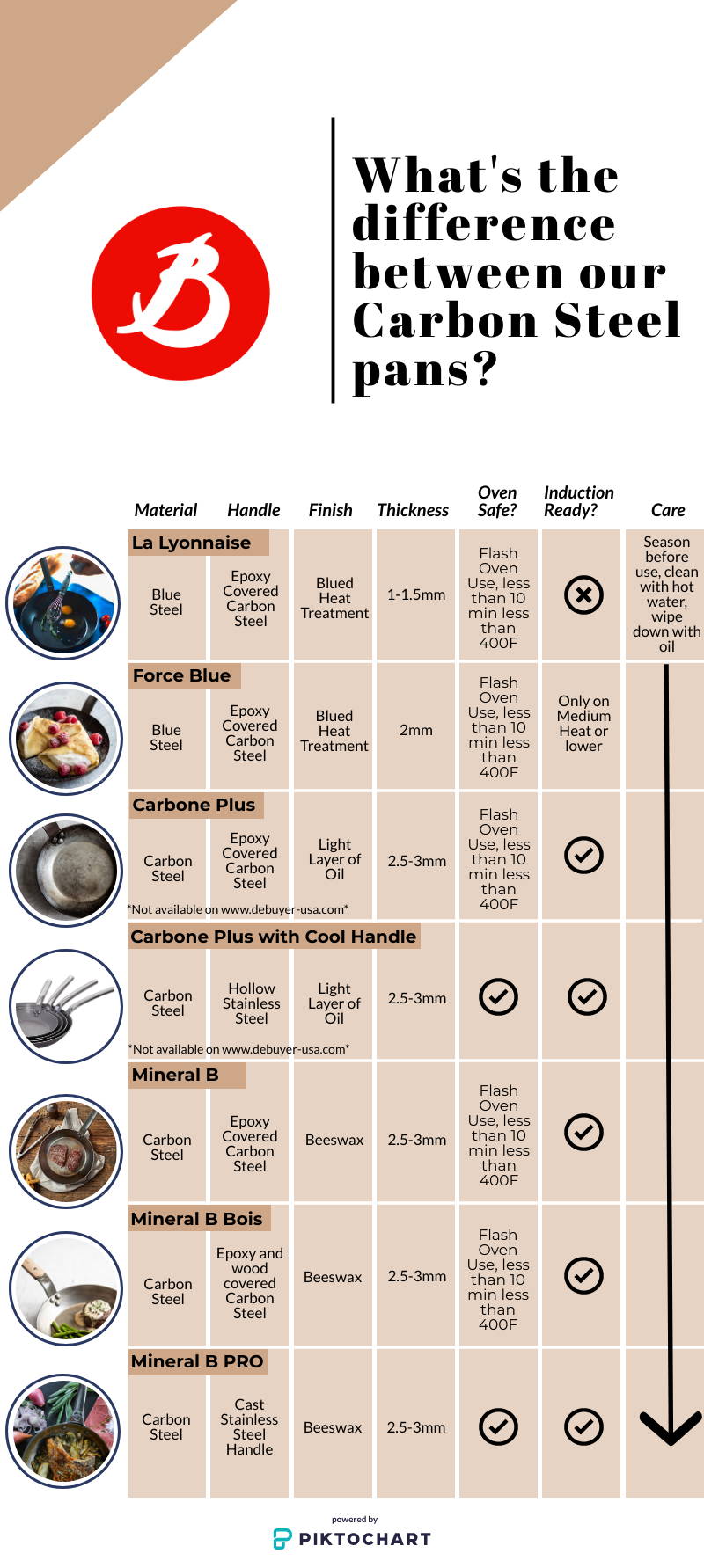 Since 1830, every de Buyer utensil is conceived, engineered, and manufactured in our factory in France, following the most stringent quality requirements. Our carbon steel and copper lines have a lifetime warrantee.

From the Chefs we partner with to the individuals working at all levels of our company, everyone involved in making a de Buyer product is inhabited by the same passion: allowing home chefs like you to thrive in the kitchen.

The "Corporate Social Responsibility" (CSR) commitment label that we received in 2018 is the recognition of our efforts in fields like environmental protection and workplace safety and inclusivity, whether internally or among our partners. De Buyer is the first and only French company in the culinary industry to receive this label.