Celebrate La Chandeleur (or Crepe Day) on Feb. 2nd in Style
La Chandeleur, also known as Candlemas or Crepe Day is a French tradition that is celebrated every year on February 2nd. According to frenchculturalcenter.org, "Religiously, February 2 is known in the Christian faith as Candlemas (Candlemass). It marks the day that Jesus was presented at the temple in Jerusalem and is celebrated by Christians bringing candles to church to be blessed."
Happening on the same day as Groundhogs day in the US, La Chandeleur is now celebrated by all people in France and before it came to represent Jesus's presentation to the temple it was a day of celebration and food marking the coming end of winter.
SHOP OUR SELECTION OF CREPE PANS & UTENSILS
As a French Heritage company, de Buyer has a crepe pan for every use. From carbon steel to nonstick or induction ready, every user will easily find the pan that makes the best crepes (or tortillas) for them.
Our Favorite Crepe Recipe & Tips and Tricks
Ingredients
250g or 2 cups wheat flour
3 whole eggs
500 ml or around 2 1/4 cup whole milk
50 g or 5 tbsp unsalted butter (or grapeseed oil)
A pinch of salt
Put the flour in a bowl and create a well in the centre.




Add the salt.

Pour the eggs into the well and whisk.

Gradually add the milk until the batter is smooth (strain if necessary).

Leave the batter to rest in the fridge for at least 20 min.
Before cooking, add the melted butter or oil to the pan.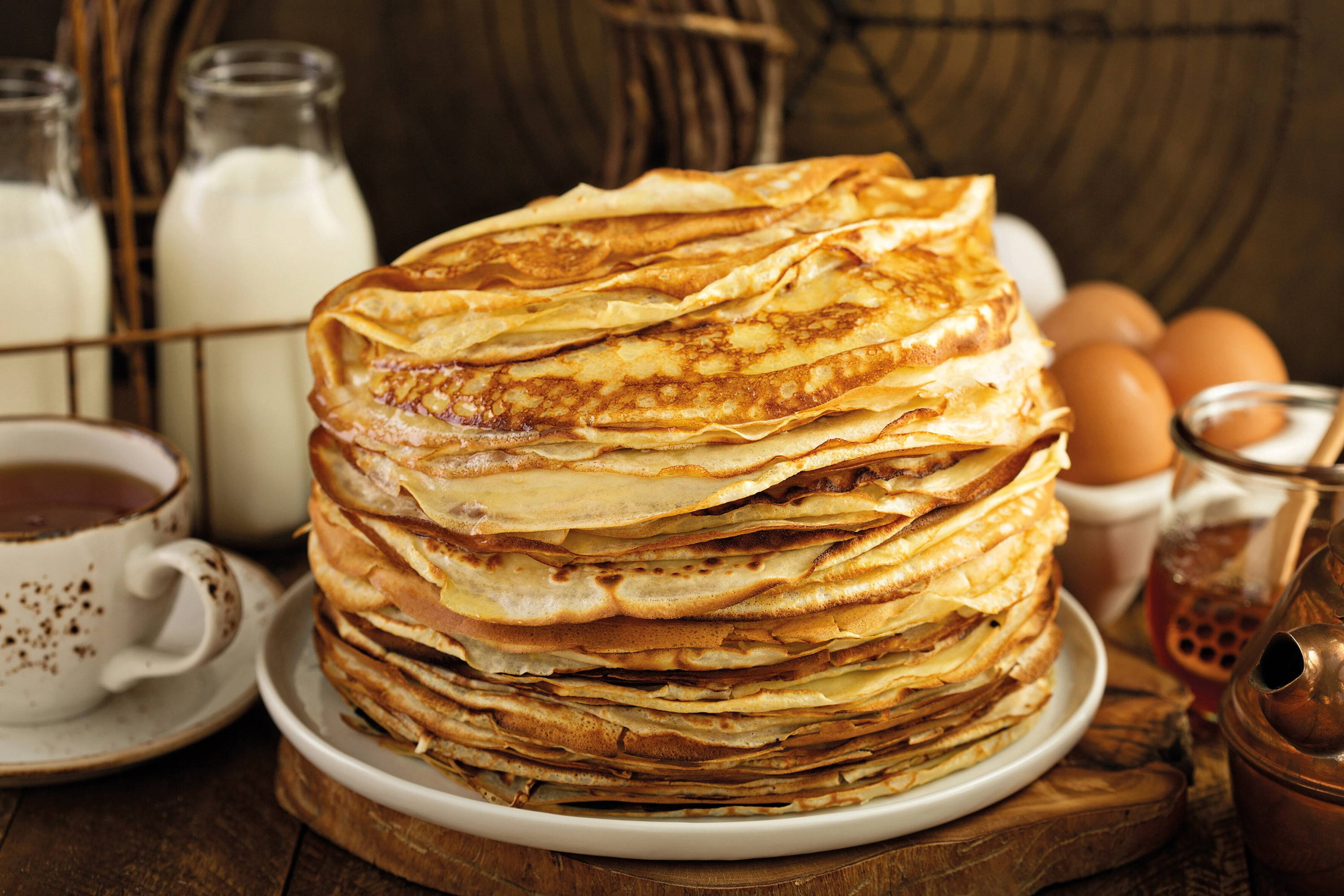 Our tips for the best Crepes
Choose the right sized pan for your heating surface: if the latter is smaller than your pan, your crepe won't cook properly at the edges.

Brush the pan with a generous amount of oil.

It's important to heat your steel pan before cooking your first crepe to stop the latter sticking: make sure it's warm enough by pouring in a few drops of batter, which should start to harden immediately. Leave the batter to cook for just 30 to 40 seconds on the first side. When there is no more liquid batter, turn the crepe over using a wooden spatula and cook the other side for 10 to 20 seconds. This will keep it beautifully soft.

Steel pans will gradually darken as they are used to make delicious crispy golden crepes.




Crepes not your thing? Check out our homemade Tortilla Recipe!
Try this easy recipe from @cheatday.ny featuring our blue steel crepe/tortilla pan! Best way to make tortillas fresh for your favorite taco! Enjoy!
Tortilla

2 cups all-purpose flour
1/2 teaspoon salt
3/4 cup water
3 tablespoons olive oil

Directions 👨‍🍳
1. In a large bowl, combine flour and salt. Stir in water and oil. Turn onto a floured surface; knead 10-12 times, adding a little flour or water if needed to achieve a smooth dough. Let rest for 10 minutes.
2. Divide dough into 8 portions. On a lightly floured surface, roll each portion into a 7-in. circle.
3. In a de Buyer crepe/tortilla pan (or other heavy skillet), add a drizzle of olive oil, add tortilla dough and cook over medium heat until lightly browned, 1-2 minutes on each side. Keep warm.
4. Prepare Taco ingredients as described. Top tortilla with refried beans, then avocado, handful of diced tomatoes, a pinch of mexican cheese or more to your liking, and cilantro and hot sauce to taste!

Taco
1 can Refried black beans, warmed
1 avocado
1 cup cherry tomatoes, diced
½ cup Mexican Blend Cheese
Handful cilantro for topping
Hot sauce to taste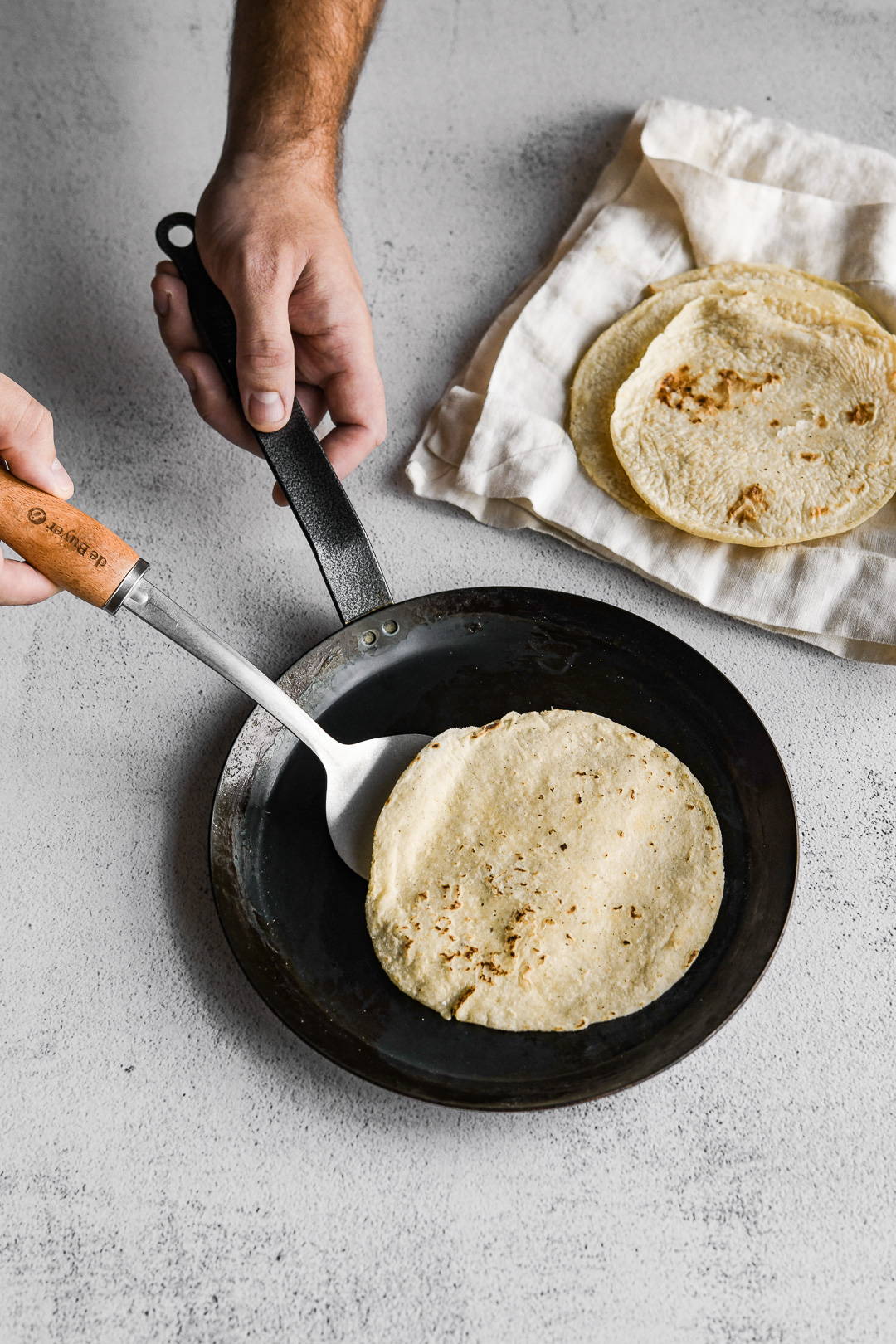 HOW TO SEASON A CARBON STEEL CREPE PAN