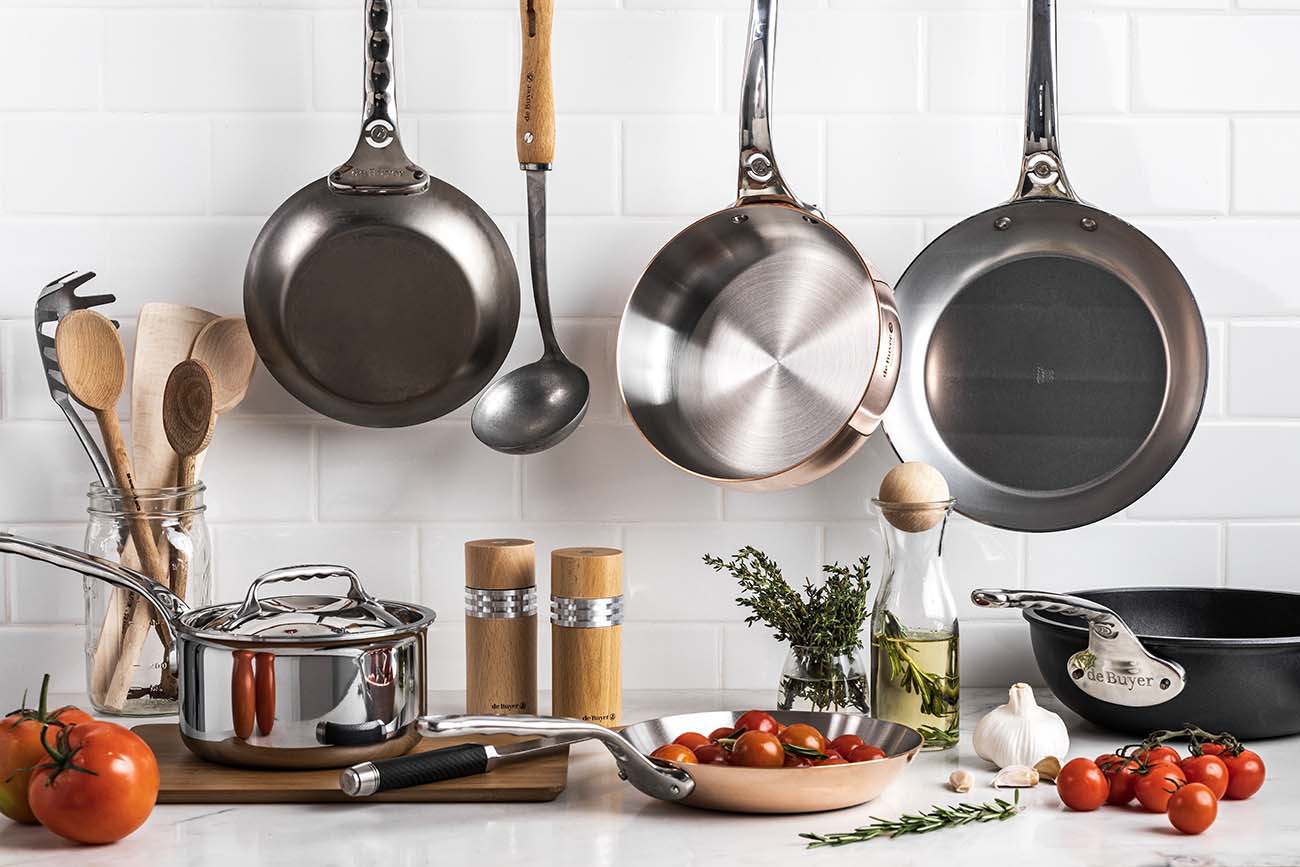 Top-of-the-line cookware with our signature, heat-stop handle. A collection of cookware, designed and made in France for style and performance.
When de Buyer is on the table, you know it will be delicious!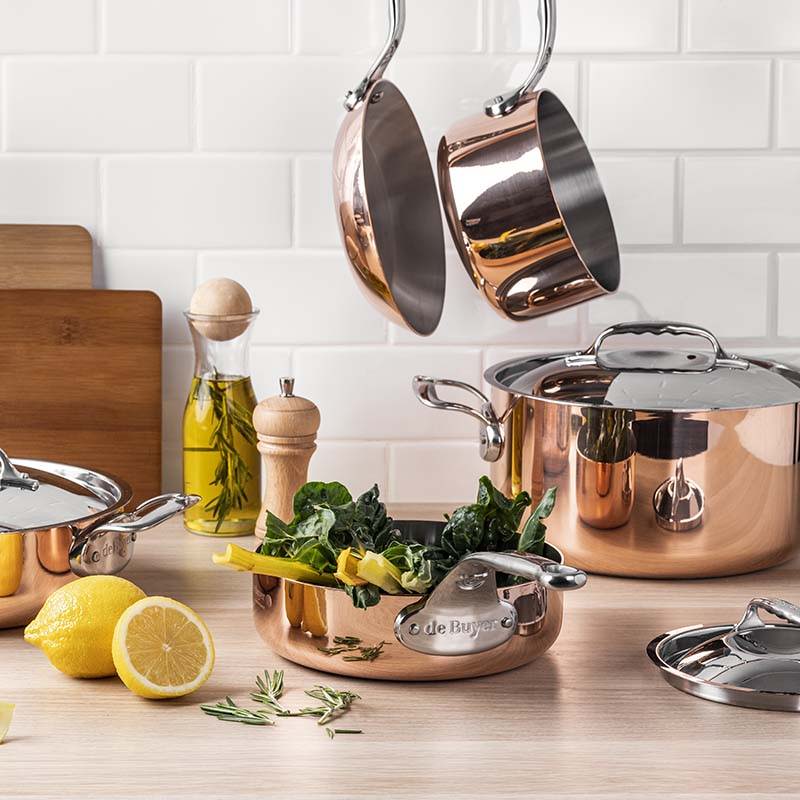 Made of 90% copper and 10% stainless steel, combining the thermal conductivity of copper from the outside, and the benefits of a high quality stainless steel lining on the inside to cook every type of food to perfection.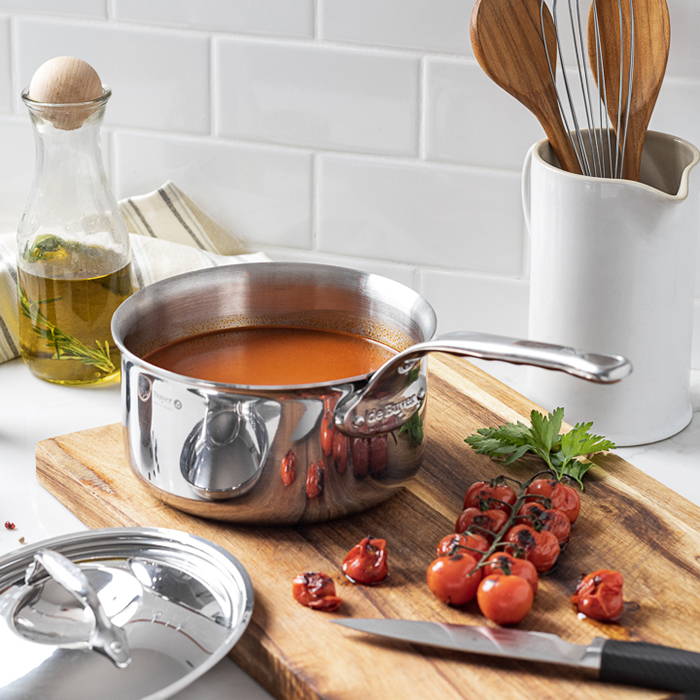 The AFFINITY collection embodies French elegance. With its polished exterior, the sleek 5ply stainless steel body offers excellent performance and precise temperature control for uniform cooking.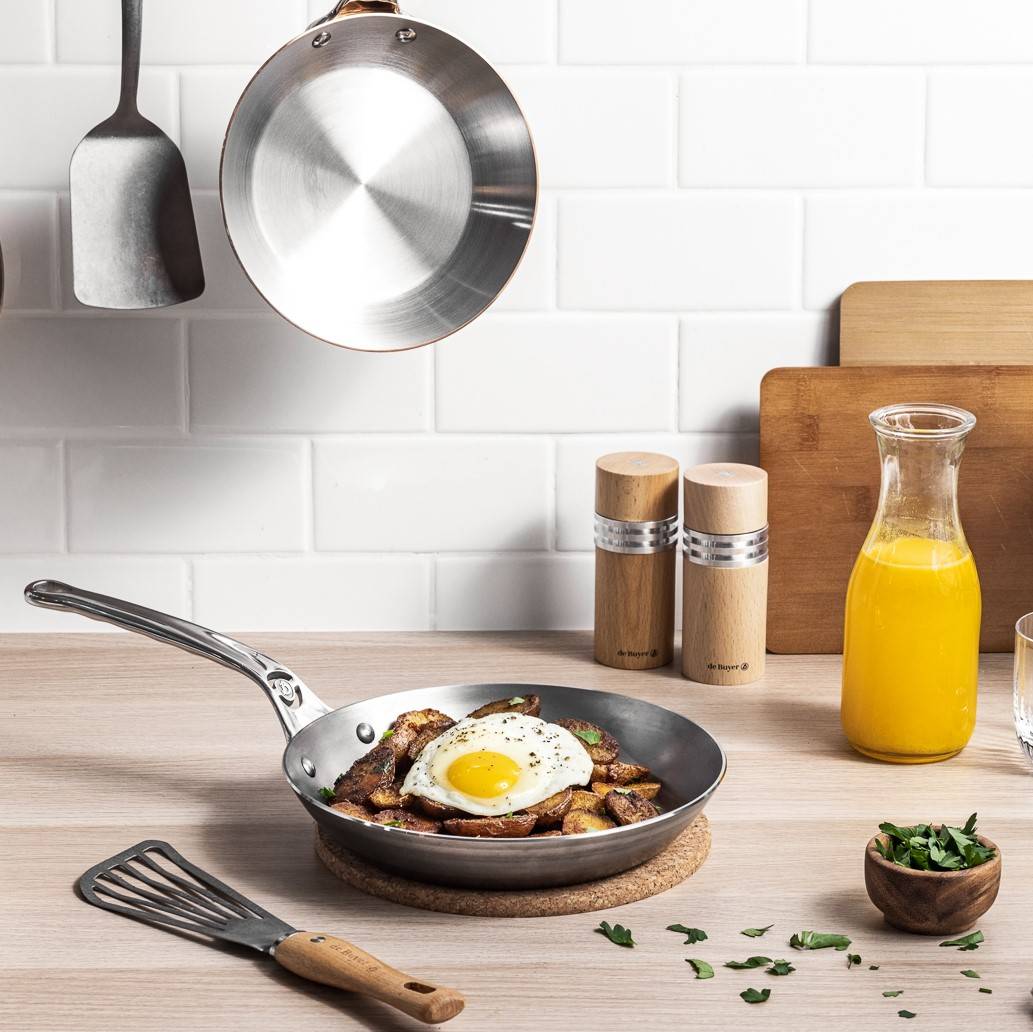 Like cast iron, carbon steel is made of carbon and iron. The difference is in the ratio: carbon steel is made of 99 parts iron to 1 part carbon. The result is a lighter, less porous pan that warms quickly and evenly. Carbon steel retains its heat to surround food at the perfect temperature.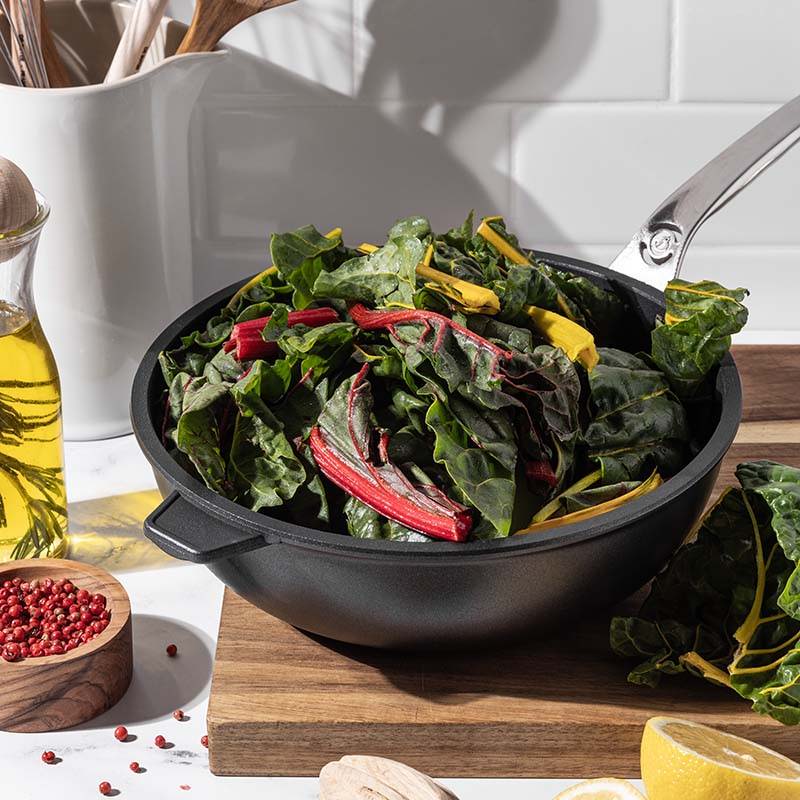 Our newest nonstick line is made from pressure cast aluminum and is covered with
the highest quality nonstick coating which is consolidated by a PTFE projection and free of harmful chemicals like PFOA and PFOS.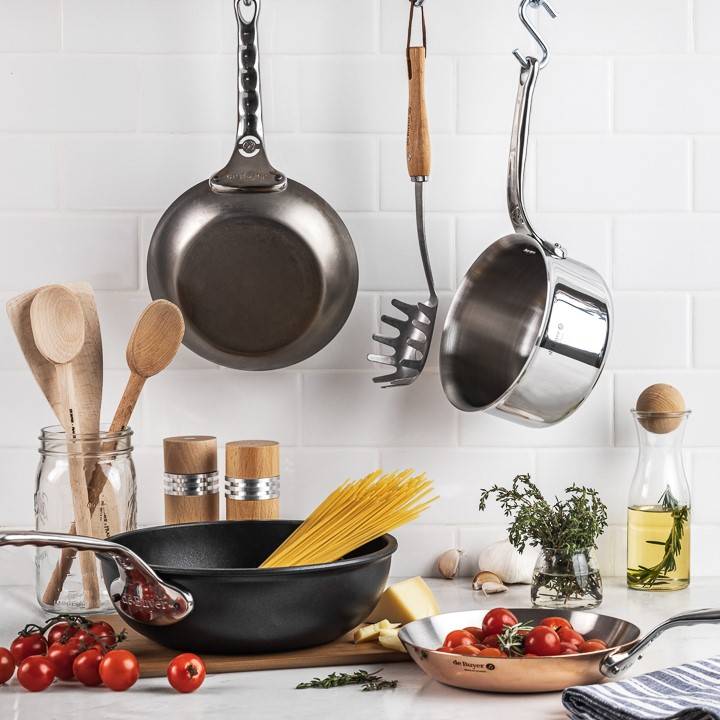 This beautiful, cast stainless steel handle features an ergonomic, French-style curve and finger grooves for a comfortable grip. It's specially designed with heat-stop technology to keep the handle cool during stove-top use. You'll be surprised what a difference the handle can make in your cooking experience. With an opening on the end, you can hang your pieces from kitchen hooks to keep your beautiful cookware pieces on display.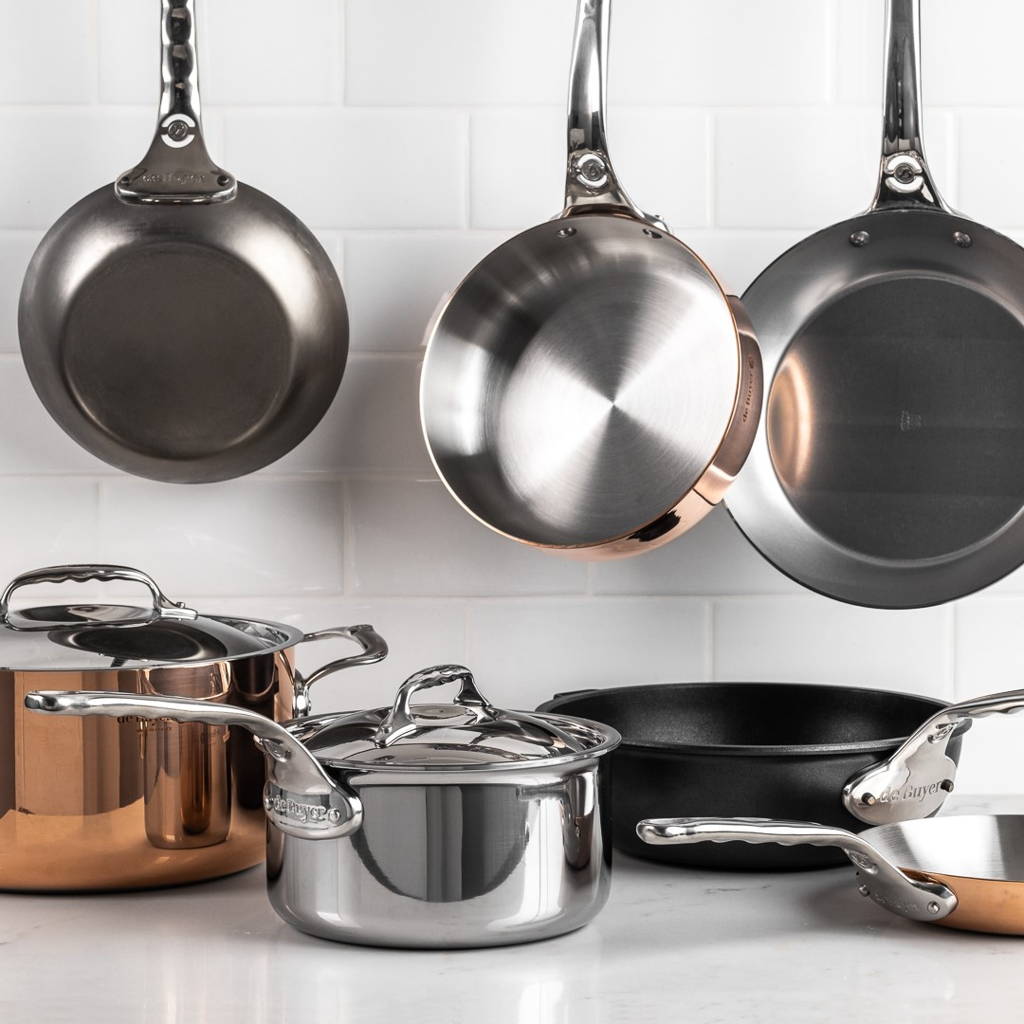 Various Materials, Shapes, Sizes
With a variety of shapes, styles, sizes, and cooking materials, the Signature Collection has something to fit your every need. Mix and match materials: Copper, Stainless Steel, Carbon Steel, or Nonstick. Choose your sizes and styles: Fry Pans, Sauté Pans, Saucepans, Stock Pots, and more. No matter the cuisine, the recipe, or the ingredients, The Signature Collection has something for everyone.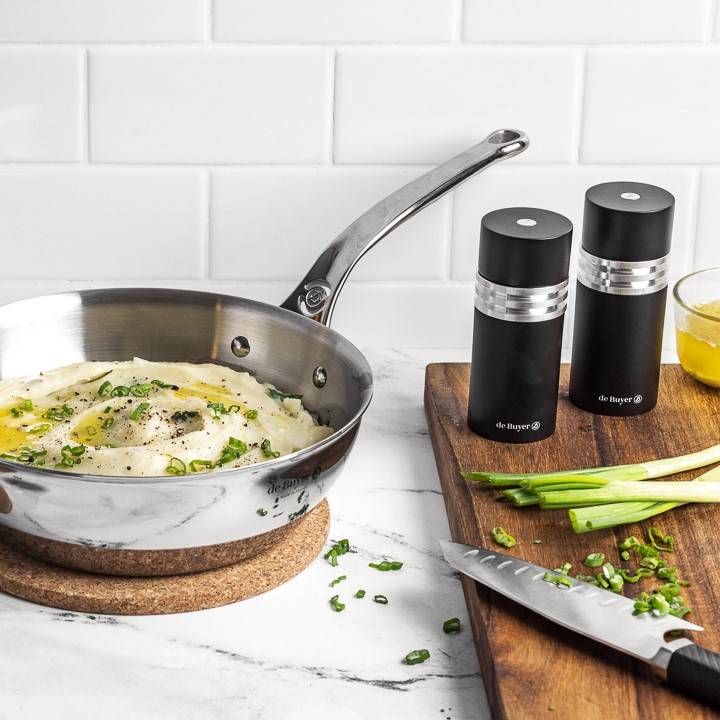 Try some top-of-the-line knives and salt & pepper mills to complete your cookware collection. Our FK2 collection of knives, with a sharp blade and carbon fiber handle, and NEW sleek and elegant mills will complement your Signature Collection cookware items perfectly. From start to finish with slicing, spicing, and sautéing (and so much more).
Customers are raving about it
I chose this pan because it's non reactive and I can make a simple tomato base pasta sauce and other acid base sauces. Making a tomato sauce in this pan is easy. A little olive oil, some garlic, a little onion and a can of Roma tomatoes, salt and pepper. This pan fits it all, spreads the heat because it's 5ply and simmers... [see more]