How to make French Macarons
A classic for centuries, French macarons have become a dessert and pastry staple around the world. People will tell you there is nothing like a French macaron. Want to know a secret? There's nothing like a homemade French macaron made with French tools. de Buyer is almost as old as the macaron itself, and holds the authority on superior branded macaron mats, piping bags, and whisks. Our products are easy to use and loved by dedicated professional chefs and home cooks alike.
The Perfect French Macaron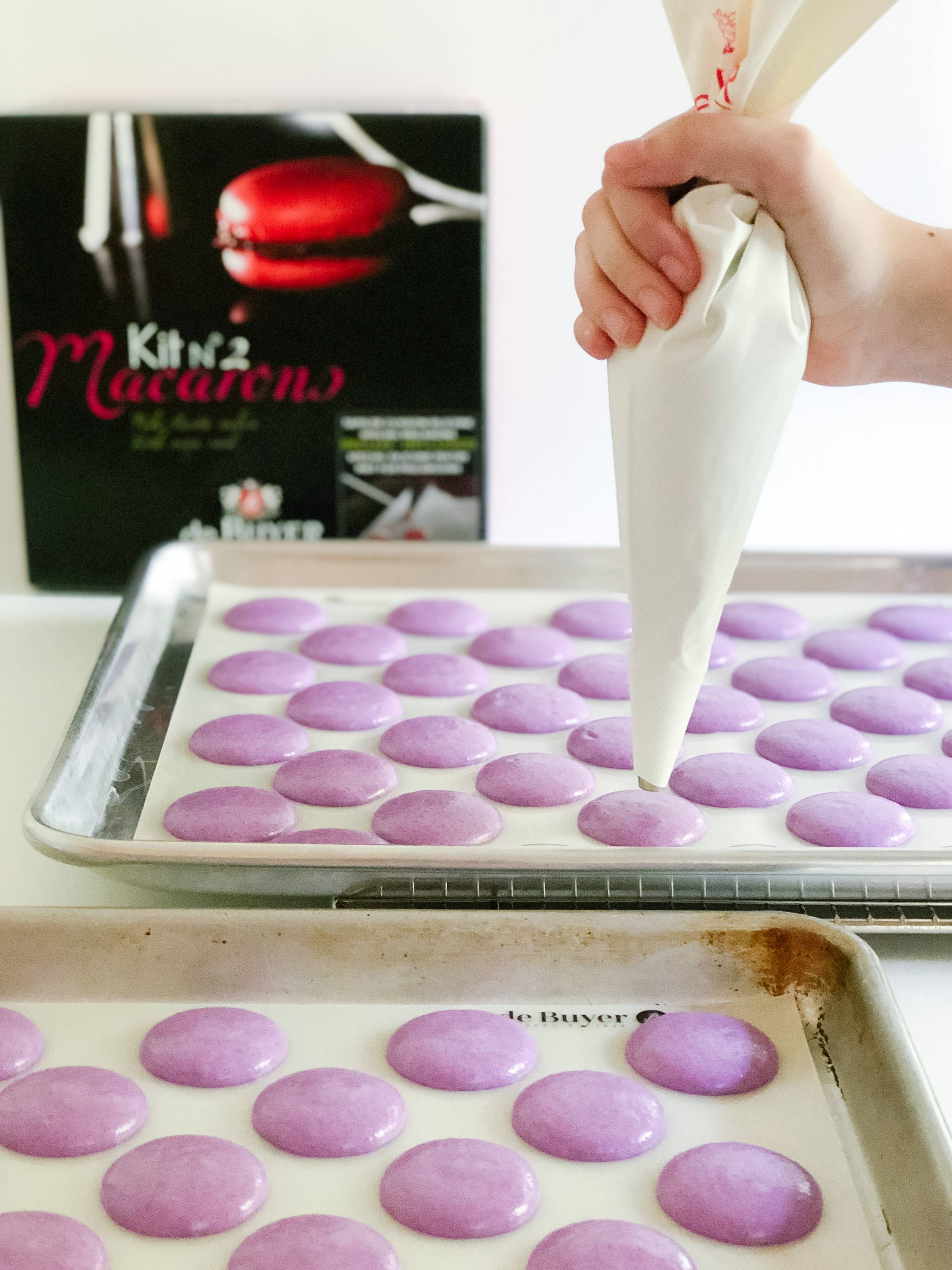 Scale

Measuring cups
Large sifter
Hand mixer
Piping bags
Piping tip – round medium size –optional
Baking sheets – level/flat
Silicone baking mat with templates
Cooling rack – optional
Color – gel or powder
125g ground almonds (store bought and sifted before you weigh or home ground in a spice grinder and sifted before you weigh)
240g powdered sugar
145g egg whites (separated, covered in plastic wrap and left at room temperature for a few hours)
72g granulated sugar
1 teaspoon vanilla extract (can be imitation clear vanilla ext. too)


Macaron Instructions:
a lot of work, but definitely worth i
t!
1. Line a perforated or non-perforated baking trays with a silicone macaron mat

2. Prepare at least a 14" piping bag with a plain round tip.
3. Combine almond flour and powdered sugar
4. Using a stand mixer or whisk, beat the egg whites and sugar at a low speed for 2 minutes, then medium speed for 2 minutes, and then high speed for 2 minutes.
5. Add the colouring powder or gel and vanilla extract and mix for 15-20 sec.
6. Look for stiff peaks – but don't break the egg whites by overbeating.
7. Add the dry ingredients to the egg whites.
8. Fold the mixture, about 20 times (counting single strokes), stopping every couple of strokes after 20 to check the consistency. It should be flowing in ribbons off the spatula. Stop at ribbon stage when the batter STARTS to have a 'shine' in places.
9. Transfer the mixture to the piping bag
10. Pipe your macarons, holding the piping tip perpendicular to the baking sheet, following the template and quickly removing the tip when you have finished piping. Pop additional bubbles if you wish, or smooth out divots, or cover with a few sprinkles.

11. REST the tray of macaron shells for ~30 minutes before baking. At this point you should preheat the oven to 285˚F.
12.Bake for ~19 min – THIS WILL VARY FOR YOUR OVEN.
13. Remove from oven and let the tray sit.
14. Allow the macarons to cool completely. Remove from silicone mat.
15. Pair up shells to prepare for the filling process.
16. Once completely cool, fill with frosting, ganache, or a filling of your choice.


Where to find the essentials
Reusable and strong polyurethane supple pastry bag with round and star 10mm tips. Can be easily washed in the dishwasher and reused as many times as you'd like!
A staff and customer favorite, our whisks are top-notch. The stainless steel wires run along the entire handle for extra durability and are guaranteed not to loosen. These whisks are crafted to last a lifetime.

I'm sure you've only heard great things about our perforated baking sheets - with small holes covering the entire sheet, it ensures even air flow and a perfect and even bake every time.

Made of stainless steel with a flat bottom for easy use, this is a multifunctional essential for every kitchen. Can be used in fridge and freezer and is dishwasher safe.


Silicone Baking Mat: The Star
With 44 or 88 outlines to work off of, this silicone baking mat is that mat of Macaron makers dreams. Perfect outlines for even shells every time.

Make sure your egg whites are room temperature
It's easier to whip to create the meringue. You can set them out a few hours before making the cookies or place them in a bowl of warm water for 5 minutes. Beat the egg whites and sugar just until they read stiff peaks

Tapping your tray 2-4 times hardly on each side on a countertop to remove any remaining air bubbles

Experiment with your oven
Each oven is different, and to bake your macarons perfectly it might take a few tries! Don't be scared, you've got this.
Best enjoyed 24-48 hours after filling, having refrigerated them in the meantime to 'mature'.

Since 1830, every de Buyer utensil is conceived, engineered, and manufactured in our factory in France, following the most stringent quality requirements. Our carbon steel and copper lines have a lifetime warrantee.

From the Chefs we partner with to the individuals working at all levels of our company, everyone involved in making a de Buyer product is inhabited by the same passion: allowing home chefs like you to thrive in the kitchen.

The "Corporate Social Responsibility" (CSR) commitment label that we received in 2018 is the recognition of our efforts in fields like environmental protection and workplace safety and inclusivity, whether internally or among our partners. De Buyer is the first and only French company in the culinary industry to receive this label.