From streamlining meal prep to preparing an average Tuesday night dinner, a mandoline tends to have a place in every day cooking needs. Mandolines decrease your chopping time allowing you to spend that precious time reading that bed night story to your little one, watching that extra episode of your current Netflix obsession, or enjoy that glass of wine when your guests come over instead of slaving away over your chopping board. Let's deep dive into some ways you could best use that brand new mandoline!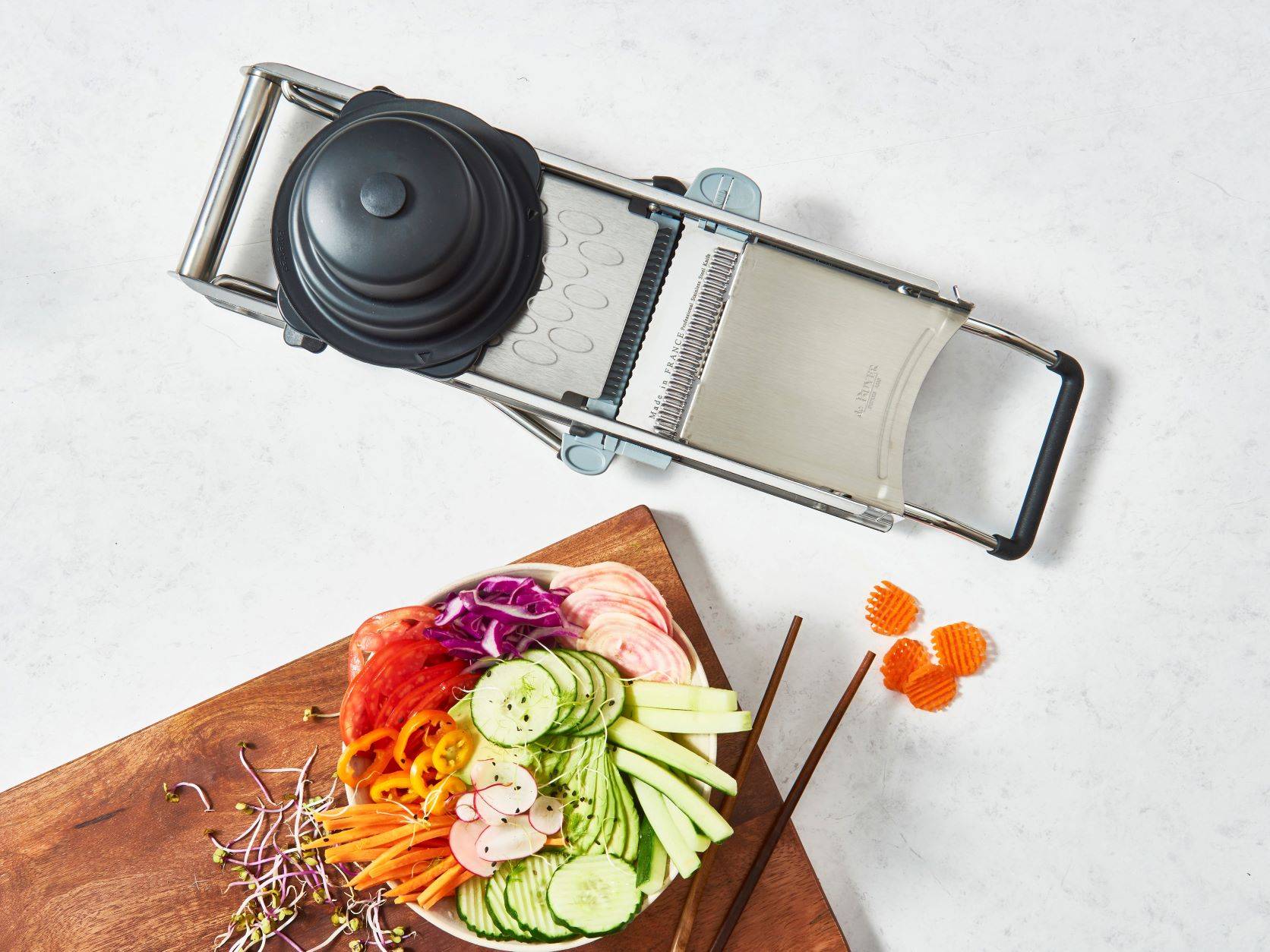 Usually when people think of a mandoline their thoughts automatically go to potato gratin. Yes, an amazing potato gratin is created by thinly slicing the potatoes on a mandoline, but this kitchen tool is so much more than just that. From appetizers, to main dishes, to desserts... a mandoline can find its ways into helping out for almost any recipe. You'll be so glad you have that trusty mandoline by your side to help serve up delicious multi-course meals.

When you need to impress your guests
People tend to overlook appetizers when guests come over but let's be honest, people show up hungry! Be sure to have the perfectly crafted charcuterie board waiting for them. Use your La Mandoline KOBRA to slice a variety of cheese, meats, vegetables and fruits for a hearty board with a little bit of everything.

Moving on to a few main course options: Bon Appetit's Best Eggplant Parmesan really can't be beat. This eggplant parmesan is tried and true, and you can make it even easier by using a mandoline to slice the eggplants. The prep time would be reduced tremendously while ensuring uniform slices for even cooking a beautiful looking dish. Give it a try and you'll never turn back! Pro Tip: some eggplants can be too large for some mandolines. Cut them in half or into smaller pieces to be more manageable.
Another simple way to impress guests is by making a galette. These rustic and delicate pastries can be either savory or sweet and can be served as an appetizer or side dish, or a dessert. You can use a mandoline to slice up the filling, regardless of what it is. Surprise your guests with something unique by serving up this Herbed Goat Cheese and Root Vegetable Galette from Food52. La Mandoline KOBRA will slice right through those tough root vegetables easily with it's unique V-shaped blade.
After dinner, dessert is a must! Impress your guests with this stunning Rose Apple Tart by the New York Times. Not only is this tart delicious, but it's strikingly beautiful. Using La Mandoline KOMI instead of a knife to thinly slice the apples will ensure an even bake while creating an appearance your dinner guests will never forget! Sure, you can stand there and slice away, but in a fraction of the time your mandoline has got you covered.


When meal prep is taking too long
Using a mandoline saves a cook so much time while chopping fruits, vegetables, and more. Even, uniformly chopped ingredients provide for a better overall presentation and also helps with even cooking. When it comes to meal prep or preparing for large holiday dinners, La Mandoline VIPER or La Mandoline REVOLUTION will be a game changer helping you to cut anything you may need.
When preparing for a busy week ahead, a lot of people rely on meal prepping. This is an easy way to make sure you eat healthy and delicious meals that require little thought throughout the week. While this sounds great, it makes your Sunday meal prep day pretty time consuming... or at least it used to! By using a mandoline to help out with your slicing, dicing, and chopping, you'll be able to reduce your meal prep time dramatically. Be sure to try out Sheet-pan Roasted Root Vegetables from EatingWell during your next meal prep. By using a mandoline to cut up your vegetables, you'll get uniform pieces to be able to ensure everything cooks at the same rate all together! Pro Tip: Root vegetables come in all shapes and sizes. If a pusher isn't fitting perfectly on it, take a kitchen towel and fold it over once or twice. Use this between your hand and the vegetable for extra safety!
Meal prepping for the whole family is an entirely different beast. Prepping meals in advance for your kids can be a life savior during the week. Perfect to have on hand in time crunch, you can pre-cut fruits and veggies using your mandoline to quickly add into meals, snacks, or school lunches. Looking for a little more of a treat? Try using your mandoline to thinly slice up apples to make apple chips for a healthy sweet snack. Add a touch of cinnamon and sugar and your kids will be begging for more.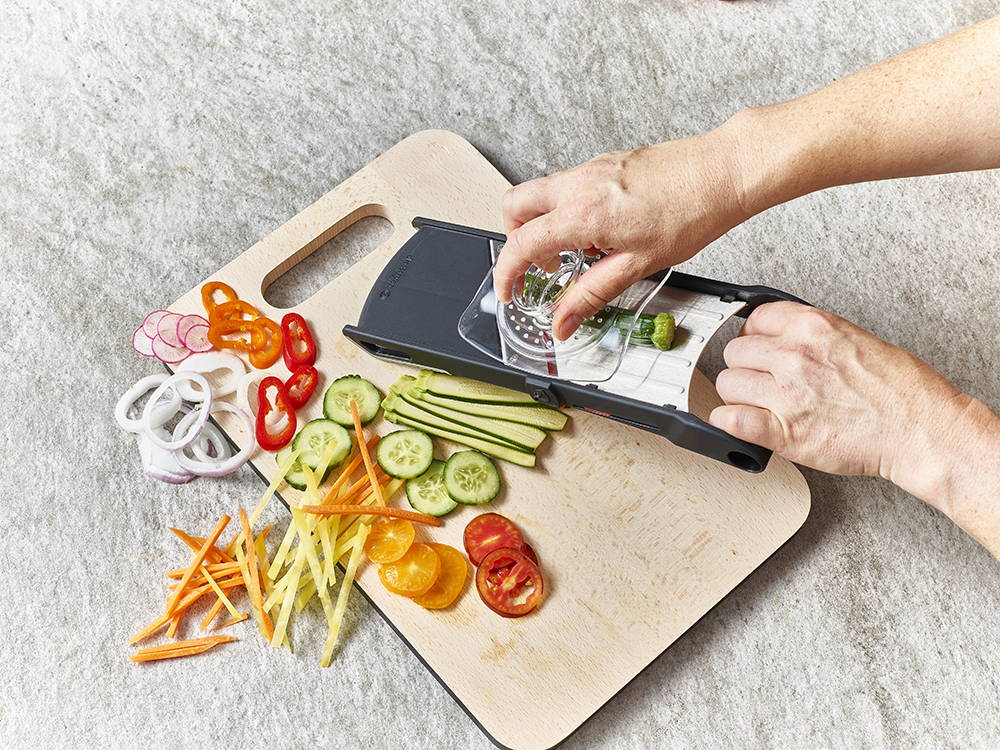 When you've invited everyone over for the holidays
So you've invited every friend, sibling, and cousin over for the 4th of July (insert any holiday here – best part about this, it always helps!) and it's finally just sinking in. You can finally stop stressing about all the prep you'll have to do, having a mandoline will save you from the most tedious tasks.

For example: every 4th of July party needs coleslaw. It's the perfect all American side salad. But do you want to stand there and slice up everything by hand? No, thank you. Simply pull out your mandoline and let it do the work for you! It'll be so prefect, your guests will think it's store bought! Feeling fancy? Add in some crinkle cut fries made with La Mandoline REVOLUTION or La Mandoline VIPER, the perfect side for any cookout!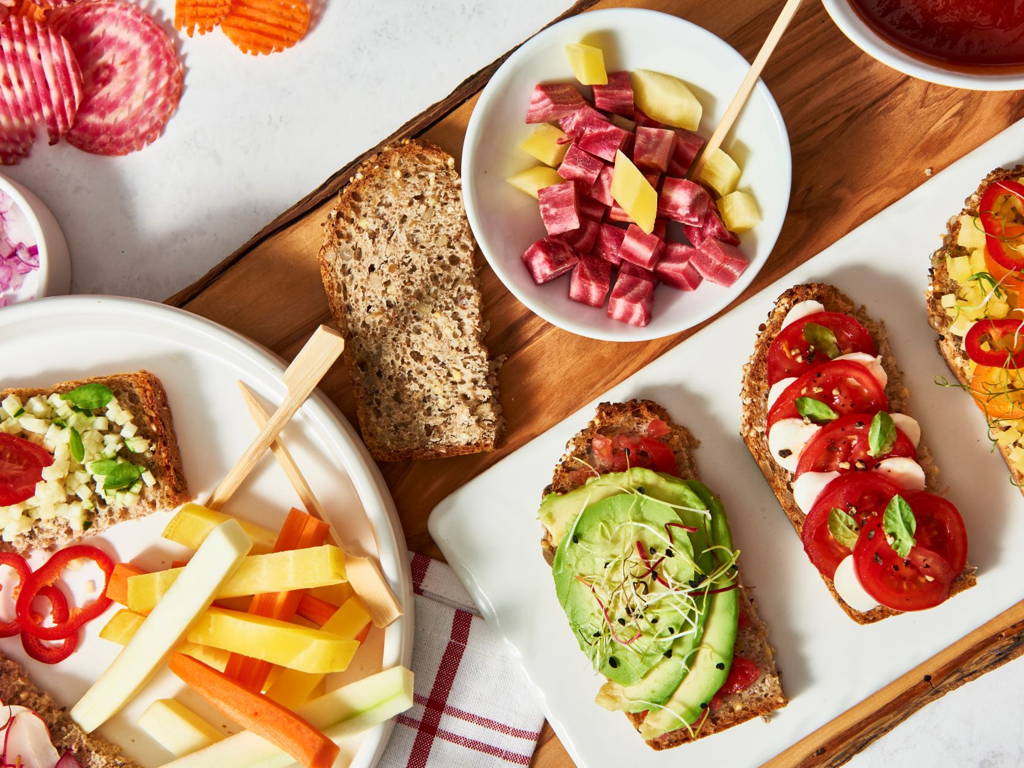 ★SHOW US HOW IT TURNED OUT★
Did you try any of these ideas? Post a photo of the meal you made on Facebook or Instagram with the hashtag #DBrecipe ... Don't forget to tag us! @debuyerusa
Not on socials? No problem. Send us your photo by email to dbinsider@debuyer.com