Best Pots for Making Soup

Everyone knows that soup is the perfect meal for a cold winter day. And when it comes time to make the perfect soup, you need the right pot to cook it in.
Of course, we make some of the best pots perfect for cooking soup. Our pots are made with high-quality materials and construction that will make your soup taste amazing.
Not only will our pots make your soup taste great, but they are also easy to clean. You'll be able to quickly wash them by hand or in the dishwasher without any problems.
But, you might not be sure on which pot you should buy! It's ok, as we created a list of the best pots for making soup.
So, keep reading to find out what they are. By the end of this post, you'll be ready to purchase a pot from de Buyer today and make delicious soups!
Related: Top 10 de Buyer Frying Pans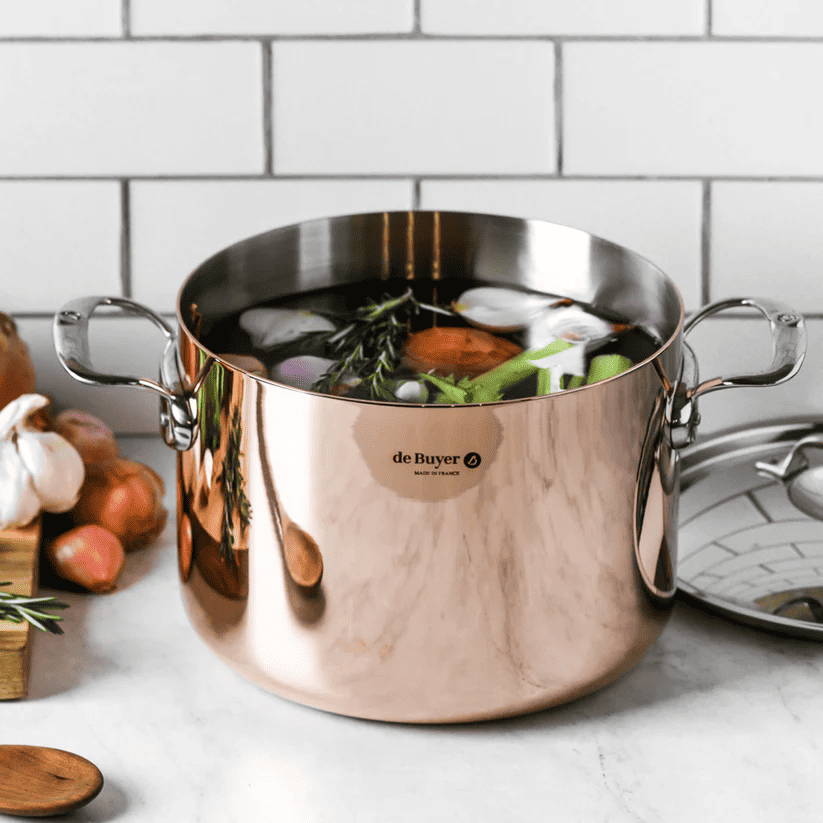 Is Carbon Steel Made With Toxic Materials?

Never again should you cook your soup in an old pot you've had for years. Instead, choose one of these pots below to create yummy soup.
AFFINITY 5-ply Stainless Steel Stewpan

The Affinity 5-ply Stainless Steel Stewpan is the perfect pan for cooking soup. Not only is it made of high-quality stainless steel, but it also has a 5-ply construction that ensures even heat distribution. Thus, the soup will cook evenly without sticking to the pan sides.
Additionally, the Affinity 5-ply Stainless Steel Stewpan has a large capacity, accommodating a large batch of soup. This is perfect when you want to fix soup and put some in your freezer for later.
Finally, the Affinity 5-ply Stainless Steel Stewpan is dishwasher safe, so cleanup is a breeze. For all these reasons, the Affinity 5-ply Stainless Steel Stewpan is the best pan to cook soup in.
Inocuivre Tradition Stew Pan

When it comes to cooking, copper is widely regarded as the best material. Copper conducts heat quickly and evenly, making it ideal for reducing cooking and thickening sauces.
Also, since copper distributes heat more evenly, you're less likely to have areas that get significantly hotter than others, as can happen with other materials. This can make your cooking experience a little less stressful and aid in better-prepared meals.
The Tradition Stew Pan has a capacity of 5.7qt, making it perfect for making soups and stews for 6-8 people. It's also oven safe, so you can quickly transfer your food from the stovetop to the oven. With its superior performance and attractive design, the Tradition Stew Pan is essential to any kitchen.
Are you tired of your food sticking together every time you cook? Don't you hate when clean-up is more of a hassle after you finish cooking? Shop with de Buyer today to find the perfect cookware that's easy to clean up and always cooks perfectly!
Copper pans are perfect for cooking anything, especially soups. The Prima Matera Copper Stew Pan 8-inch is 90% copper and has a signature handle to help prevent accidental burns.
Our stew pan is an absolute must-have for any home. Its elegant design adds a touch of sophistication to any meal, making it the perfect choice for bringing elegance to your dinner table.
Suitable for all types of cooktops, it is oven-safe and versatile. No matter how experienced you are in cooking, the Prima Matera Copper Stew Pan 8-inch will be a great addition to your kitchen.
Related:How to Clean Copper Cookware
Inocuivre Service Copper Stew Pan with Brass Handles

The Inocuivre Service Copper Stew Pan is a beautiful and functional addition to any kitchen. With a capacity of 1.6 quarts, it's perfect for making soups, stews, sauces, and more for two to four people.
The pan is made of 90% copper and 10% stainless steel and handmade in France. There is no comparison to this pan's quality; it evenly distributes heat, so your food always comes out perfect.
Also, it has brass handles that add a touch of luxury to your kitchen. The Inocuivre Service Copper Stew Pan is the perfect choice if you're looking for a top-quality stew pan.
Alchimy 3-ply Stainless Steel Stewpan

Due to its three-layered stainless steel construction, the Alchimy 3-ply stewpan is excellent for quick conducting heat and reaction to food. This makes it ideal for preparing large quantities of food at once.
Also, the 9.5" Alchimy stewpan has high sides that trap heat and moisture, making it suitable for boiling liquids and simmering soups and stews. With a 6-8 people capacity, the Alchimy stewpan is the perfect choice for feeding a large crowd. Whether entertaining guests or cooking for your family, the Alchimy stewpan makes mealtime a breeze.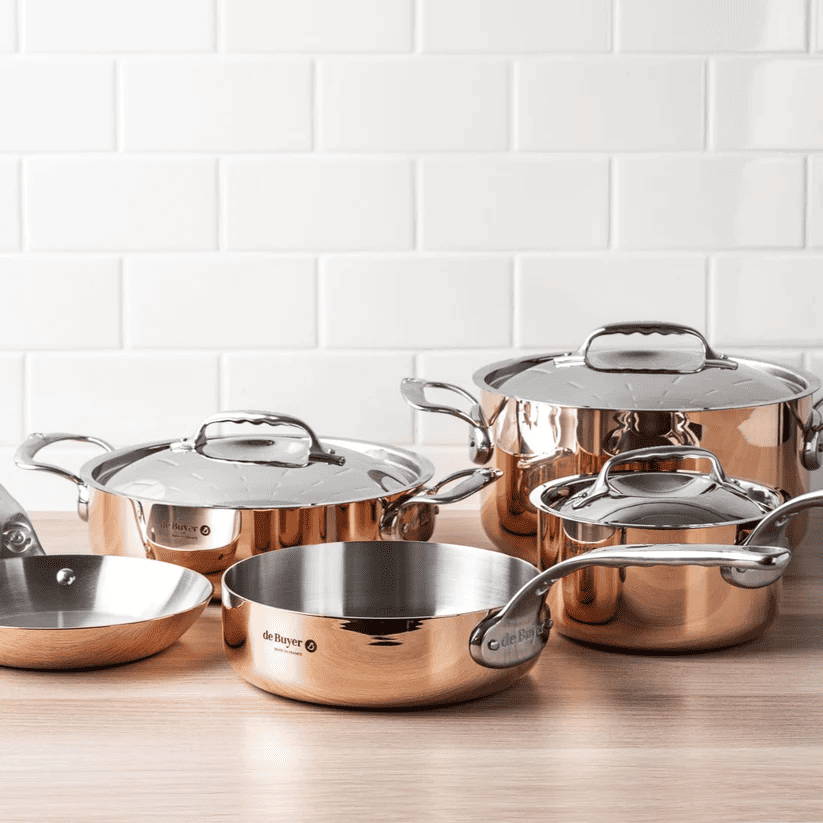 The Prima Matera Braiser is perfect for making soups because it is made of 90% copper and 10% stainless steel. The material is non-reactive, so it won't change the flavor of your soup as you're cooking it.
Additionally, since our pans are made out of 90% copper it is an excellent conductor of heat. This means your soup will cook evenly and slowly, allowing all the flavors to meld together perfectly.
The lid of the braiser also has a tight seal, so none of the steam or flavor will escape while your soup is cooking. Your soup will be delicious and hearty, thanks to this braiser.
Affinity 5-ply Stainless Steel Braiser

The Affinity 5-ply Stainless Steel Braiser is the perfect tool for making soup. Its unique 5-ply construction ensures even heat distribution, while the deep sides help to prevent splattering.
The lid also helps to lock in moisture, making it easy to simmer soups and stews to perfection. Moreover, the pot's soft-grip handles make moving it from stovetop to oven simple, and its dishwasher-safe design makes cleanup a breeze. So whether you want to make a hearty beef stew or a delicate vegetable soup, the Affinity 5-ply Stainless Steel Braiser is perfect.
Related: Glossary: Braiser Pan
Pick The Right Pot For Soup For You

If you're looking for a new pot to make soup, then be sure to save our list or shop around on the website. With so many different options, knowing which is perfect for making soup can take time. But with our list, you'll be able to find the perfect pot for your needs.