Searching for the perfect Father's Day gift for Dad? You've come to the right place! de Buyer has got you covered. Let us make it easy for you with this Father's Day Gift Guide, highlighting the 8 best kitchen-related gifts you can find. Whether he's an expert at cooking or just getting started, anything off this list is sure to make him smile.
If you want to get Dad an exceptional pan to add to his kitchen, look no further than our MINERALB PRO Carbon Steel Fry Pan. It's the #1 choice for searing, grilling, and frying. Our carbon steel pans are known for being versatile and durable, and come in a variety of sizes. With a cooking surface of 5.5", the 8"Mineral B Pro fry pan is the ideal size for cooking two eggs, or a small fillet of fish or meat - perfect if your dad likes cooking a meal for one. But if Dad likes to cook for the family, the 11" fry pan is the ideal size for simmering sauces or searing a few steaks.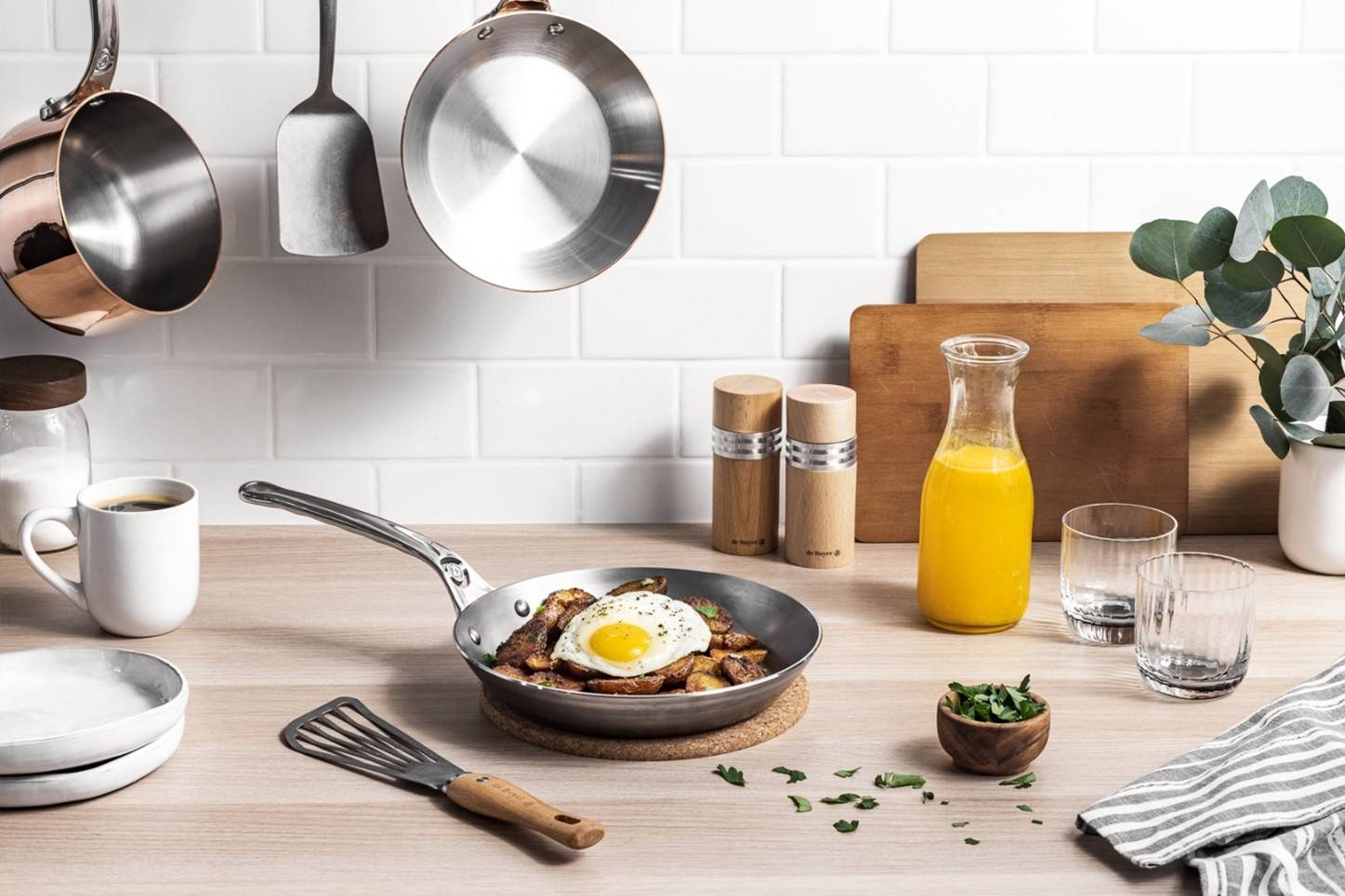 For the Dad Who Loves the Finer Things
If your dad loves quality pieces meant to last a knife, and can't go wrong with this 32 Dumas Arles Block Set, coming soon! Equipped with 5 of the most-needed knives, this set will fulfill all your dad's kitchen needs. It includes one paring knife, utility knife, carving knife, bread knife, and chef knife. The block set features a bright white color with deep olivewood handles, perfectly complimenting the handles of the knives. Designed and made in France, these fully forged knives are a cut above the rest!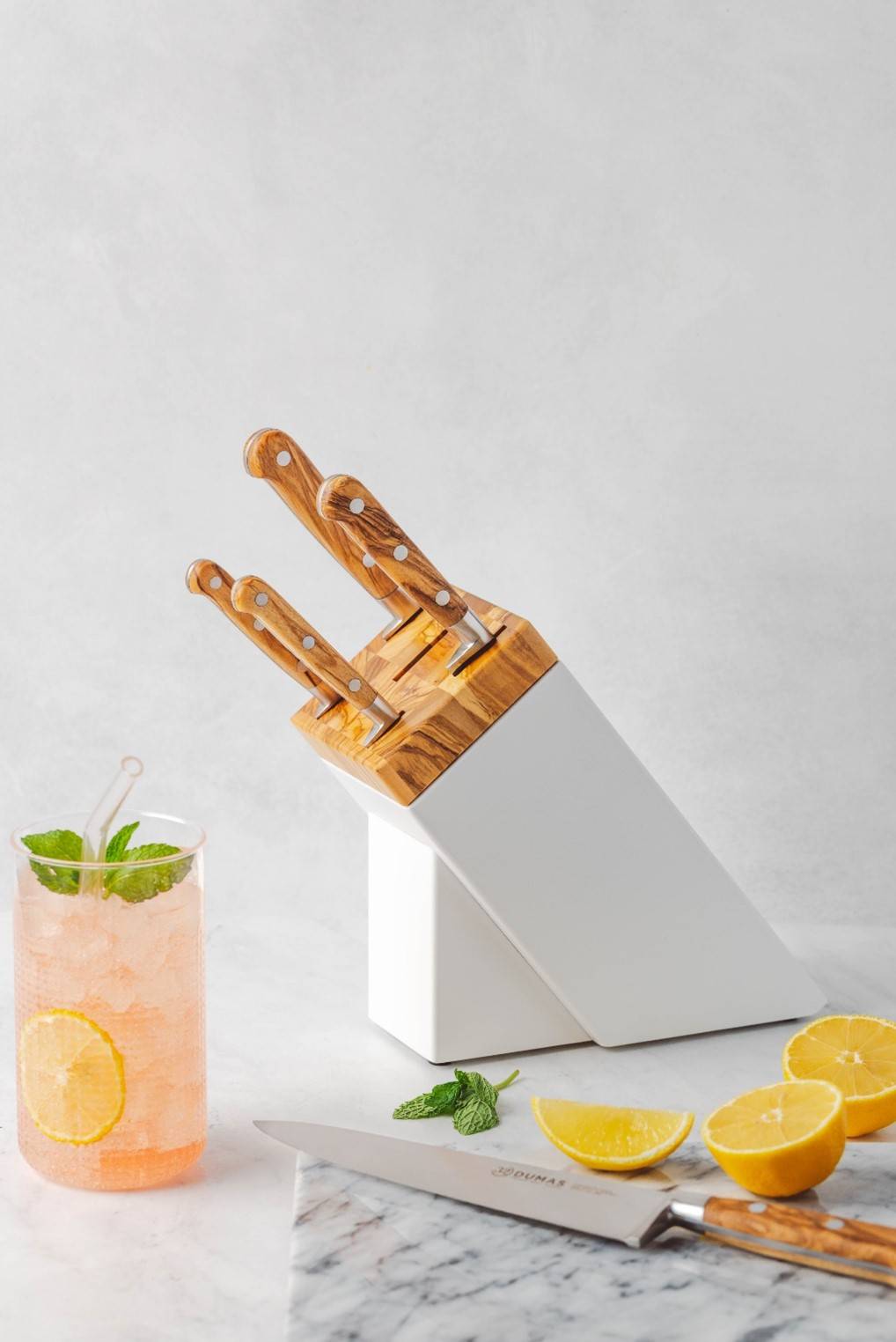 If your dad is a steak-enthusiast, we know just the thing for him. This MINERAL B Carbon Steel Steak Kit will help him enjoy his prime cuts even more than he already does. This bundle includes the 11" MINERAL B Carbon Steel Steak Pan, and the JAVA Pepper Mill for Steak.
As featured in the Eater's 10 Thoughtful Gifts for the Dad That Loves Food, this pan is guaranteed to get him the perfect sear on his favorite cut of steak. It can reach high heat, allowing for even cooking. This makes it perfect for browning or searing and achieving the Maillard effect.
The JAVA Pepper Mill for Steak is made from high-qualityFrench stainless steel and designed with steak and other red meats in mind.Larger gaps between the teeth of the grinder result in a coarser, crackedground pepper, perfect for seasoning steaks to add a delicious flavor whencooking. Dad will love it!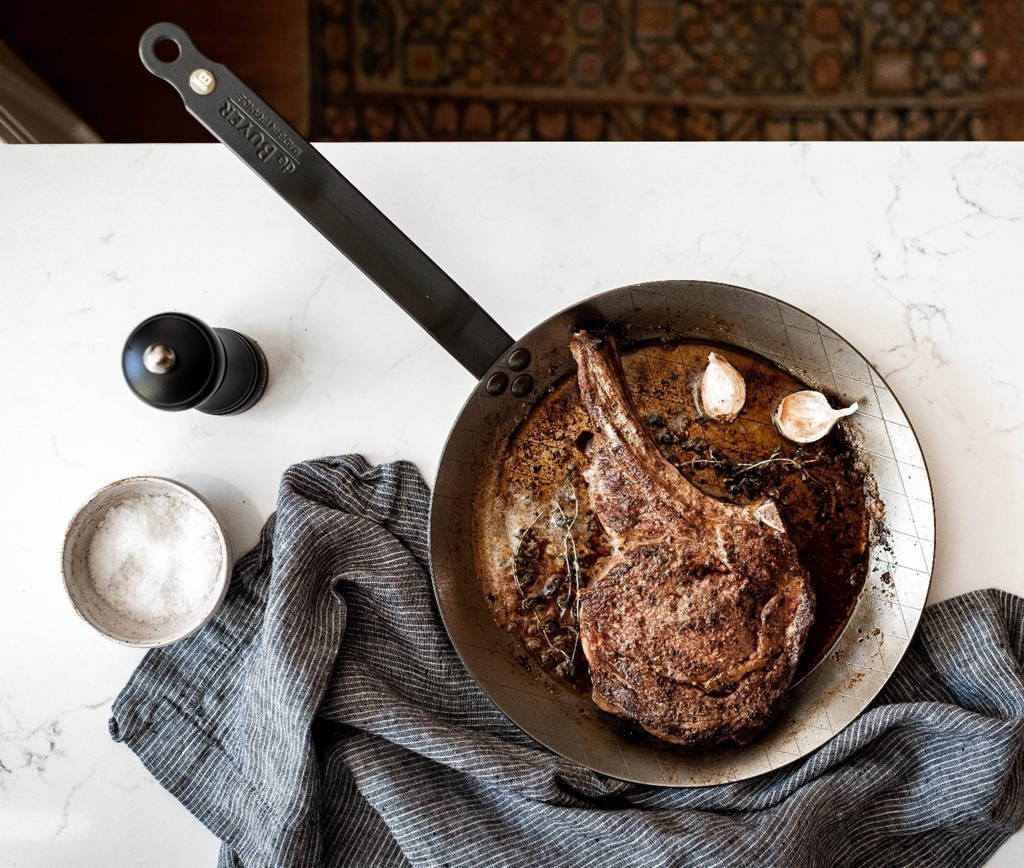 Why stop there? He'll need some steak knives to go along with his steak pan. This 32 Dumas 4 Steak Knife Set, which is coming soon, is perfect for cutting through a piece of meat without tearing the delicate fibers of a fine fillet. Like all 32 Dumas knives, this set is fully forged and made in France. With 5" blades and olive wood handles, your dad is sure to feel like a professional chef!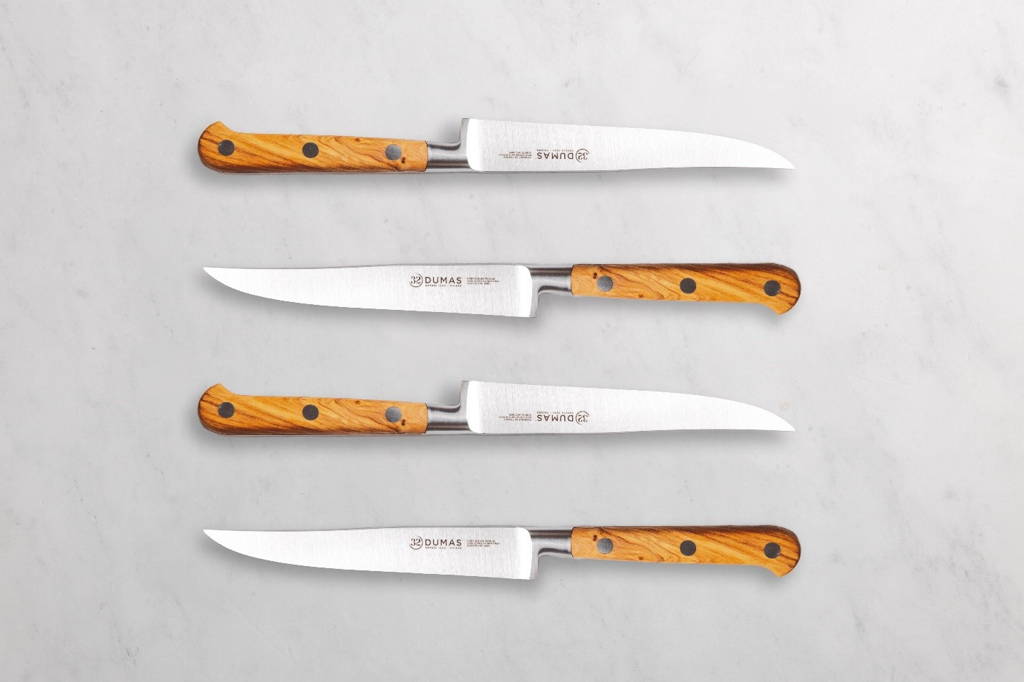 For the Dad Who Loves to Grill
If your dad loves a good cookout, look no further than our Blue Carbon Steel Perforated Outdoor Fry Pan. Perfect for use on the grill or an open fire, the perforations allow the smoke to circulate and get that delicious smokey grilled flavor on whatever your dad chooses to cook. Made of blue carbon steel, this pan reaches high temperatures to cook all your foods to perfection. It is the best way to grill sliced and diced veggies without worrying about the pieces falling through the grill grates. Your dad will easily be able to achieve the perfect sear on the outside, while soft and juicy on the inside. In addition to veggies, try this pan with scallops, shrimps, roasted nuts, and more! Bonus – with stainless steel handles, this pan is also oven safe.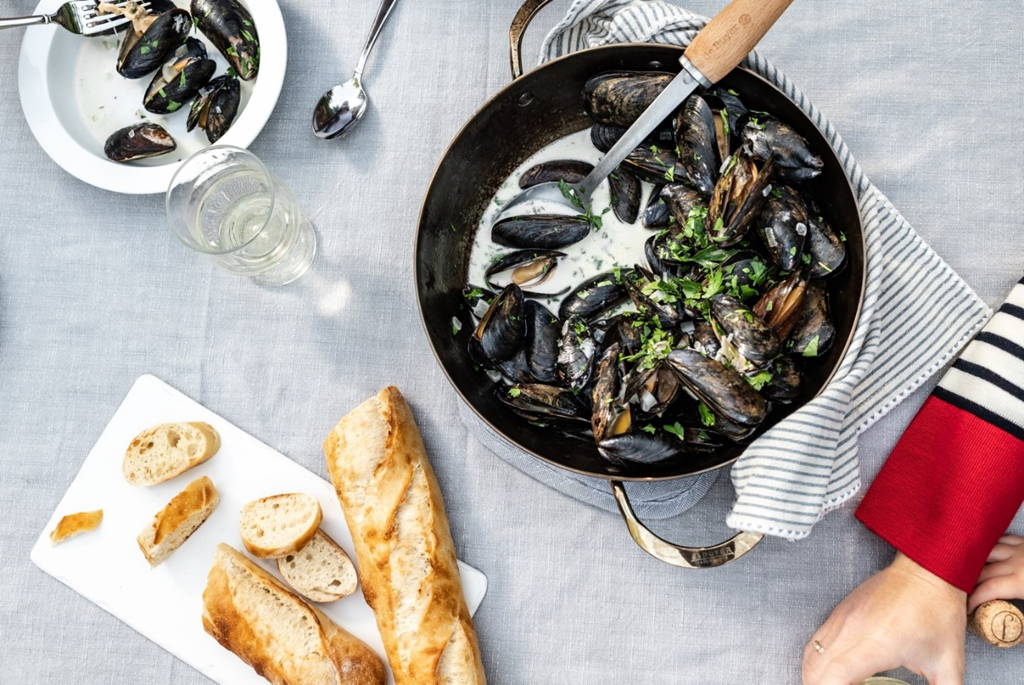 For the Dad Who Can't Resist a BBQ
Summer is the perfect time for cookouts and BBQs, so get Dad some of our Stainless Steel and Carbon Fiber Kitchen Utensils, perfect for grilling! If he loves hamburgers, check out the FKOfficium Flexible Turner. It's perfect for flipping burgers or serving up pan-fried or roasted veggies without the excess oil from the pan. Made of stainless steel and carbon fiber, the FKOfficium Hamburger Spatula is another great choice. The angled, rectangular blade easily slides under burger patties, meats, and other foods for an effortless lift and flip. Not to mention, it's rust-resistant! Finally, you can't go wrong with our FKOfficium Triangular Spatula. It's the perfect multipurpose utensil that Dad can use to flip and cut up foods while cooking, or even scrape pans and griddles. It does it all!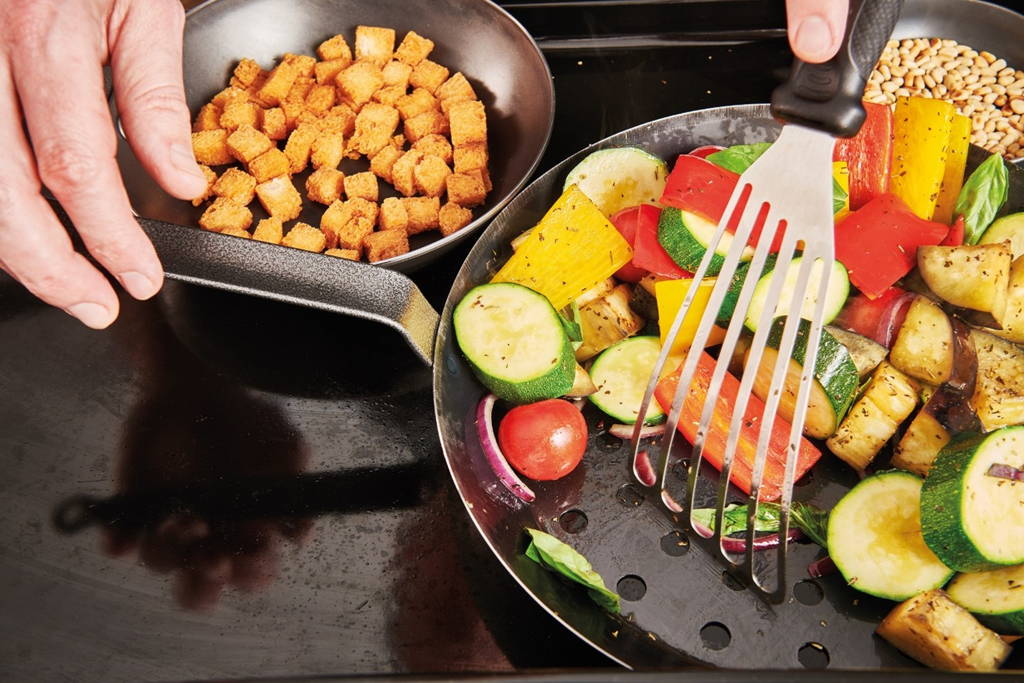 If your dad doesn't mess about in the kitchen, any piece from de Buyer's copper cookware collection will make the perfect gift. Copper cookware is essential for any serious chef. Made from a unique blend of 90%copper and 10% stainless steel, these handcrafted pots and pans combine versatility and usability with the highest quality materials.
If Dad is a fan of the classic look, shop the INOCUIVRE Copper collection. This collection has pots and pans with cast iron and brass handles, perfect for the dads who love a traditional-style kitchen. But if he loves a more contemporary look, you can't go wrong with our PRIMA MATERA Copper. These copper pots and pans have our signature cast stainless steel handle.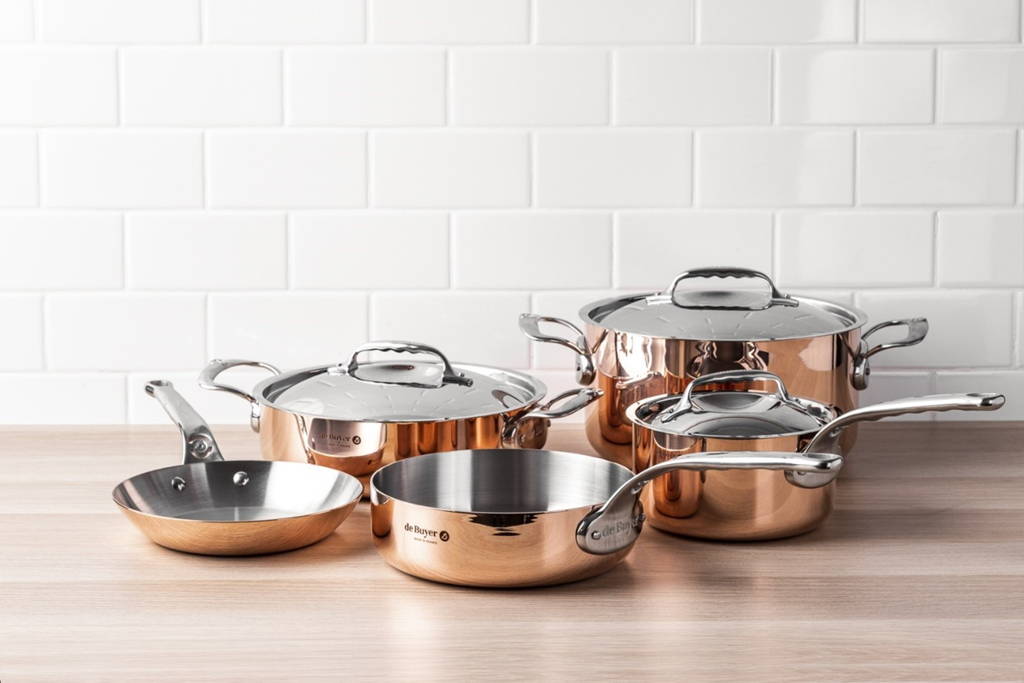 This Father's Day, give your dad a gift that will allow him to create delicious meals and lasting memories, with quality kitchen gear made to last. The key to a great Father's Day gift is to get something you can enjoy together – and what better way is there to share the love, than through cooking together. Show your appreciation for your dad with the gift of de Buyer – he'll love anything from this guide!
Do you want to purchase exceptional bakeware, cookware, or utensils for your kitchen?
We have been manufacturing quality items in France at de Buyer since 1830.
Choose the next great item for your kitchen!