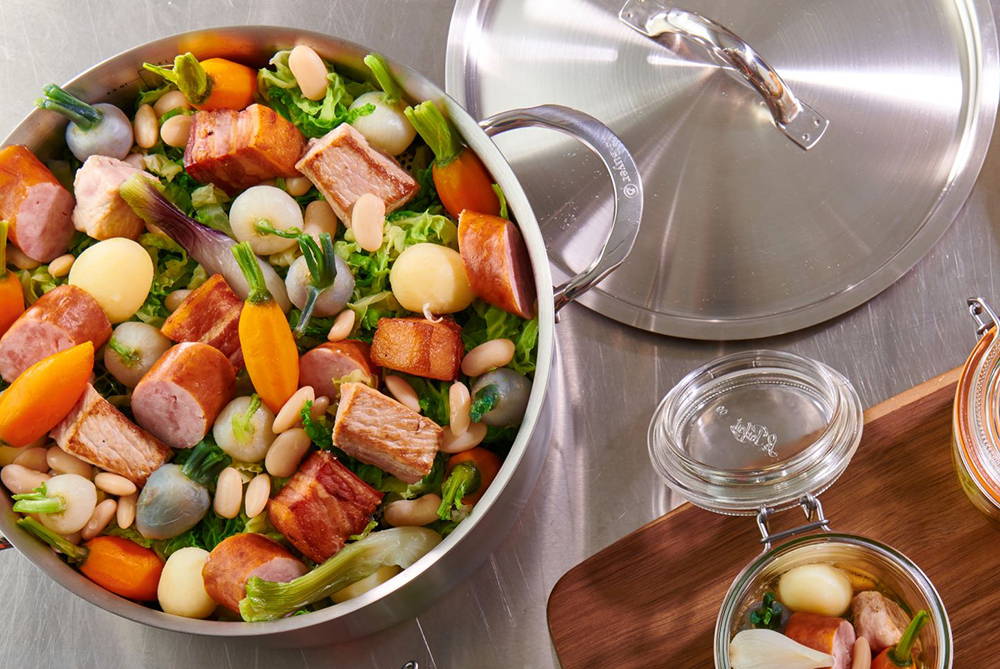 Serves 4 people
Potée Lorraine is a tradition French dish, originating from the Lorraine region of North-Eastern France. As the fall weather becomes cooler, it becomes the perfect season for soups and stews like this. This recipe is Chef Phillipe Laurelle's interpretation of the tradition dish, and while preparation of it is normally quite time consuming, this version is quicker and easier. To cut down on prep time even more, try using a mandoline to quickly slice up the cabbage and veggies that make this meal delicious. With the time you'll save, you can spend it cozying up with friends and family!
4 mini carrots with tops
4 mini turnips with tops
4 mini onions with tops
½ head savoy cabbage
4 suckling pork chops
4 x ¾ in. cubes of smoked pork belly
4 mini sausages (of your choice)
2 cups chicken stock
sea salt (to taste)
Step 1. Prepare the cabbage: Remove and wash the cabbage leaves. Chop them (cut into fine strips – use a mandoline to save some time). Cook them a l'Anglaise*. Drain and set aside.
Step 2. Prepare the vegetables: Peel, leaving 1 cm unpeeled at the top. Wash. Cook them a l'Anglaise*. Drain and set aside.
Step 3. Prepare the meats: Pan-fry the pork chops so they are still a bit pink. Brown each side of the cubed pork belly in the same pan. In a small saucepan, place the mini sausages in cold water, bring to a boil and cooking for 10 minutes.
Step 4. Finish: Line a saucepan with the cabbage. Lay out the vegetables and meat on the top. Add the stock, a little sea salt, and the coarsely ground pepper. Bring to the boil and leave to cook for 5 minutes.
* Cooking a l'Anglaise: cook the vegetables separately in plenty of boiling, salted water, then cool quickly in iced water.
★SHOW US HOW IT TURNED OUT★
Did you enjoy making this recipe? Post a photo of your dish on Facebook or Instagram with the hashtag #DBrecipe and don't forget to tag us @debuyerusa!
Not on socials? No problem. Send us your photo by email to dbinsider@debuyer.com
Need the right pan to make your sauce? Don't worry, we've got you covered!
Find the perfect pan for your kitchen: