While we love our MINERAL B PRO Carbon Steel Omelette Pan for its versatility in the kitchen, it was after all created to make amazing omelettes.

To do so, we took one of our classic pans and made it even better by giving it rounded edges and unique shape. Being made of carbon steel, once properly seasoned, it becomes nationally nonstick making it perfect for eggs, especially omelettes.

Related: Perfect French Crepes Recipe
Omelette Recipes You Will Love

While we all love an omelette filled with sautéed onions, bell peppers, and cheddar cheese, it can become a bit boring. So, why not spice things up a bit?

The best part about omelettes is that they can be filled with pretty much anything or slightly changed in a way to feel completely different. Also, whoever said omelettes were only for breakfast?

Let's walk through a few fun and different ways to make omelettes that are perfect for any meal!
Light, airy, and quick to put together, we wish we thought of a Sunday supper soufflé omelette sooner.

The magic of a soufflé-style omelette lies with the technique used to create a fluffy soufflé-like texture.

Whisked egg whites are gently folded into a creamy mixture of yolks, cheese and herbs, resulting in a delicate omelette base.

On top of the base, use whatever you have on hand to create a savory filling such as mushrooms, onions, or leftover roasted vegetables like sweet potatoes or pumpkin.

Pop the omlette in the oven for a few minutes, to soften your veggie filling.

Starting this omelette on the stove but finishing it in the oven allows for a nice rise on the omelette, creating the delicate texture of a soufflé.
What we love about this recipe is that your MINERAL B PRO Carbon Steel Omelette Pan really shows here how versatile it can be. To make this omelette, you may need to sauté some vegetables, which the pan's naturally nonstick feature is great for.

Then to cook the actual omelette, the pan can seamlessly move between the stove and oven due to its stainless-steel handle.

In addition, the pan can be used earlier in the week to roast up the mentioned leftover roasted vegetables.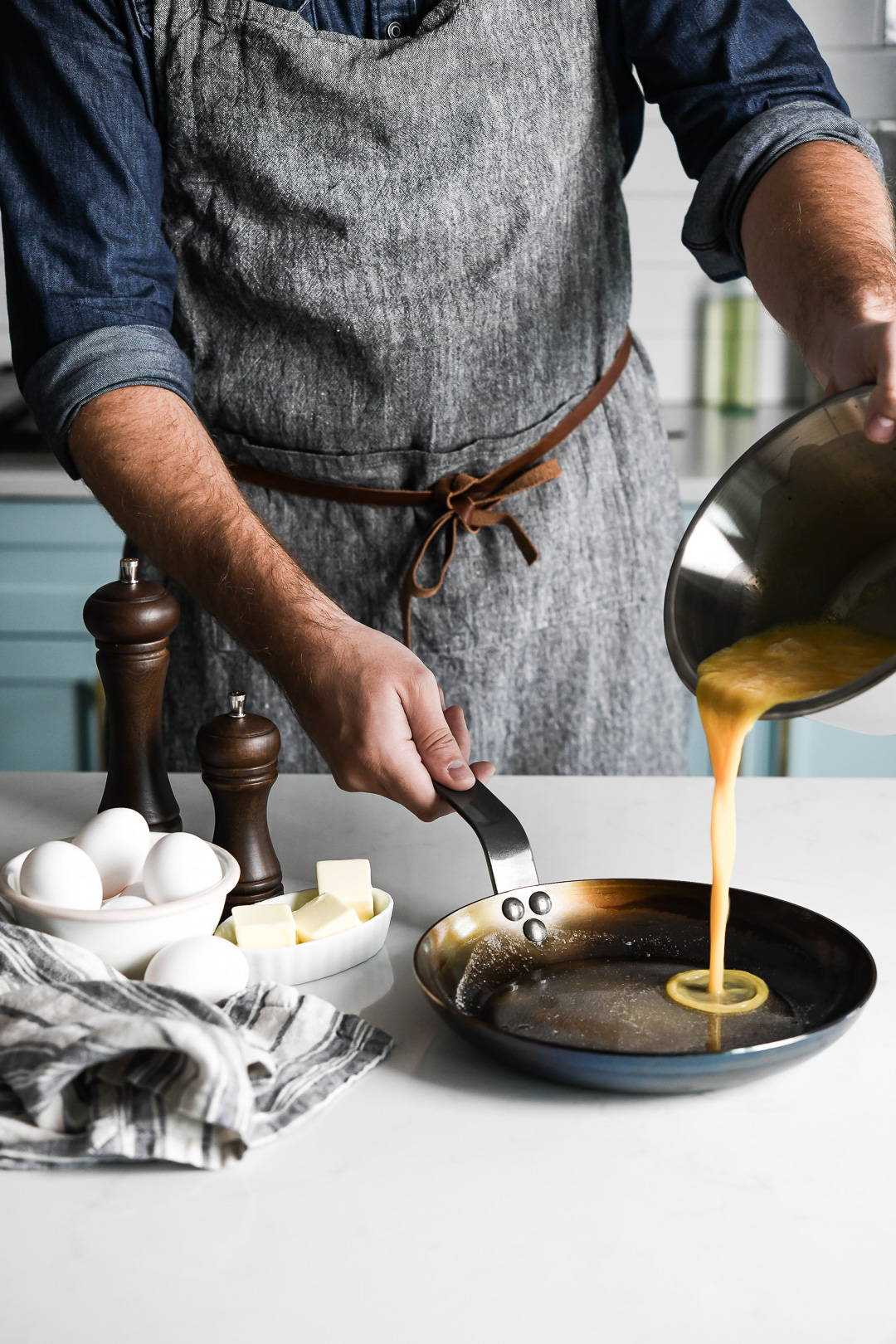 Ham and Cheese Omelette Parcel

It's not only the ingredients inside of an omelette that you can change around to make something different, so why not change the shape? Let's put a twist on a classic ham and cheese omelette and change the fold.

While typically an American style omelette is easily folded in half to secure the fillings, try instead to fold it into a small parcel by folding in the four sides to create a square shape – similar to how a ham and cheese crepe would be folded.

Not only will a parcel omelette be delicious but it creates a different and appealing visual element.

With the naturally nonstick surface of our carbon steel omelette pan, folding this parcel has never been easier. In addition, you never have to worry about those outside bites without any yummy fillings because each bite will be packed with them.

Click Here to See de Buyer's Collection of Crepe and Tortilla Pans!
Mushroom and Herb Omelette

Indulge in the earthy and aromatic flavors of mushrooms by making a mushroom and mixed herb omelette.

While mushrooms are considered a popular omelette filling, rarely are they first sautéed to perfection with an assortment of herbs, such as parsley, thyme, and chives.

The addition of these herbs adds to the complexity of each bite and helps bring out the umami taste found in mushrooms. This omelette may seem simple, but you'll quickly realize the amount of flavor that can be added by using a touch of fresh herbs.
Whether you would like to pour your whisked eggs right over the mushroom-herb mixture or reserve it on the side to add to the middle, this omelette will be bursting with flavor.

Before folding the omelette, feel free to sprinkle the center with some grated parmesan, crumbled feta, or creamy ricotta to add some creaminess.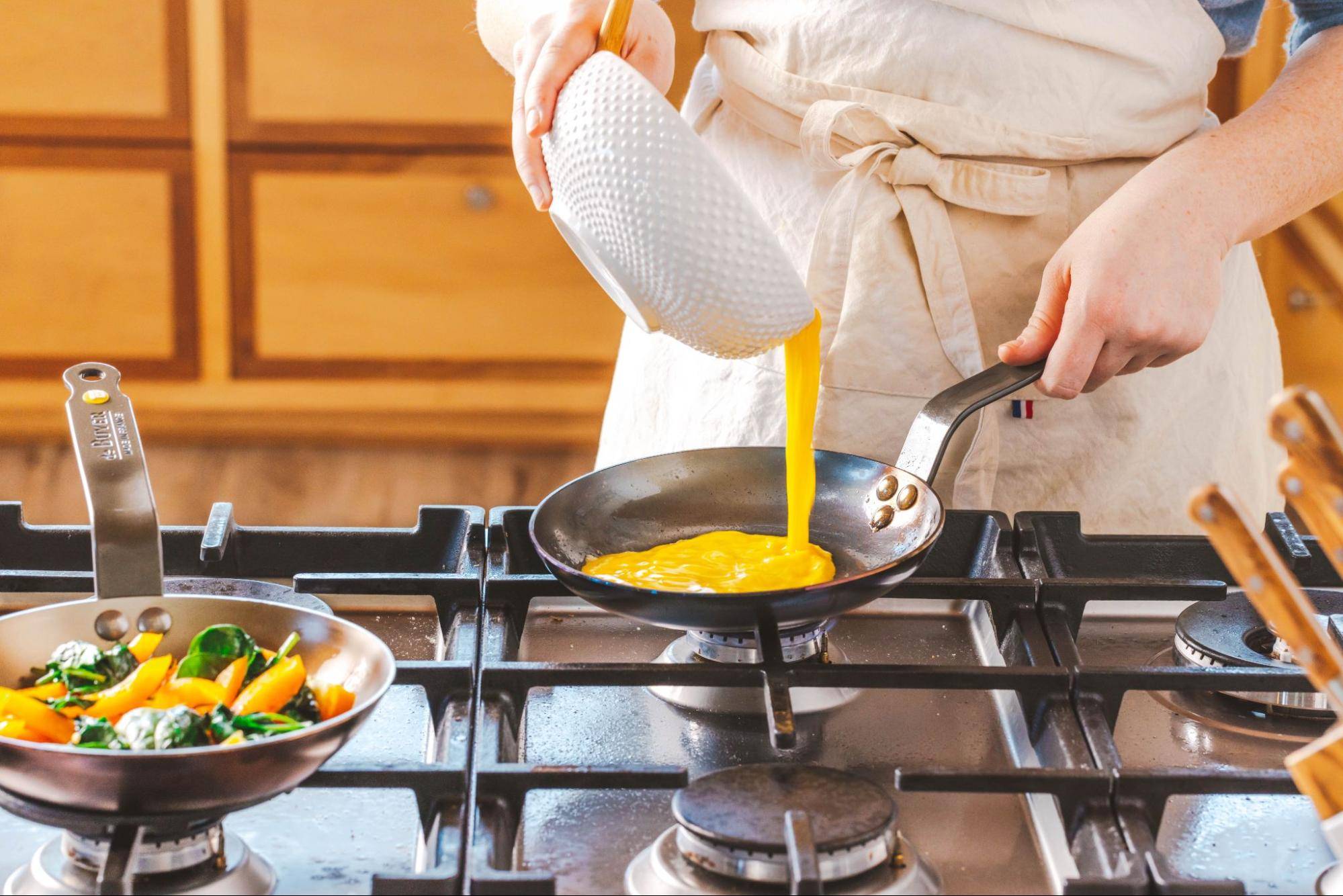 Pasta Omelette with Summer Vegetables

We get excited when we think of creative ideas in the kitchen. Making a pasta omlette with fresh vegetables embraces the flavors of summer, by creating a fusion recipe between a delicious pasta dish and an omelette.

Start by cooking your favorite pasta until al dente, then mix with a medley of cooked vibrant summer veggies such as zucchini, cherry tomatoes, or eggplant. Once combined, toss it with whisked eggs, creating a creamy and flavorful base for your omelette.
After adding the egg mixture to your MINERAL B PRO Carbon Steel Omelette Pan, you'll notice the vegetables become even more tender and will practically melt into the omelette. While this happens, the eggs become light and fluffy.

Whether served as a brunch centerpiece for guests or as a light dinner option, this pasta omelette showcases the freshness of seasonal produce and will absolutely bring you out of your boring omelette rut.
Looking to spice things up for breakfast? Make a spicy Mexican omelette that allows you to start your day with bold flavors. Think taco meets omelette, sounds delicious, right?

Dice up some tomatoes, add in some red onion and bell peppers, and top it off with some jalapenos for a bit of a kick. Feel free to add a protein of your choice, but this omelette is still absolutely delicious with just veggies.

Use your MINERAL B PRO Carbon Steel Omelette Pan twice in your recipe to quickly sauté the vegetables with taco seasoning and then by making the actual omelette. Why clean two pans when you could clean one?
Once ready to make the omelette, add the eggs your skillet. Once almost set top it with the cooked vegetables and protein, if using. Also, don't forget some shredded cheese to get nice and melty on the inside!

Once plated, top it with a dollop of sour cream and some cilantro. While this is delicious on its own, serving it with some warm tortillas and salsa really brings this dish together.

Trust us, this one will soon be on repeat in your kitchen.

Related: Asparagus, Goat Cheese & Mushroom Frittata Recipe
Noodles, in an omelette? Yes, you heard us correctly! Adding noodles to an omelette is the unique fusion we are all looking for.

This creative flavor combo calls for making your favorite instant noodle dish that is packed with veggies, then surrounding it in a plain omelette.

While many noodle or fried rice dishes tend to include a bit of egg, this is essentially just a different way to incorporate the egg. This dish is colorful, exciting, and something just a bit different. Should you wish, the type of noodle dish placed inside the omelette can be easily switched for another.
If you're looking to add a bit of a kick, drizzle the finished omelette with some siracha or spicy mayo. While some omelettes can be viewed as more of a morning meal, this noodle omelette is perfect, filling meal for any time of day.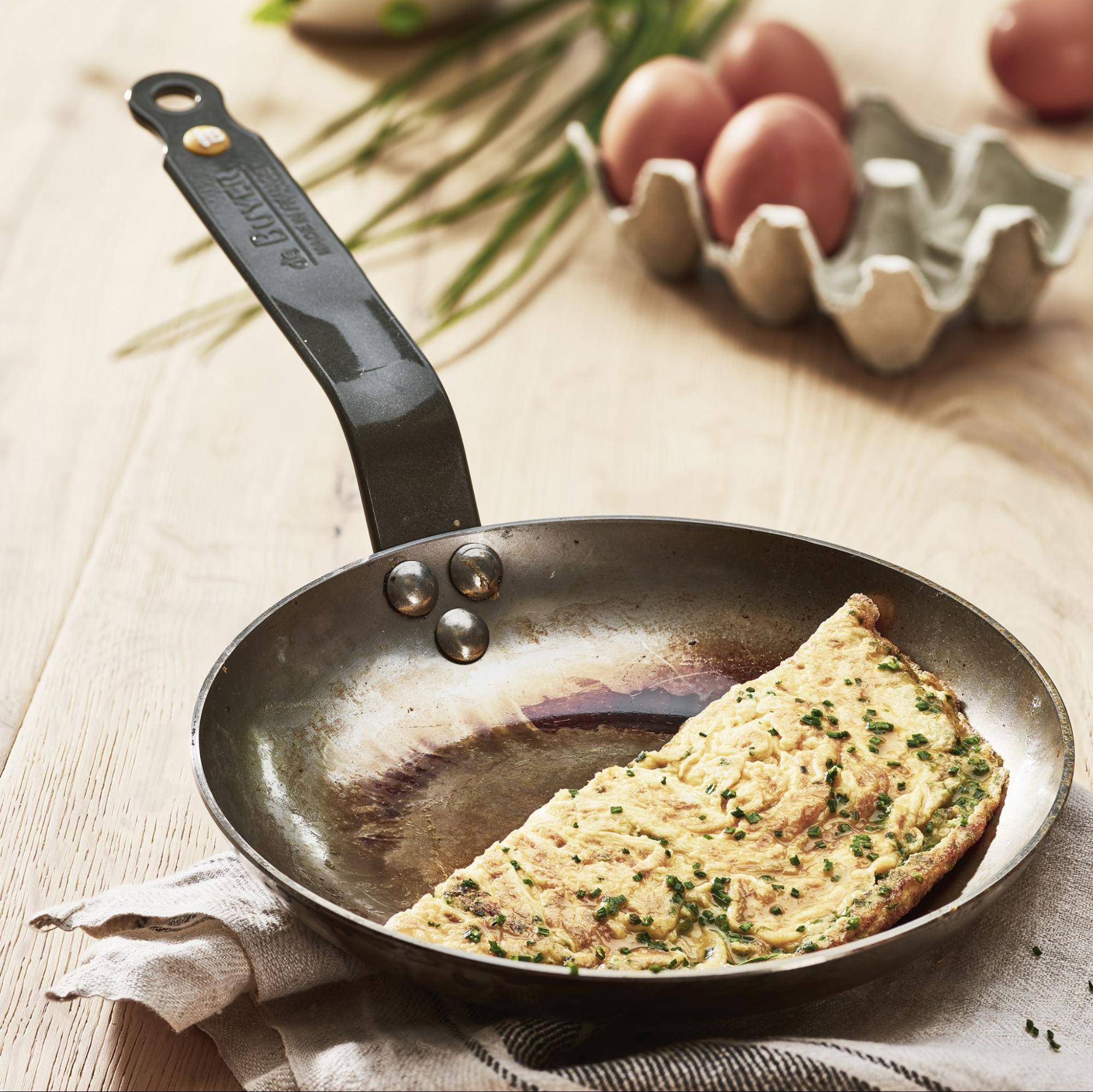 Whether you're already a huge omelette fan or just getting into them, it's always fun to find new ways to play around with them.

As you can see, omelettes can easily be changed in flavor and shape to be enjoyed throughout the day.

We're excited to see how you use our MINERAL B PRO Carbon Steel Omelette Pan to find your favorite flavors!

Click Here to See the deBuyer's Collection of Specialty Pans!