And just like that, the holiday season is in full swing! It's crazy to think that this year is nearly over, but we are certainly looking forward to eating a whole lot of delicious food during all the upcoming holidays.
If you're hosting a family (or friends!) gathering for the holidays this year, we have some great recipe ideas for you to try that will impress all of your guests and have them coming back for seconds... and thirds if there is any left!
Regardless of what holiday you'll be celebrating, be sure to gather together and celebrate with some delicious, homemade dishes.

Like most people, we absolutely love potatoes in any shape or form, whether they are baked, fried, sauteed or anything else! And we have some show-stopping potato recipes for you to serve up as sides or starters during your holiday get togethers.
If you start your guests off with these
Truffle Potatoes with Porcini Mushrooms
, your feast is bound to be a success. With the deliciously earthy, umami flavors of the truffle and the porcini mushrooms, this dish will perfectly complement any meat dishes served alongside of it.
We made this one in our
MINERAL B PRO Carbon Steel Country Fry Pan
, so you can start the potatoes off on the stove and finish them off in the oven for some extra crisp and crunch before adding the finishing touches of herbs and garnishes.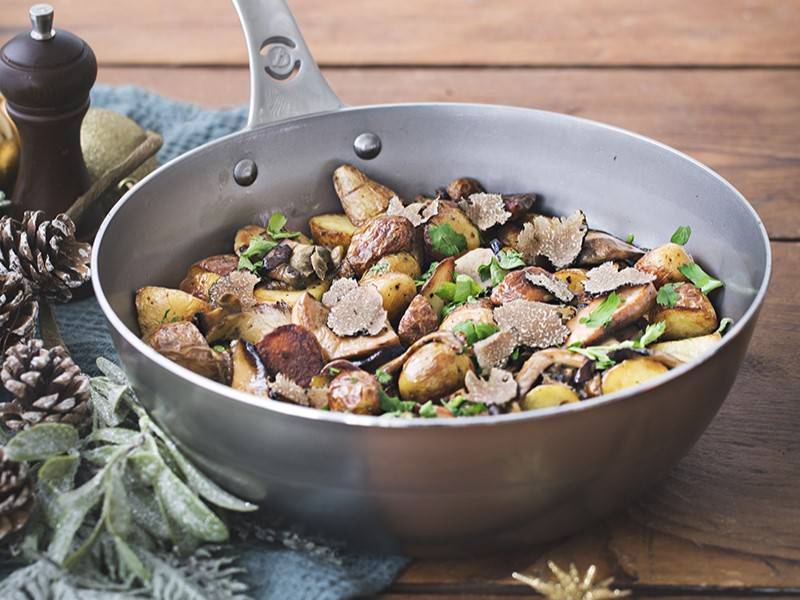 In other potato news... Latkes! A Hannukah classic and an absolute must-have. These can be served up as a side or starter, but they are delicious enough to be a main dish as well. Just don't forget the sour cream and applesauce!
Try our
Potato Latkes
recipe this year for Hannukah - but be sure to fry them up in a well-seasoned
MINERAL B Carbon Steel Crepe Pan
, or an
AFFINITY Stainless Steel Fry Pan
for a beautiful golden-brown color and deliciously crispy edges.
You can't have a dinner party without a proper charcuterie board... or should we say, a festive
charcute-wreath!
Sweet and savory elements are crucial - imagine a creamy brie with some fresh jam.
So, while you're choosing your assortment of cheeses and crackers, don't forget to add some sweetness!
Take your charcuterie up a notch with some fresh, homemade
Mixed Berry Jam
. The best part is, you can use seasonal fruits and berries, or swap them out for your favorites!
Depending on what holiday you're celebrating, or even just your family's traditions or preferences the main dishes will likely differ. Many households abstain from eating meat on Christmas Eve, and instead have an array of fish dishes to choose from.
That is where Chef David Denis' recipe for Red Snapper Provençal takes the spotlight. Whether you're whipping up individual portions or wowing the crowd with the whole fish, you can serve up restaurant quality food when you make this recipe in a MINERAL B PRO Carbon Steel Fry Pan to give it that nice, crispy skin.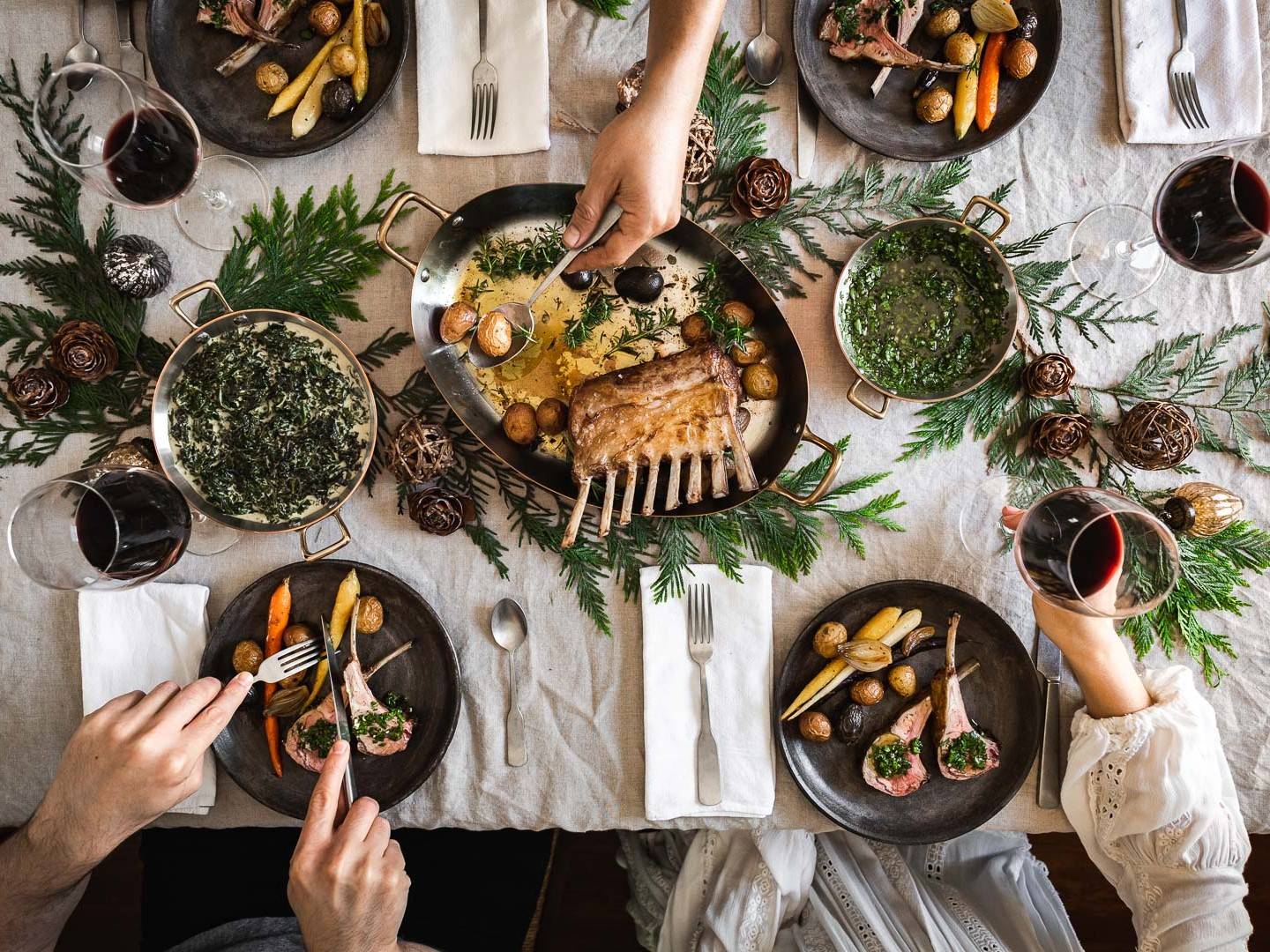 Of course, we can't forget about Hannukah Dinner! There are eight nights of Hannukah, and at least of them must include this Hannukah Brisket recipe from Food & Wine for some tender and juicy deliciousness.
Like for the turkey, our AFFINITY Stainless Steel Roasting Pan is the perfect tool to make this brisket absolutely amazing thanks to its deep sides that'll contain all the braising juices, especially when cooking for a crowd.
For more intimate gatherings, try the AFFINITY Stainless Steel Braiser that was literally made for dishes like this. Or if you're not in the mood for brisket, you can instead make Chef David's Beef Tenderloin recipe using the same pan. In either case, your guests will certainly be satisfied.
Making holiday cookies has never been easier! If you're using de Buyer's LE TUBE Pastry Press, that comes with 13 different cookie discs, you can put the rolling pin and those old cookie cutters back in the cupboard because you can skip that extra work!
Whether you're baking for your office's cookie exchange or preparing the arrival of a certain someone down the chimney on Christmas night, LE TUBE will be your handy little helper to make festive holiday treats.
Try using it to make some tasty Christmas Shortbread Cookies, or some classic Gingerbread Sprtiz Cookies, using the various cookie discs to pipe them into the shapes of trees, wreaths, and more! Not to mention, it'll be a fun family activity to get together and decorate them and let the creativity flow.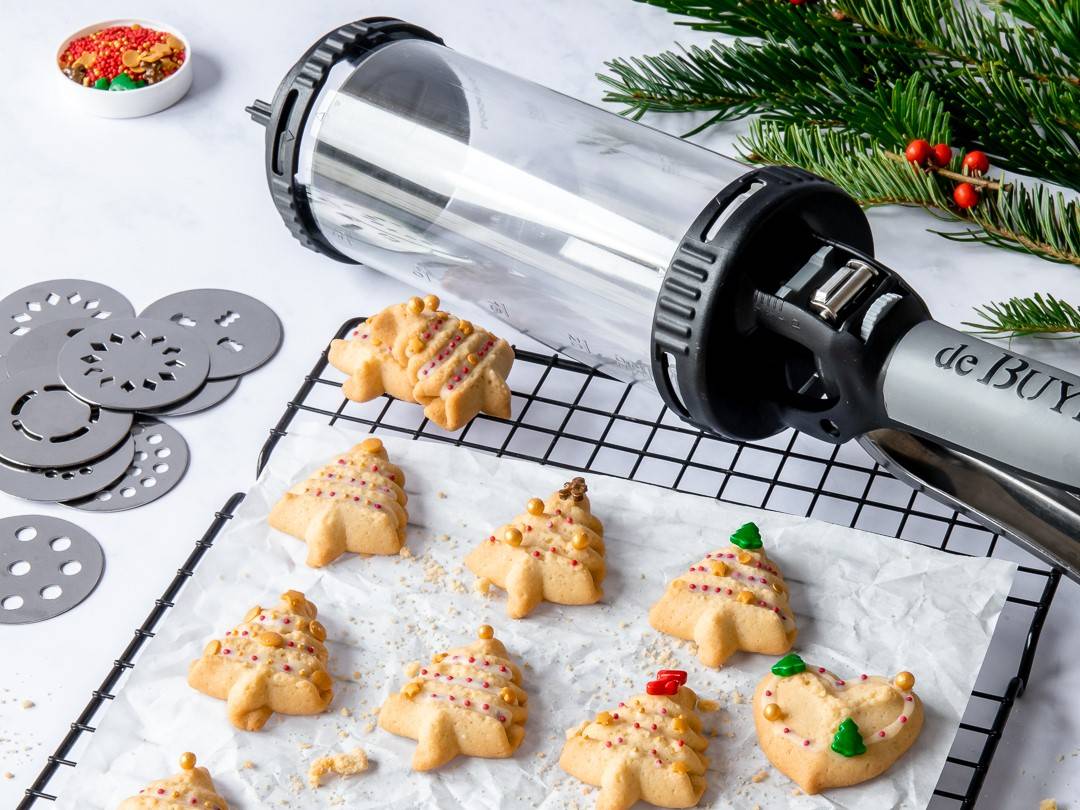 Whether you're hosting for the holidays, attending office party potlucks, or just having an intimate dinner at home this holiday season - any of these recipes made with de Buyer's high-quality cookware and bakeware are bound to earn you some brownie points!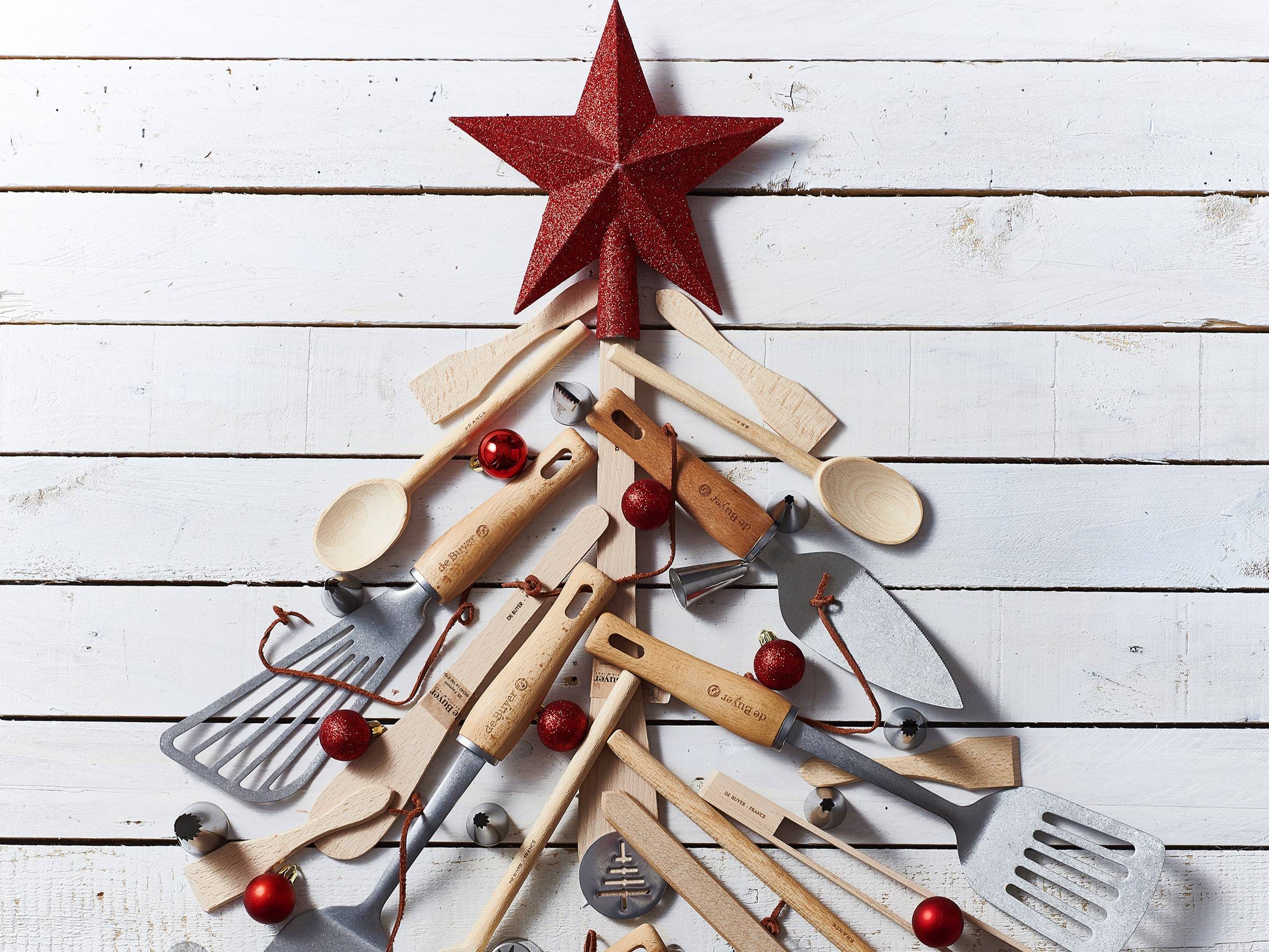 ★SHOW US HOW IT TURNED OUT★
Did you try any of these ideas? Post a photo of the meal you made on Facebook or Instagram with the hashtag #DBrecipe ... Don't forget to tag us! @debuyerusa
Not on socials? No problem. Send us your photo by email to dbinsider@debuyer.com